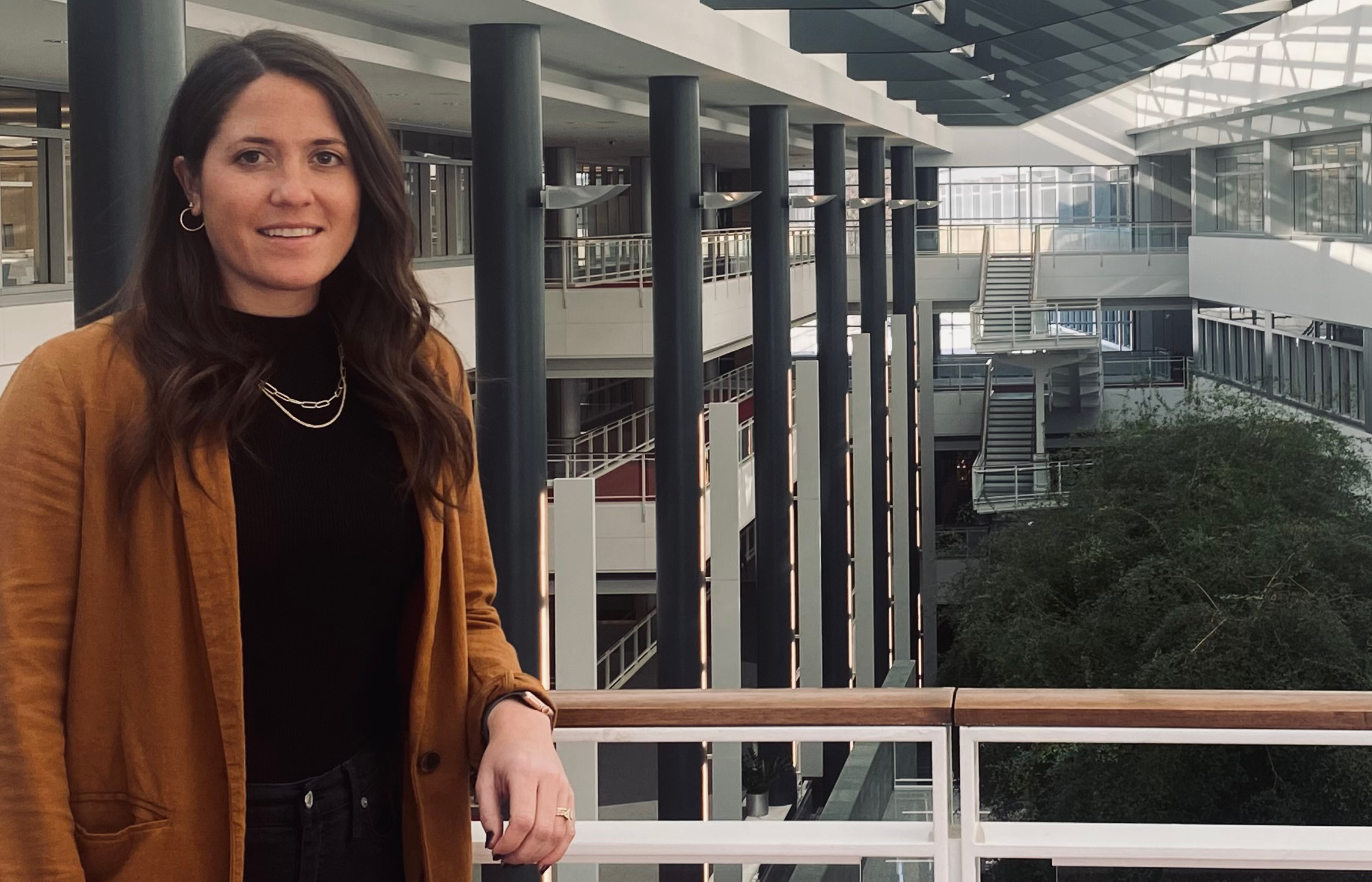 Data analytics might be made up of numbers, but ask Ellyn Vranicar M'20 and she'll tell you it is really all about storytelling.
"Collecting and consuming data doesn't mean anything if you can't clearly visualize it to derive insights and tell a story that will ultimately make an impact," says Vranicar, the manager of data analytics and reporting at W.W. Grainger in Lake Forest, Ill., North America's leading broad line supplier of maintenance, repair, and operating (MRO) products.
At Grainger, Vranicar works with finance departments across the company to collect their data and present the information in a clear, concise way that enables the departments to use data-driven decision making. She oversees a team of data visualization developers who create visual representations of data and trends, thereby empowering other members of the company in their decision making.
When it seems like there is an overwhelming amount of information to share with her partner departments, Vranicar falls back on a philosophy she learned as a student in Saint Mary's M.S. in Business Intelligence and Data Analytics program: Keep it simple.
"Saint Mary's has taught me a lot about communication strategies. For example, less is more. Simple really goes a long way — it is easy for end users to understand and interpret with minimal to no learning curves, which ultimately leads to high adoption rates," says Vranicar, who heard about the Saint Mary's program from her cousin, who had come across it in his own work in higher education.
"I always knew that I wanted to get my master's, but I was never really sure what I wanted to get it in. I knew I didn't want to pursue one just to get it. My cousin told me about this program, the master's in Business Intelligence and Data Analytics at Saint Mary's, because he knew that's where my passion was," she says. "My cousin raved about the program and the program director, Michael Ratajczyk B'03, M'05, and his passion in creating this program and continuously improving it. I signed up for the program literally the next day, in spring 2019."
Vranicar graduated from the University of Iowa in 2012 with an undergraduate degree in finance and a minor in Spanish. She chose a career in data analytics because she saw potential in the growing field, and the Saint Mary's program was the ideal complement to her day job. At the time, she was working as a senior client consultant at Donlen, a vehicle fleet leasing and management company based in Bannockburn, Ill., where she analyzed data and metrics to improve efficiency and cost-saving measures. She started working at Grainger in October 2019, before graduating from Saint Mary's in December 2020.
Vranicar is based in the Chicagoland area and did not have to leave home to earn her master's degree, because the Saint Mary's program is entirely virtual. "I really felt a sense of flexibility, because many of us in the program had full-time jobs and families and many other responsibilities while taking these classes," she says. "So that was definitely part of my decision making [in choosing Saint Mary's]."
Vranicar also appreciated the emphasis on real-world business scenarios in each of her courses, and the opportunity to interact with her remote classmates and provide each other with feedback. "It wasn't just about the technology and the analytics. It always had a communication component to it, which is critical in today's world," she says. "A good portion of the work that you did in each of these courses was participating with your classmates, giving your perspective and gaining their perspective. It was a virtual environment — we were all across the country — but it didn't feel that way."
Gathering different perspectives is essential to how Vranicar leads her team at Grainger, and she says she loves the opportunities for creativity and problem solving that each day on the job brings.
"Within our team, we all approach problems differently, which has proven really helpful and successful in the work that we do. It allows us to brainstorm solutions with various approaches and ultimately move forward with a product that is going to be the best solution," she says. "In leading our team, for me, it's encouraging creativity, out-of-the-box ideas and solutions. It's OK to fail, which allows us to learn from those opportunities and improve upon new ones. My favorite thing about being a people leader, which I've only been for just over two years now, is the coaching, mentoring, and helping my team members grow, develop and learn new skills, and advance their career."
With all the supply chain issues caused by the pandemic, there is more demand than ever for the expertise from Vranicar and other data analytics experts. And amid the uncertainty, she's sticking to the keep it simple philosophy she learned at Saint Mary's.
"Across industries, things that previously arrived the next day or in a couple days could now take one, two weeks, or longer. The demand is greater than the supply," she says. "Companies are leveraging their analytics to drive business decisions and to flex, given the supply chain disruptions. What I've learned is that, many times you might be sharing an end product with individuals who are not as analytical as you are and sticking to the basic visualizations will be more well-received, because it's easy to interpret. There's no learning curve and users really can focus on the findings."
By Maura Sullivan Hill