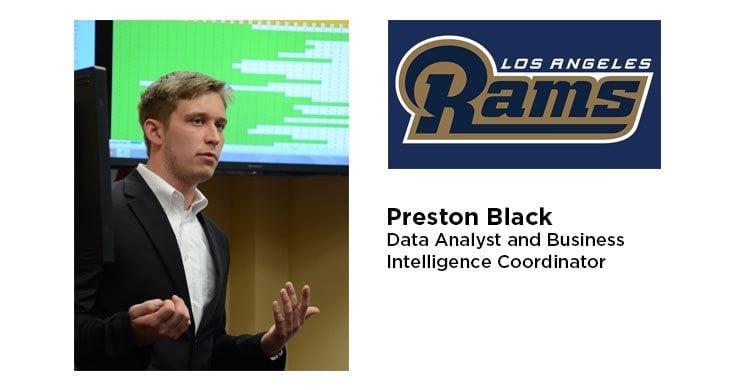 Preston Black '15 always dreamed he would one day work in the professional sports field. He could never have predicted he'd land a job with the Los Angeles Rams just two months after graduating from Saint Mary's University.
When the former Cardinal men's basketball player first chose his areas of study, he knew he wanted to double major—in Sport Management and Spanish. Then, when Saint Mary's began offering a Business Intelligence and Analytics major his junior year, Black decided to take on a third major. "I thought it was a big opportunity, and after I took a class in it, I liked it right away," he said. "I knew it would make me more marketable."
Black said that several of his business analysis projects were based on sports analysis. In fact, for his senior project, he created a prediction model that evaluated Major League Baseball players' statistics in order to determine a free agent's contract value.
"My range of error was within a half million to a million dollars. I wasn't 100 percent accurate, but fairly accurate," he said.
The exercise came in handy when the Aurora, Ill., native applied for the job with the Rams as a data analyst and business intelligence coordinator, a title he's held since July 2015.
"That was one of my bigger selling points of being able to tell a story through data," he said.
Black says that in his current position he works in a Customer Relationship Management (CRM) system and deals with all aspects of business for the Los Angeles Rams, from concessions to ticket sales to sponsorships, linking all aspects of the business, from finance to customer service, so each area is in communication. Every day is different for the two-person department.
"There are always different tasks, whether we're cleaning up data or we're looking at different data sets," he said. "We make sure the right people are seeing the right type of information at the right time."
By looking at the data in different ways, Black also creates dashboards and reports that assist with making business decisions. For example, he creates different lead lists for ticket sales, based on what previous fans had purchased, in an effort to find additional ways to reach new fans.
"Michael Ratajczyk (Business Department) always talked about how a lot of business intelligence is data cleanup, and that knowing what you're looking at makes it a lot easier to break (the data) down and do something productive with it. That's what a lot of my job has been, looking at the information and organizing it. Professor Ratajczyk would tell us that the numbers can tell you a story, and you need to know how to look at them just right."
Black is in the process of moving to California as the Rams make a triumphant return to their former home state, beginning with the 2016 season. "It's a whole new opportunity to experience the team's move," he said. "L.A. hasn't had a team since 1994, which is exciting and almost overwhelming. Just to be in this opportunity to work for the Los Angeles Rams at 23 years old is incredible … I'm really lucky."
Black also says he's proud to be part of the first official class to graduate with the Business Intelligence and Analytics degree. "Professor Ratajczyk was always very helpful, always there to answer questions," he said. "He helped me get an internship at Saint Mary's working in the Student Success Center, which was a big résumé boost for me. He was a great teacher. I'd like to see the program grow."