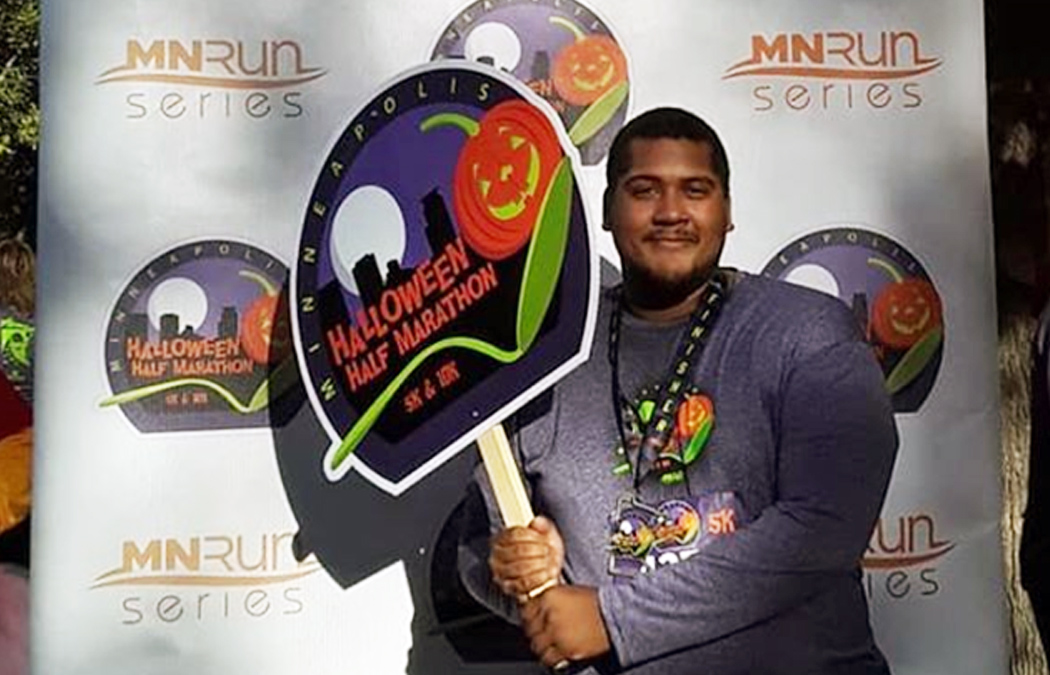 EDITOR'S NOTE: This story was published in January before the COVID-19 pandemic hit America — in particular New York City, where Aldontae Guess '19 has been serving as a Lasallian Volunteer at a high school in Brooklyn since the beginning of the school year. We recently reached out to him and are happy to report that he is doing well. He is establishing virtual prayer services for the high school community through platforms such as Facebook Live and Zoom. "It's certainly a different shift on things," Guess said. "We're trying to adjust the best way we can and just do what we can." Although his neighborhood is a lot quieter than it usually is, he said there are signs of life, togetherness, and resilience like the nightly 7 p.m. ritual of making noise to honor health care workers. "Even sometimes just a small gesture can have the biggest impact on people," Guess said, "something as simple as just telling someone 'Thank you.'"
If you ask him, Aldontae Guess '19 will tell you that he's a city guy at his core, having been raised on the West Side of Chicago.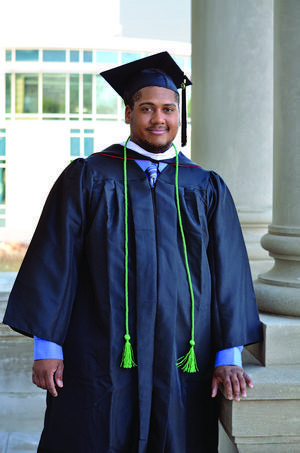 So when it came to living and serving in New York City as part of the Lasallian Volunteers program, the transition was pretty smooth.
"I'm used to the car horns and people and everything else," he said.
Guess has called the much smaller town of Winona home for portions of the year, beginning in 2011 — first as a recently graduated eighth-grader taking part in the Countdown to College summer college preparation program at Saint Mary's University of Minnesota and later as a Saint Mary's First Generation Initiative (FGI) student. He is one of 137 graduates of Countdown to College and one of about 50 graduates of FGI since the programs formed in 2010.
In late October, Guess made his first trip back to Minnesota since graduating with his B.A. in Psychology in May to take part in the 14th annual "LVs Run," in which volunteers raise money for their organization by having patrons sponsor their participation in a race. The goal this year was to raise $65,000.
The featured race for the fundraiser changes locales every year. As luck would have it, this year's event took place around the Minneapolis Halloween Half Marathon on Oct. 26. Along with his fellow volunteers, Guess took part in the 5K portion of the event — raising more than $3,000 in pledges, placing him as the second-most sponsored runner.
"I pushed through, but I was glad to be done," said Guess, who had members from the Saint Mary's community cheering him on throughout the race.
Visiting old friends
Following his time in Minneapolis, Guess headed to Winona to meet up with professors, staff, students, and others he had formed relationships with through various student activities and affiliations, including the Student Activities Committee, the FGI office, and Serving Others United in Love (S.O.U.L) Council. Last spring, he was presented with the Student Service Award.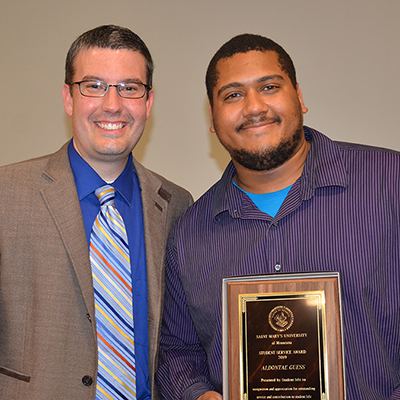 "Aldontae earned the nickname of 'The Mayor' of campus while he was a student," said Alisa Macksey, dean of Student Success and FGI. "Aldontae was the student who always said hello to everyone and went out of his way to make everyone in the community and visitors feel welcome."
Besides catching up with familiar faces, Guess joined with other Saint Mary's alumni who are serving as Lasallian Volunteers in giving presentations on the Winona Campus. Their hope was to spark interest with students who may also be interested serving others by becoming a Lasallian Volunteer, a program celebrating its 30th anniversary this year.
Guess is serving as a volunteer at Bishop Loughlin Memorial High School in Brooklyn, an assignment that will last until the end of the school year. He is one of two first-year volunteers who are graduates of Saint Mary's, the other being Jessica Bauer '19 at the De La Salle Blackfeet School in Browning, Mont. In addition, there are four second-year volunteers who graduated from Saint Mary's: Sheyenne Bauer '18, San Miguel School, Chicago; Regina Bettag '18 , De La Salle Blackfeet School, Browning, Mont.; Chris Lackey '18 La Salle School, Albany, N.Y.; and Benjamin Peters '18, Cristo Rey De La Salle High School, Oakland, Calif.
Guess felt a call to serve since his sophomore year when he went he co-lead a S.O.U.L. (Serving Others United in Love) immersion trip to the San Miguel School of Tulsa, Okla., during spring break of 2016, when he and his fellow volunteers helped supervise the school's students, as well as helped with homework and provided afterschool assistance.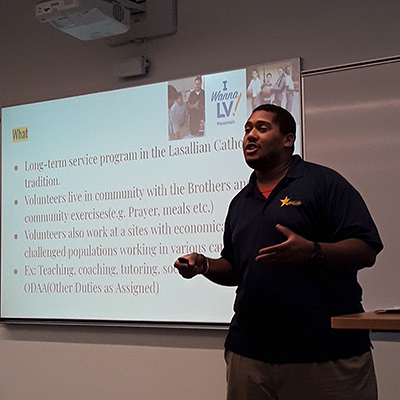 Guess said this trip was one of his primary reasons for applying to the program. "It was really being with the Christian Brothers and the volunteers, spending that week, and really seeing De La Salle's mission being done right before my very eyes that inspired me to continue serving," Guess said.
'The sense of community'
In his role at the Brooklyn high school, Guess' official title is a volunteer for student life. His responsibilities include assisting with Mass, prayer services, retreats, and social events that take place during school hours. In addition, Guess also assists with day-to-day operations in the school's library, development office, and campus ministry office.
Given his experiences thus far, Guess would like to come back for a second year of volunteering at Bishop Loughlin before applying for graduate school for a to-be-determined area of study.
Of course, he welcomes fellow Saint Mary's alumni to join him in the program, which has a priority deadline of Saturday, Feb. 15.
What does he think is the organization's biggest selling points?
"Just the network that you're a part of," he said. "I think the sense of community you get from it — and the chance to be of service."
Featured image: Aldontae Guess '19 strikes a pose after finishing the 5K race at the Minneapolis Halloween Half Marathon in October.