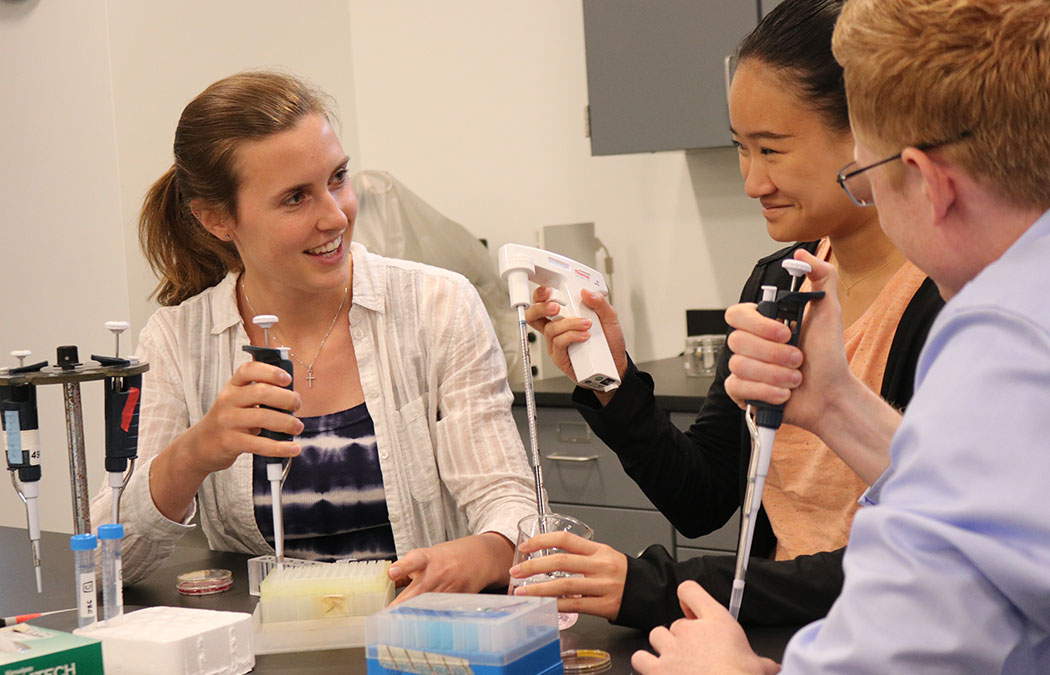 As Saint Mary's senior Danielle Franke dreams of a career in obstetrics, she was excited to learn more about how regenerative medicine will benefit her future patients.
"Getting the chance to hear about the advancements happening in medicine around the world was eye-opening," the Saint Paul, Minn., native said.
She, along with nine other college students from throughout the region, were invited to Saint Mary's University's second Regenerative Medicine Workshop, held in May on its Winona Campus. The event — funded in part by a $49,202 grant from Advancing Regenerative Medicine — featured innovative learning and hands-on activities and guest speakers, including a stem cell researcher, a bioethicist, a physician assistant program director from Mayo Clinic, and a researcher from the Karolinska Institutet in Sweden.
A highlight for Franke was the chance to look at 3D-printed models, including one of a spine with a large tumor growing near the spinal cord. She learned that teams of surgeons and physicians actually use these models to visualize the best way to do a surgery and explain what needs to happen to the patient.
"This was an exemplary use of technology to facilitate regenerative medicine, and it exhibited how various types of professions, physicists, engineers, and surgeons, can work together to perform complicated surgeries," said Franke.
The transitional and groundbreaking discipline of regenerative medicine has tremendous potential to impact the treatment of diseases affecting different organ systems, from tissue growth for burn victims to growing new vital organs, like hearts and kidneys. The potential for self-repair can lead to an improvement in the quality of life — and even sustain life — for many patients.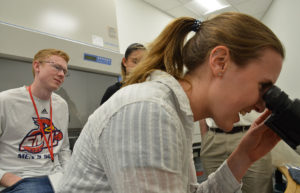 "Regenerative medicine has made many leaps in the past few years, but is a field that has a lot to be uncovered still," said Franke. "Mayo Clinic has done research on bioprinting a meniscus and cartilage and tissues. If these pass clinical trials, they are amazing advancements in medicine overall."
Franke ultimately hopes to go to medical school and become an OB-GYN. She's always wanted to become a doctor to help others, but is especially interested in the physiology and anatomy of pregnancy.
"It's an incredibly fascinating field," she said. "Rather than fix what is wrong with someone, it is about helping a woman throughout the time she is developing a human inside of her and then helping her bring a life into the world. I want to become an OB-GYN to keep facilitating connections between patients and their doctors and to make women feel comfortable in that exciting, life-changing time. I'm excited to be able to use some of what I learned during the Regenerative Medicine Workshop in this field."
Participants in the workshop included:
STUDENT/HOMETOWN/SCHOOL
Zachary Bracken / Osseo, Minn. / Saint Mary's University of Minnesota
Scarlett Cheong / St. Cloud, Minn. / St. Cloud State University
Jonathan Dicke / Rochester, Minn. / Southwest Minnesota State University
Danielle Franke / St. Paul, Minn. / Saint Mary's University of Minnesota
McKenna Gaalswyk / Rochester, Minn. / Saint Mary's University of Minnesota
Chance Jakobson / Rochester, Minn. / St. Cloud State University
Olivia Kostueck / Minooka, Ill. / Saint Mary's University of Minnesota
Brady Larson / Arbor Vitae, Wis. / University of Wisconsin-Stout
Natalie Luo / St. Paul, Minn. / Macalester College
Grace Wilson / Portage, Wis. / Saint Mary's University of Minnesota
Photo caption: Danielle Franke, Natalie Luo, and Zachary Bracken prepare samples of a strain of epithelial cells to be analyzed with the flow cytometer.