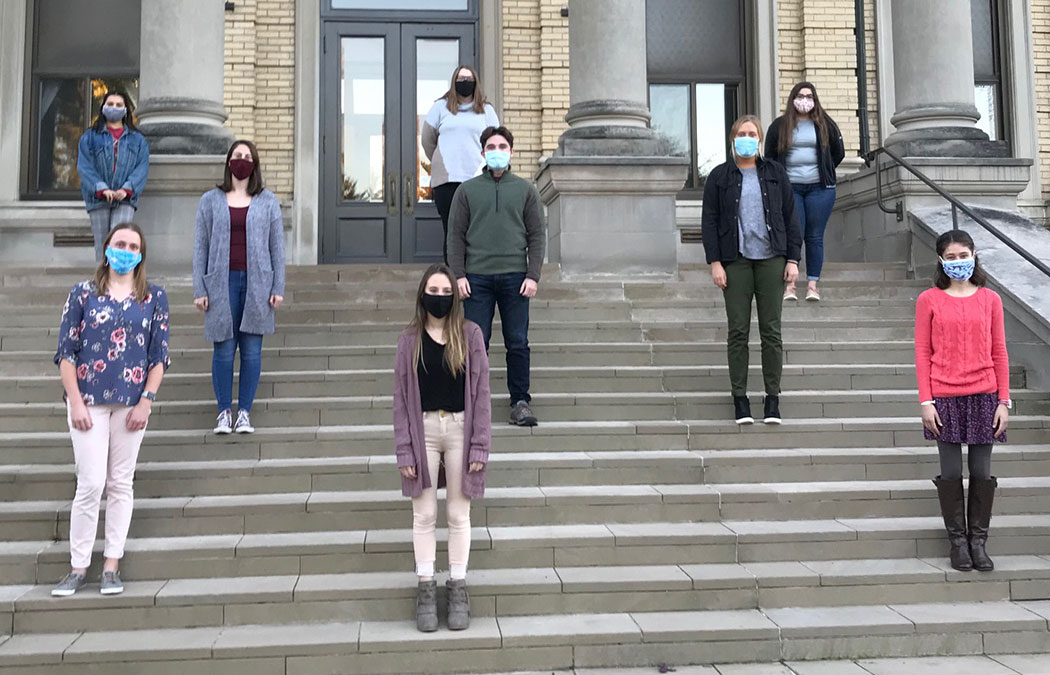 A year ago this Monday, life at Saint Mary's changed abruptly, dramatically, and unexpectedly as we closed campuses and sent Winona Campus students home due to the COVID-19 pandemic. Last spring, courses were moved online as the world evolved to what would include mask wearing, social distancing, and frequent hand washing. Although the pandemic has presented students with many challenges, they have done their best to not only persevere, but to do so with character and strength.
As the pandemic continued in 2020, undergraduate students were excited to return to the Winona Campus in the fall, even though things looked and felt considerably different because of safety protocols.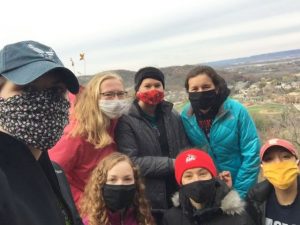 Bridgette Hegarty, a junior elementary education major, said looking back on this past year has caused her to reflect on how much we take for granted. "Life since last spring has been a constant opportunity to develop my adaptability and flexibility," she said. "I had to accept that, for the time being, things will be different."
Flexibility and resiliency have been key themes as Saint Mary's discovered that, together, we can accomplish some pretty amazing things.
Ben Pauli, Ph.D., assistant professor of biology, recalls how much work there was last spring to abruptly transition on-ground classes to purely online experiences.
"Despite the difficulties, our students were really understanding, even when things didn't go smoothly," he said.
Saint Mary's School of Graduate and Professional Programs (SGPP) also transitioned to offering the majority of its courses online in spring of 2020, and continued these offerings in the fall. The decision to continue with online courses was made to avoid potential disruptions to the learning experience in the wake of COVID-19, and to promote safety and well-being of our more than 5,200 non-residential adult learners.
Building on its longstanding tradition of personalized online learning, Saint Mary's continues to support and enhance the online learning experience by offering a newly developed faculty online instructor certification series. This four-week course provides faculty with online teaching skills and prepares them to deliver an enhanced student experience informed by best practices in online education. Faculty are also encouraged to continue to develop their classes using the Cardinal Flex model.
In addition to online training opportunities and a flexible teaching model, surveys and discussion groups were created in the wake of the pandemic to gain input from students, largely on the Winona Campus. Through this feedback, Saint Mary's was further able to adapt and improve on communication, protocols, and more.
Ann Merchlewitz, J.D., senior vice president and general counsel, said she is proud of how the community has been able to minimize and contain the spread of COVID-19, and she largely credits the students.
"Our students feel a strong sense of connection to each other, their faculty, and staff," she said. "I think they wanted to stay in person to foster and rely on those connections in a time of great upheaval and uncertainty. They have also been great advocates for the protocols among themselves, meaning they are holding each other accountable. Again, I think that speaks to our students' dedication to the community that is Saint Mary's."
While much has changed during this pandemic, there's comfort in knowing the important things have not.
"Lots of things haven't changed," Pauli said. "Saint Mary's is still a place with a strong community, where people look out for one another. The faculty at Saint Mary's are still committed to providing the highest quality education to our students as possible. We still get to teach, learn, and work on a campus set in a truly beautiful landscape. We are still Saint Mary's."
"The thought, care, and dedication of my professors haven't changed," Hegarty added, "It has only increased. My professors have gone above and beyond to ensure we still receive the quality of education they intended to provide pre-pandemic."
Everyone looks forward to something slightly different when the fears of this pandemic have passed. Merchlewitz can't wait to greet students with handshakes or hugs, and both she and Hegarty can't wait to see all the smiles.
"Despite living through a pandemic, Saint Mary's is a place that still makes me smile every day, even if it's behind a mask for the time being," Hegarty said.