The state of Minnesota released the information below on Feb. 25, 2021, about the state's path to vaccinate all Minnesotans for COVID-19. You will note that higher education is not listed anywhere on this path, meaning neither students or employees of colleges and universities have been identified as a priority group for vaccination by the state. The university has already reached out to the Minnesota Department of Health (MDH), Representative Gene Pelowski, and Senator Jeremy Miller to express the university's significant concern and disappointment with this failure to identify higher education as a priority for vaccination. While we appreciate all that MDH has done to work with the university throughout this pandemic, this lack of attention to higher education in vaccine distribution is very disappointing, especially as we try to prepare for fall 2021 and address the significant COVID-19 fatigue our faculty, staff, and students are feeling. We are advocating with MDH and our local legislators on this issue and will keep you posted on any new developments.
State Lays Out Path to Vaccinate All Minnesotans
As more vaccine arrives in Minnesota, the state is laying out a path to vaccinate all Minnesotans.
Governor Tim Walz announced today that Minnesota will vaccinate at least 70% of Minnesotans age 65 years and older before expanding eligibility to other groups, and aims to reach this goal by the end of March.
Once 70% of the state's seniors have received the vaccine, Minnesota will expand eligibility based on underlying health conditions and workplace exposure risk. Minnesota will move forward with phases of vaccine eligibility based on science, medical evidence, and federal guidance: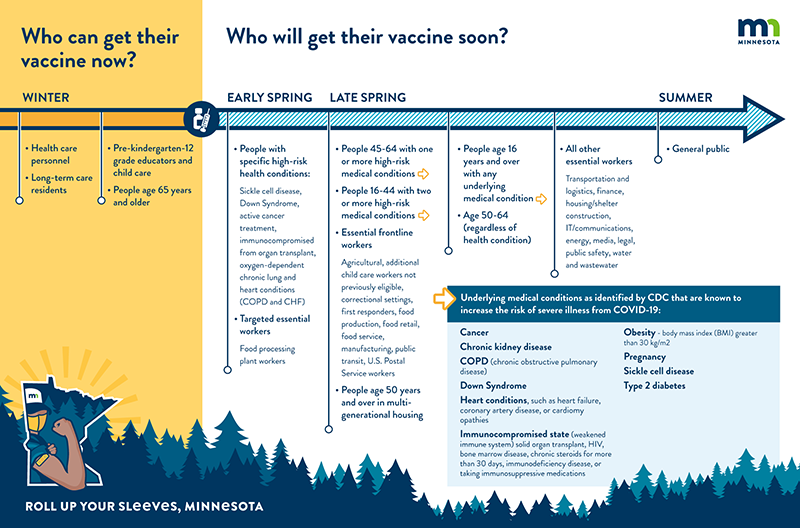 Visit the state's Who's Getting Vaccinated page to learn more about the phases and when you will become eligible.
As vaccine supply increases, it will become easier than ever to get a shot. Until then, it's important to take easy steps to slow the spread of COVID-19. Wear your mask, stay 6 feet away from others, wash your hands, and get a COVID-19 test if you need one. When it's your turn, get your vaccine. After you've had your shot, continue following these safe practices to protect your neighbors while they wait for their vaccines.