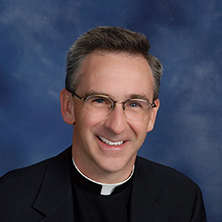 WINONA/MINNEAPOLIS, Minn. — The Rev. Stephen Joseph Fichter, Ph.D., research associate for the Center for Applied Research at Apostolate, Georgetown University, will present "Church Leadership in the Third Millennium: Recent Research on Catholic Bishops in the U.S." for the next Cardinal Virtues presentation at Saint Mary's University.
The Rev. Fichter co-authored the book, Same Call, Different Men: The Evolution of the Priesthood since Vatican II, published by Liturgical Press in 2012. His newest book, Catholic Bishops in the United States: Church Leadership in the Third Millennium, was published by Oxford University Press in 2019. Based on his research, the Rev. Fichter will provide an overview of how the bishops are leading the Church in the United States in the era of Pope Francis.
The public is invited to his two presentations:
Wednesday, Jan. 15, 4 p.m., Saint Mary's University Center, 2540 Park Ave., Minneapolis
Thursday, Jan. 16, noon, Saint Mary's Science and Learning Center, 700 Terrace Heights, Winona
A reception will follow both presentations.
The Rev. Fichter also serves as an adjunct professor of systematic theology at Seton Hall University. He obtained a Ph.L. and an S.T.B. from the Pontifical Athenaeum Regina Apostolorum in Rome, an M.S.W. from Fordham University's Graduate School of Social Service, and an M.A. and a Ph.D. in Sociology from Rutgers University.
In coordination with the National Organization for Continuing Education for Roman Catholic Clergy, he has worked on many Cultivating Unity projects for dioceses throughout the U.S.
In addition, he was the parochial vicar at St. Gabriel the Archangel in Saddle River, N.J., from 2000 to 2008. He then became the pastor of Sacred Heart Parish in Haworth, N.J., until he assumed the role of pastor at Saint Elizabeth of Hungary Parish in Wyckoff, N.J., in July 2017.
Cardinal Virtues speakers and topics are chosen to create thought-provoking dialogue. Saint Mary's University cultivates in its learners virtues to guide them throughout their educational journeys and beyond.
RSVP by Wednesday, Jan. 8, at smumn.edu/cvrsvp. For more information, call 507-457-1597.