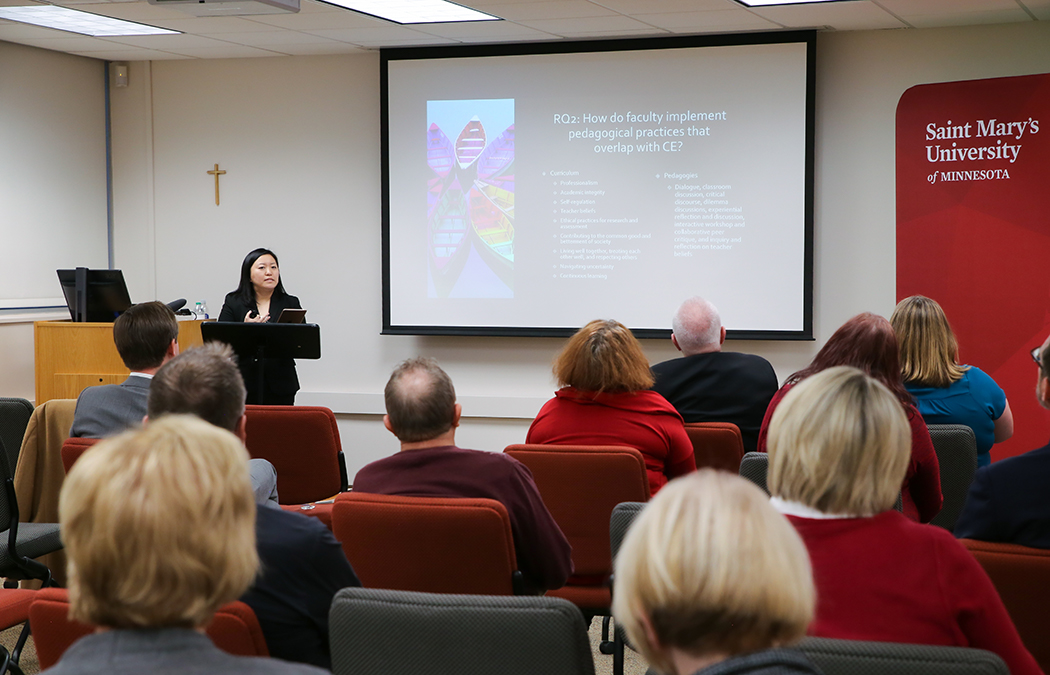 As Saint Mary's continues facilitating conversations around character and virtue education, the School of Education hosted Dr. Julie Nagashima, Ph.D., Nov. 10 to discuss faculty perceptions regarding the teaching of character education.
Nagashima led a seminar for faculty, staff, and administration, focusing on an article she co-authored for the Journal of Moral Education, titled "Sensegathering and iteration: the evolution of a character education framework in higher education." Nagashima later presented "Faculty Perceptions of University Character Education" to 25 members of the Saint Mary's community and visitors.
As part of her research, Nagashima studied a large, public university's implementation of a character education program. During her research, Nagashima looked at the faculty's sentiments toward character education and how their practices in the classroom were already connected to character education.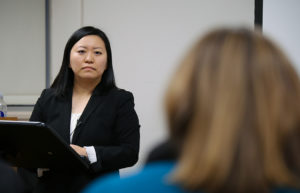 According to Nagashima, faculty members at the university became increasingly supportive of the idea of teaching character within the classroom. In fact, during a small group conversation around the topic, instructors realized many of them had already embedded character education into their work.
Some of the Saint Mary's faculty in attendance saw a similarity between the two schools. They agreed that character formation is present in a lot of the work they already do, and Saint Mary's renewed focus on character and virtue education is an added benefit.
"Looking at Saint Mary's and the virtues that we're already embedding in our instruction, the character education, I would say, is a perfect fit with what we're already doing here," said Craig Sundberg, Ed.S., program director of the Ed.S. in Educational Administration program. "So it's strengthening what I consider to be an already strong program."
Christine Beech, D.M., executive director for the Kabara Institute for Entrepreneurial Studies, could visualize other aspects of Nagashima's study working well at Saint Mary's as the university continues to make character and virtue education a priority.
"I love the idea of gathering in small groups," she said. "Dr. Nagashima talked about being able to bring together a small group of people to process and bring out their thoughts around the topic of character education. I think that would work really well here."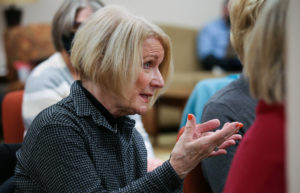 One of the visitors in attendance at Nagashima's lecture was Barbara Shin, a retired administrator of Minneapolis schools and an active member of the Minnesota Character Council, a local organization that advocates for the development of character and ethical leadership. Shin said she is pleased to see Saint Mary's put an emphasis on character formation inside of the classroom.
"The fact that Dr. Nagashima was here today speaking on the topic is a real sign of support that Saint Mary's is trying to develop this concept of moral education and character education," she said.
"The School of Education is continually trying to find ways to support the university's renewed focus on character and virtue education for the benefit of our students," said Michael Hahn, Ph.D., assistant dean of the School of Education. "Inviting speakers like Dr. Nagashima to campus in order to learn from their experience is one important way we do this."
Nagashima is a visiting assistant professor of ethical leadership and the coordinator of the character education certificate program at North Central College. She graduated from University of Pittsburgh with a Ph.D. in Education. Her dissertation focused on relationships and their significance for fostering student agency. She began her educational career as an intern and program coordinator supporting programs including UNESCO associated schools project at University of Pittsburgh. Following her internship, she worked for a nonprofit organization as an educational program coordinator and developed mentoring programs for undergraduate and graduate students in the Pittsburgh area for six years. After graduating with her doctorate, Nagashima worked as a postdoctoral research associate for two years where she supported the research and development of character initiatives at Arizona State University.
Nagashima's visit to Saint Mary's was made possible through the $1.7 million grant awarded to the university by the Kern Family Foundation to support the school's renewed and invigorated focus on character and virtue education.