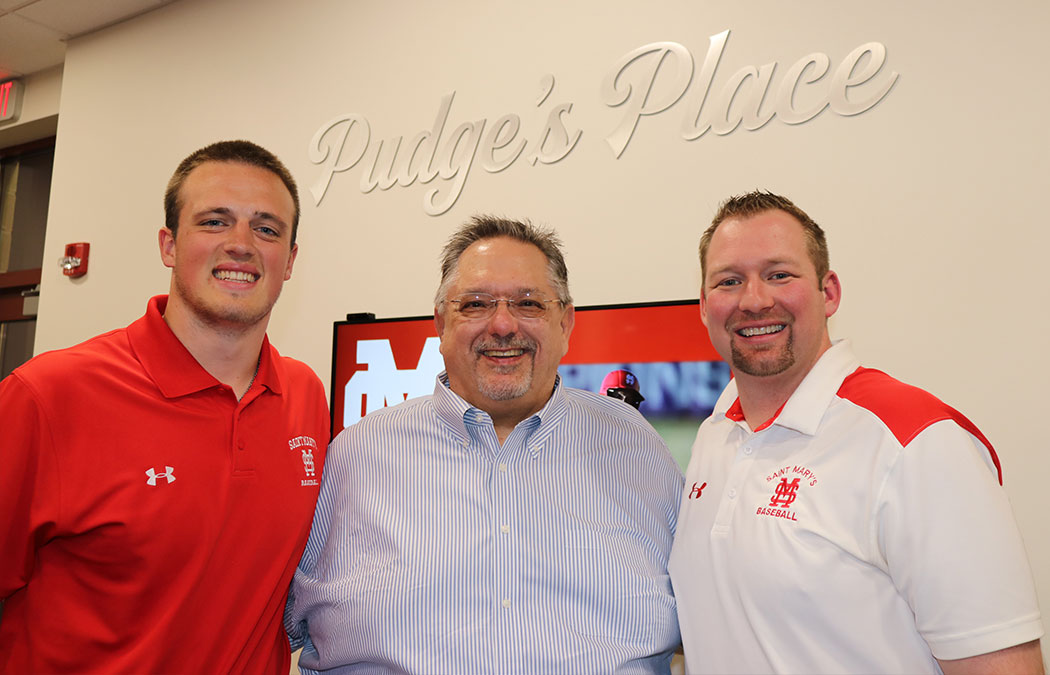 As the Cardinal men's baseball team entered their new clubhouse for the first time, selfies were taken; high-fives were given; and exclamations of excitement filled the air.
A special ribbon-cutting ceremony was held Jan. 14, as Saint Mary's unveiled its new $704,000 baseball clubhouse to the team for the first time. The 2,500-square-foot facility was made possible by a generous lead gift from alumnus Marc Weisenburger '75.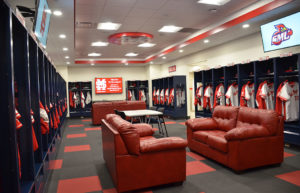 The players walked around their new locker room and players' lounge with big-screen TVs and couches — as well as the coaches' space, bathrooms/shower facilities, and laundry and storage areas — all impressively branded with Cardinal Pride.
A large mural at the main entryway off Gostomski Fieldhouse reads, "Respect the Past, Represent the Future." Black and white photos in the mural depict some of the familiar faces in Saint Mary's baseball, and current action photos highlight the growth of the program. The theme is particularly fitting as it's because of the generosity of past baseball players that the facility — which so visibly supports the future of Cardinal athletics — was able to be constructed.
Father James P. Burns, IVD, president of Saint Mary's, told the team, "The recipe for success starts with great people and great facilities, and we celebrate both this evening."
Weisenburger, of Plymouth, Minn., made the lead gift in honor of his experiences at Saint Mary's, both in school and on the field — particularly under the guidance of Hall of Fame Coach Max Molock. The clubhouse will be named "Pudge's Place" after Weisenburger's nickname from his playing days as a catcher with the Saint Mary's baseball team from 1971 to 1975.
Weisenburger said he was inspired by the way benefactors have supported previous Saint Mary's initiatives. "In thinking about how I could help define success for Saint Mary's baseball, I wanted to try and determine what I could do to make a difference," he said. "I am honored that my nickname is on this clubhouse, and I am proud to be forever connected to Saint Mary's baseball … and all that it stands for."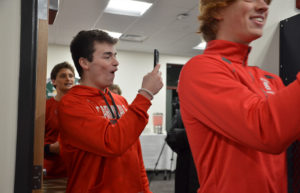 Coach Nick Winecke '07 said that Weisenburger's generosity inspired many other alumni players to give back. Of the 46 lockers to be located in Pudge's Place, 39 have already been sponsored. The cost to sponsor a locker was set at $2,000, but several alumni, Winecke said, have made gifts over the requested sponsorship amount — further proof that Saint Mary's alumni cherish their experiences and want to help future student-athletes have the same great experience.
"I want all of you to know that it is because of all of those that came before you that you are able to have these benefits today," Winecke told his team. "When you leave this place after four years, I want you to remember it's because of generous alumni that we have been able to do special projects like this."
Saint Mary's athletic director Brian Sisson echoed Winecke's assessment. "This facility will have the most profound impact on current, past, and future Cardinal student-athletes for generations to come," he said. "We want to thank each and every student-athlete and coach from the start of Saint Mary's baseball to current day — this place is for all of you. We are not here today without you laying the foundation."
Senior pitcher John Heim also expressed his gratitude. "This is a great day for Cardinal baseball. This is a day where our program, coaches, and players get rewarded for all their hard work and dedication. Every single one of the players is beyond appreciative of this wonderful clubhouse."
A public open house for the clubhouse will be held April 27, and more details will be announced soon.
View photos from the dedication ceremony at smumn.edu/clubhousededication.
View photos of the clubhouse at smumn.edu/clubhousepics.
Photo caption: The lead benefactor of Saint Mary's University's new baseball clubhouse Marc Weisenburger '75 (center) poses with head coach Nick Winecke (right) and current baseball player John Heim, a senior at Saint Mary's.