Saint Mary's University junior biology major Bailey O'Hare joked that she'd make her speech short May 12 during the dedication ceremony for the new Science and Learning Center on the Winona Campus.
"Because I, like you, can't wait to get inside," she told the crowd of more than 400 people at the Winona Campus celebration.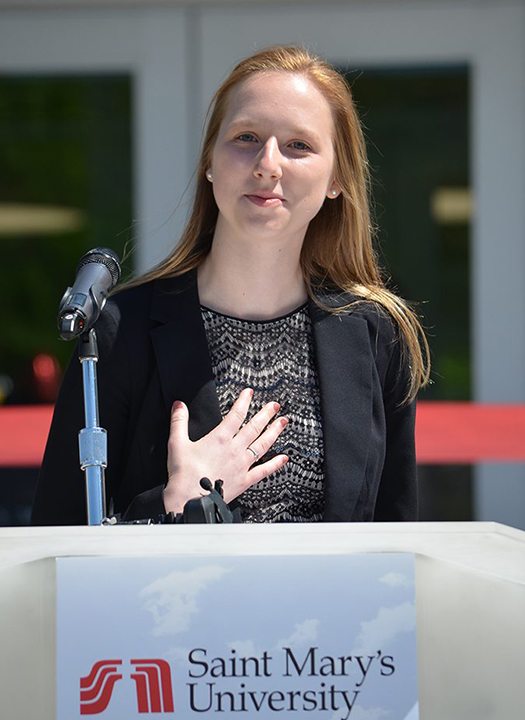 The completion of the $19.7 million project was the culmination of a long-time dream of the university. But the day wasn't just about celebrating a 50,000-square-foot building; it was also about recognizing the innovative programming and enhanced learning that will soon take place inside.
Dr. Todd Reinhart, dean of the Sciences and Health Professions, said the building's facilities will be put to use May 29 as 20 undergraduate students attend a two-week Advancing Regenerative Medicine workshop.
"Today truly is about more than a building," he said. "We're shaping a new vision in the sciences at Saint Mary's at both the undergraduate and graduate levels." For example, he cited Saint Mary's new physician assistant master's degree program being developed through a collaboration with Mayo Clinic School of Health Sciences. "This is an area where skilled medical workers are desperately needed, and we're excited to begin training these future physician assistants in the fall of 2018," he said. "As part of this collaboration, we are expanding our Cascade Meadow facility in Rochester."
These are the types of initiatives that O'Hare said are further fueling her passion for sciences.
"When I was looking at where I wanted to pursue my undergraduate studies, I was drawn to Saint Mary's because of its reputation for having a strong science program," she said. "Being able to study in this new facility will give Saint Mary's students an even greater advantage in preparing them for their future careers."
Audrey Kintzi, vice president for Development and Alumni Relations, announced that—through the generosity of benefactors—$19.4 of the building's $19.7 million cost has already been raised.
Brother William Mann, Saint Mary's president, referenced several songs during his remarks, including the John Denver lyrics, "If I had a day that I could give you, I'd give to you the day just like today. "But I'm not the one giving you this day," he said. "WE'RE the ones and GOD is the one giving us this gloriously sunny day — and heart-filled and heart-open generous benefactors who have helped this university realize this dream."
Another song lyric Brother William referenced was the Beatles' "I get by with a little help from my friends."
"When we go through the doors, on the left was supposed to be the benefactor wall of recognition. We had to adjust because the names of the people who gave the more than $19 million that has already been given, were too many to fit. So you'll find names on the left and the right because we get by with a little help from our friends."
Brother William said the music title he'd give to the dedication day was, appropriately, Beethoven's Ode to Joy.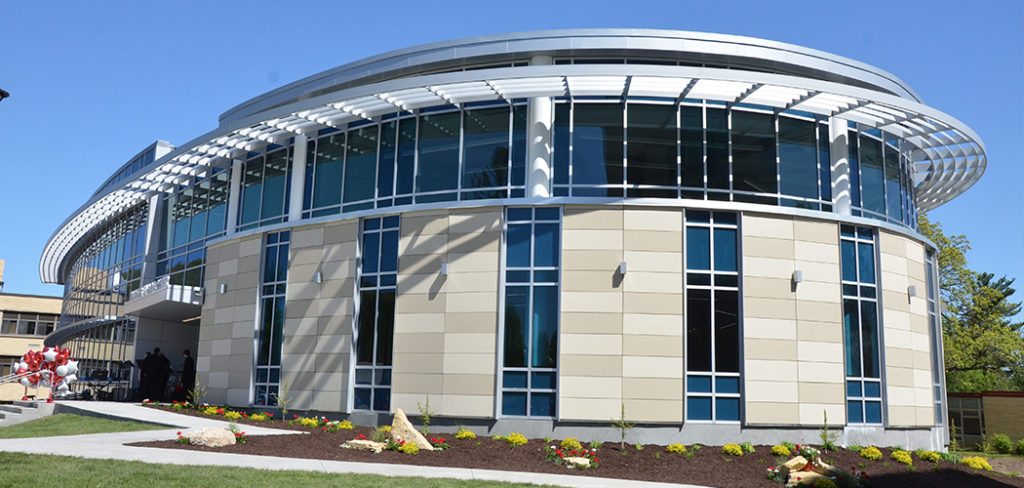 "Our contribution to the public good, to civic welfare is that we are helping our nation reach and achieve its goals by doing this work, which prepares tomorrow's leaders," he said. "Educating science and business leaders of tomorrow is going to happen in this building. For that I am grateful to all of you who made this possible."
O'Hare also thanked those who contributed to the Science and Learning Center. "Because of you, I will finish my academic career here, in this state-of-the-art facility, surrounded by dedicated and knowledgeable faculty members," she said. "And I will forever be blessed by your generosity. Thank you for making today possible."
For more photos, go here.