Five members of the Saint Mary's University community delivered breakout session presentations at the 2019 Huether Lasallian Conference which took place in Minneapolis Nov. 21-23. More than 200 Lasallians gathered at the 46th annual conference themed "Living the Lasallian Mission: Celebrating with Zeal."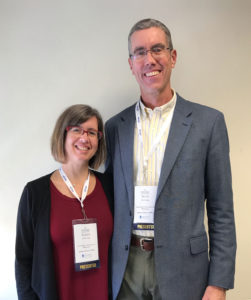 Karen Sorvaag, Ed.D., and Scott Sorvaag, Ed.D., both professors of Education, presented "Our Lasallian Heritage in Daily Classroom Practices." They led their audience in seeking to answer questions such as: How do our students experience our Lasallian heritage in their everyday experiences in the classroom? How do Lasallian teachers model their deeply held beliefs and practice virtue?
In their interactive presentation, participants engaged with them to identify effective classroom practices that reflect Lasallian principles and virtues of a good teacher. They addressed everyday classroom practices that build community, humanize the learning environment, and engage the hearts and minds of learners.
Additionally, Alisa Macksey, dean of Student Success and First Generation Initiative, presented "AIMEL 2020 – Identity, Vitality and Transformation."
Ellen Koneck and Brian Singer-Towns of Saint Mary's Press presented "Juggling the Many Voices Inside."
Full event coverage of the Huether Lasallian Conference can be found at lasallian.info/huether-2019-highlights.