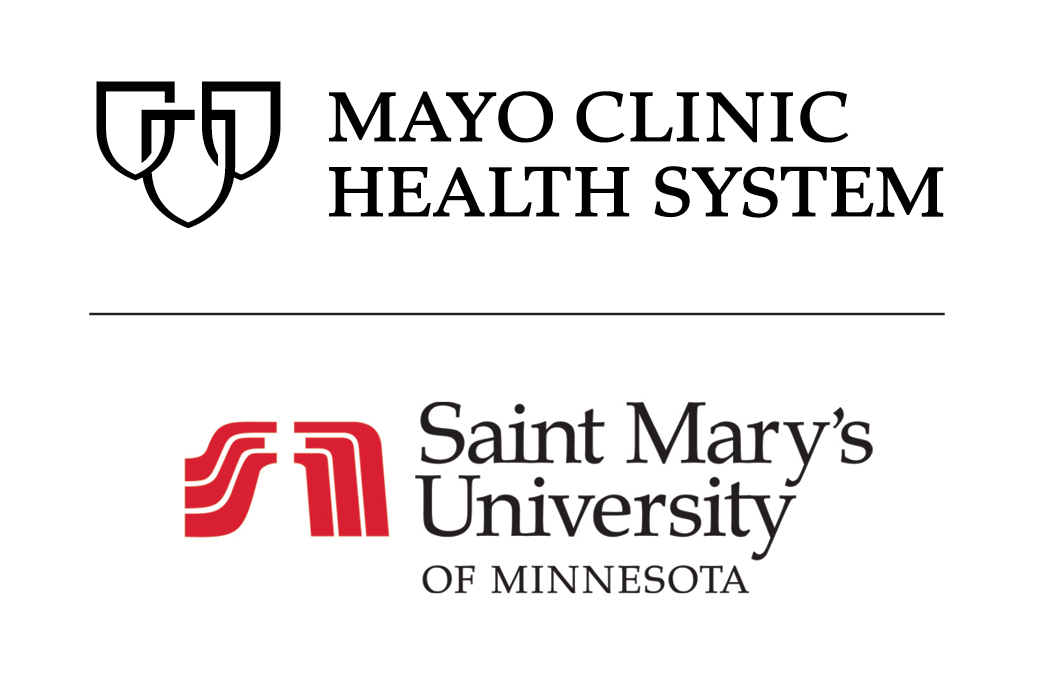 WINONA, Minn. — Saint Mary's University of Minnesota and Mayo Clinic Health System – Franciscan Healthcare have entered into a joint venture focused on athletics.
"At Saint Mary's, the health and well-being of our student-athletes is always our top priority," said Brian Sisson, athletic director for Saint Mary's University. "We are thrilled to be joining forces with Mayo Clinic Health System — a trusted leader in healthcare worldwide — which will create an unmatched experience for each and every one of our student-athletes."
Through this partnership, Mayo Clinic Health System will provide Cardinal student-athletes additional sports medicine and athletic training care, as well as access to comprehensive health care services and professionals. The addition of a Mayo Clinic team doctor and a fourth athletic trainer to the department will assist in day-to-day services throughout the academic year and will further enhance the overall well-being, health, and safety of all Cardinal student-athletes.
"The entire team we have worked with to make this a reality has been truly amazing," added Sisson. "We are grateful to have Mayo Clinic Health System as part of the Cardinal athletics team moving forward and know that this collaboration will set us apart among current and future student-athletes at Saint Mary's."
"The health and safety of athletes, including student-athletes, is very important to Mayo Clinic Health System and the Winona area community," said Paul Mueller, M.D., regional vice president, Southwest Wisconsin Region, Mayo Clinic Health System. "Given our success with other similar regional partnerships, such as at the University of Wisconsin-La Crosse, we are confident we will replicate this level of service and expertise here in Winona at Saint Mary's University."
Alecia Gende, D.O., a member of the Mayo Clinic Health System sports medicine team, has been named medical director of Saint Mary's athletics. Dr. Gende will offer consistent guidance to the university training room facilities with Mayo Clinic Health System athletic training staff.
"We are all excited about this new partnership and the many tangible benefits for both institutions," said Dr. Gende. "We look forward to providing high-quality care to these amazing student-athletes that supports their overall performance."
This joint venture furthers Saint Mary's collaborative relationship with Mayo Clinic, which includes the 3+2 Physician Assistant Program launched in 2019. In that program, students spend three years taking classes at the new Science and Learning Center on the Winona Campus. The following two years, program participants learn from Mayo Clinic School of Health Sciences faculty at Saint Mary's University's Rochester Campus and have clinical learning experiences at Mayo Clinic in Rochester and throughout Mayo Clinic Health System.
"This is truly going to be a model learning environment for students to transition from the foundational sciences into a clinical care setting," said Todd Reinhart, Sc.D., dean of the School of Sciences and Health Professions at Saint Mary's University.
As part of the collaboration, Mayo Clinic Health System will be featured on scoreboard signage at numerous Cardinal athletic facilities, an event sponsor for the Cardinal Excellence Fund Dinner and golf outing annual fundraising events, and presenting sponsor of saintmaryssports.com, the official athletics website for the Saint Mary's Cardinals.
Mayo Clinic Health System consists of clinics, hospitals and other facilities that serve the health care needs of people in Iowa, Minnesota, and Wisconsin. The community-based providers, paired with the resources and expertise of Mayo Clinic, enable patients in the region to receive highest-quality physical and virtual health care close to home.