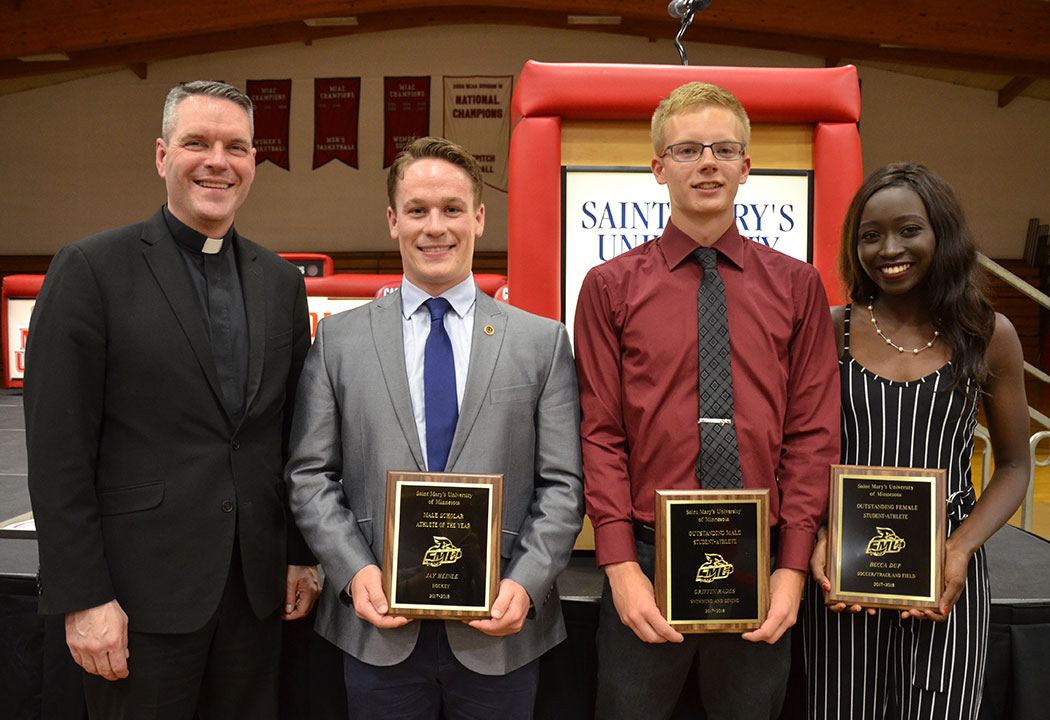 WINONA, Minn. — It was a weekend of celebrating athletics at Saint Mary's University. During Cardinal 'M' Club Weekend Sept. 7-9, current and former athletes came together to reminisce about teammates, coaches, and competitions — and to congratulate current Cardinal athletes on their impressive accomplishments.
Attendees were reminded Sept. 7, during the Cardinal 'M' Club awards ceremony, that the only place success comes before hard work is in the dictionary.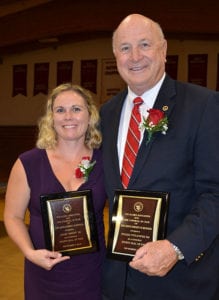 A highlight of the weekend included honoring two alumni-athletes for their many accomplishments. This year's Saint Mary's Sports Hall of Fame inductees were: Roger Pytlewski '66 and Angie Wright '00.
ROGER PYTLEWSKI '66 • MEN'S BASKETBALL
A four-year letterwinner, Pytlewski was a rebounding machine during his time at Saint Mary's, ranking second all-time with 598 defensive rebounds, while his 825 career boards are No. 3 in program history. Pytlewski, who closed out his collegiate career at Saint Mary's as a member of the program's 1,000-point club — finishing with 1,003 career points — averaged 10.0 points-per-game and 8.3 rebounds-per-game in 100 games. Pytlewski put together his best season at Saint Mary's as a senior, when he averaged a double-double of 12.0 ppg and 13.0 rpg. His 326 total rebounds during that campaign rank No. 2 in single-season program history. The team captain as a senior, Pytlewski also closed out his collegiate career ranking in the top 10 in program history with 100 games played (8th) and 227 offensive rebounds (9th).
ANGIE WRIGHT '00 • FASTPITCH SOFTBALL
A four-year letterwinner, Wright was a key cog in the Cardinals' run to the program's (and the school's) first-ever national championship in 2000. Wright — who played in a program-record 169 career games, including starts in all 135 contests during her sophomore, junior, and senior seasons — closed out her Cardinal career hitting .392, while ranking in the top five in program history in 13 career offensive categories. An honorable-mention All-MIAC pick in 1997, Wright enjoyed her most productive season as a Cardinal in 1998 — hitting .430, with career-highs in runs (43), hits (52), doubles (15), triples (5), home runs (5), and RBIs (34) — earning the then-sophomore outfielder First-Team All-MIAC and Second-Team NFCA All-Region accolades. Wright, who would go on to earn NFCA Third-Team All-Region honors in 1999, as well as being an honorable-mention All-MIAC pick in 2000 as well as a 2000 CoSIDA Second-Team Academic All-American — is making her second appearance as a Saint Mary's Sports Hall of Famer, having also been recognized when the 2000 national championship team was inducted in 2005.
During the awards ceremony, Saint Mary's also recognized its 2017-18 postseason award-winners, as well as unveiled the 2017-18 Outstanding Male and Female Athletes, Griffin Rades (Shawano, Wis.) and Becca Dup (Albert Lea, Minn.), and Outstanding Male and Female Scholar Athletes, Jay Heinle (York, Pa.) and Emily Loof (Colorado Springs, Colo.).
Dup, a standout on the Saint Mary's University of Minnesota track and field team, hauled in her first collegiate All-American honor in her final meet of the season — placing ninth at the NCAA Division III Outdoor National Championships.
Rades, meanwhile, made his collegiate debut at the Minnesota Intercollegiate Athletic Conference Swimming and Diving Championships, breaking six school records and earning a pair of B Final titles.
Loof and Heinle were selected Saint Mary's Outstanding Female and Male Scholar Athletes for the third year in a row.

SAINT MARY'S OUTSTANDING FEMALE ATHLETE: BECCA DUP
Dup put together one of the greatest track and field seasons in Cardinal program history, culminated by three 2018 NCAA Division III National Championship appearances — including a ninth-place, All-American performance in the triple jump at the outdoor national championships. Dup —the MIAC triple jump champion both indoors and out and the MIAC champion in the indoor long jump — earned the MIAC Outstanding Field Athlete of the MIAC title and Outstanding Performance of the Meet honors at the conference indoor championships. She also added All-Region honors in both jump events to her post-season résumé. On the soccer field, Dup led the team in both assists and points, while finishing second in goals.
SAINT MARY'S OUTSTANDING MALE ATHLETE: GRIFFIN RADES
Rades made the most of his first MIAC Championships as a member of the Cardinal men's swimming and diving team, breaking six school records —including the 19-year-old 200 freestyle mark. Rades earned a spot in the A Final in the 400 IM, whittling more than 8 seconds off the previous school mark, to place fourth overall. Rades also won the B Final in the 200 breaststroke, while also finishing first in the 200 IM B Final. Leading off the Cardinals' 800 freestyle relay, Rades posted yet another school record, swimming the first 200 yards in 1:46.96 — besting the 19-year-old record held by Saint Mary's Hall of Famer Rick Loeffelholz.
SAINT MARY'S OUTSTANDING FEMALE SCHOLAR ATHLETE: EMILY LOOF
A Literature/Public Relations major with a 3.97 grade-point-average, Loof has been a mainstay on the Saint Mary's women's soccer team. She appeared in 18 games for the Cardinals in 2017, leading the team lead in goals with seven, while finishing second on the team with 16 points. Loof, a three-time Academic All-MIAC selection, has now been named the Outstanding Female Scholar Athlete each of the past three years.
SAINT MARY'S OUTSTANDING MALE SCHOLAR ATHLETE: JAY HEINLE
A Biology major with a 3.91 GPA, Heinle enjoyed a stellar senior campaign as a member of the Saint Mary's men's hockey team in 2017-18, recording five goals and adding nine assists for 14 points. The two-time team captain also earned Academic All-MIAC accolades for the third straight season, while also earning his second AHCA All-American Scholar honor.
Check out the photo gallery from the 'M' Club ceremony.
Photo caption: From left, Father James Burns, Saint Mary's president; Jay Heinle, Outstanding Male Scholar Athlete; Griffin Rades, Outstanding Male Athlete; and Becca Dup, Outstanding Female Athlete. Not pictured: Emily Loof, Outstanding Female Scholar Athlete.