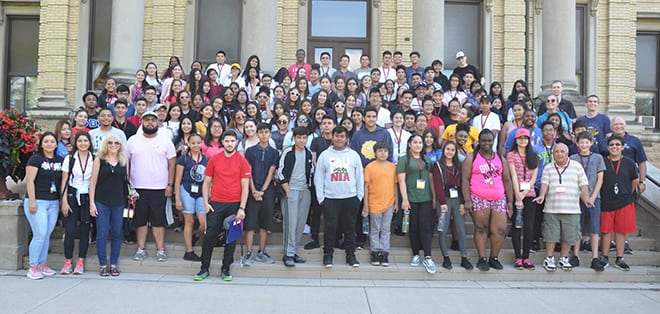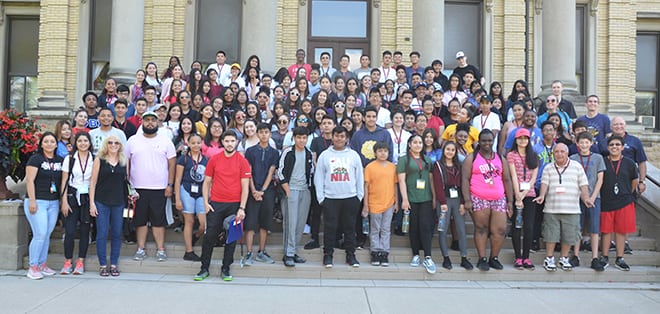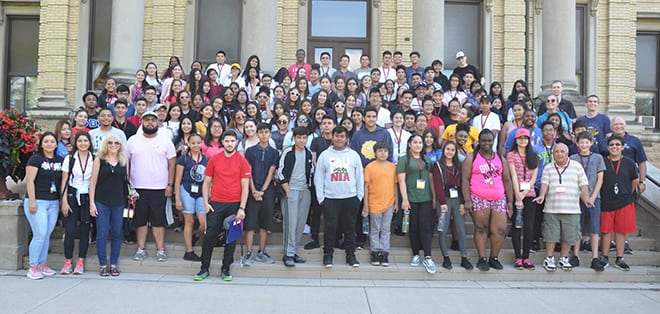 Photo caption: More than 130 students from Cristo Rey St. Martin College Prep visited campus earlier this month for team building and orientation sessions.
The Winona Campus buzzes with activity during the summer months as Saint Mary's hosts a variety of programs for both youth and adults. Coordinated by the Winona Office of Event Services and Camps, these activities increase our visibility by introducing our campus and staff to thousands of potential students and enrollment influencers. Events for groups of all ages also generate revenue and help us optimize the use of our facilities and resources between academic semesters.
Here are just a few of the diverse groups and events that have happened on campus this summer, many of which included overnight guests: Communion and Liberation Catholic (involving a group of about 60 adults and 30 children growing in their faith through prayer and lectures); Diocese of Winona-Rochester Ministry Days (involving about 150 Catholic educators); the Trinona kids triathlon (which hosted 150 youth); hockey camps (with more than 130 players); and Girl Scouts STEM classes. Additionally, approximately 90 Fellowship of Christian Athletes participated in athletic activities and Bible study; Saint Mary's hosted Philanthropy and Development Residency; and numerous organizations used facilities for lunches, retreats, reunions, and weddings. The University Center on the Twin Cities Campus is used for banquet rentals for both internal and external events throughout the summer as well.