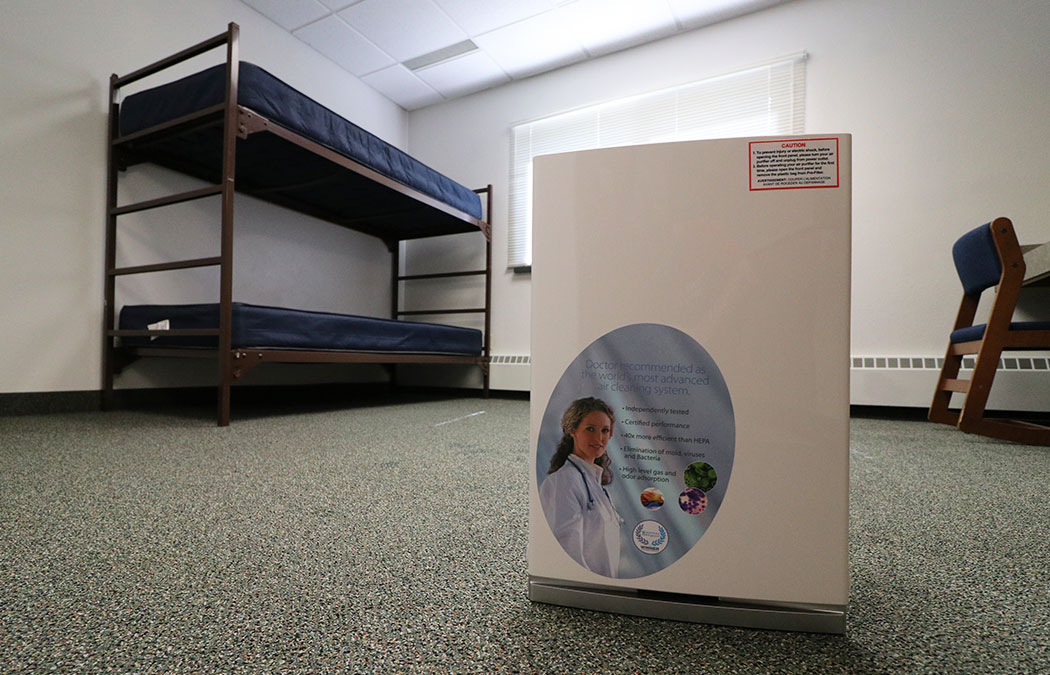 WINONA/MINNEAPOLIS, Minn. — Saint Mary's University of Minnesota has installed groundbreaking purification systems on its Winona and Twin Cities campuses. These systems, which were being discussed prior to the COVID-19 pandemic as part of Saint Mary's commitment to healthy living and wellness for students, will significantly contribute to the health and well-being of students, faculty, staff, and campus visitors by purifying the air and surfaces of harmful materials, including viruses.
On its Winona Campus, Saint Mary's has installed 860 Delos air purification devices in each sleeping room in all residential buildings. These intellipure air purifiers offer professional grade air cleaning for smaller spaces by deactivating virus, bacteria, mold, and fungi through an enhanced filtration system. Saint Mary's is the only university in Minnesota and the region with these devices installed on campus.
In addition to this Delos installation, Saint Mary's joins a growing number of well-known organizations by enrolling in the WELL Health-Safety Rating from the International WELL Building Institute, a third-party verified rating to prepare these spaces for re-entry in a post COVID-19 environment.
Delos has fostered research collaborations with the Cleveland Clinic, Mayo Clinic, a board of doctors from the Columbia University Medical Center, and architects, scientists, and wellness thought leaders to introduce wellness standards, programs, and solutions into the built environment.
Saint Mary's also has acquired eight airPHX units for various larger community spaces on its Winona and Twin Cities campuses, including the student dining room, Gostomski Fieldhouse, and University Center.
These airPHX units utilize patented technology to kill bacteria and other germs in the air and on surfaces. With typical air pathogen reductions of greater than 90% and surface reductions of greater than 95%, airPHX will provide hospital grade disinfection to our campus spaces. The technology has been tested effective by an independent lab on numerous bacteria and viruses, including human coronavirus. Saint Mary's is the only university in Minnesota with airPHX units installed on campus.
"Our students' health and well-being are at the center of all we do, now more than ever before," said the Rev. James P. Burns, IVD, Ph.D., president of Saint Mary's. "We're excited to integrate these systems to help take our health and safety protocols to the next level, especially as we prepare to welcome students back to campus this fall."
By reducing pathogens and following guidance from the Centers for Disease Control and Prevention and Minnesota Department of Health, Saint Mary's hopes to significantly reduce the likelihood that students, staff, faculty, and visitors will be infected while on campus.
These groundbreaking safety measures are being offered at no additional cost to students.