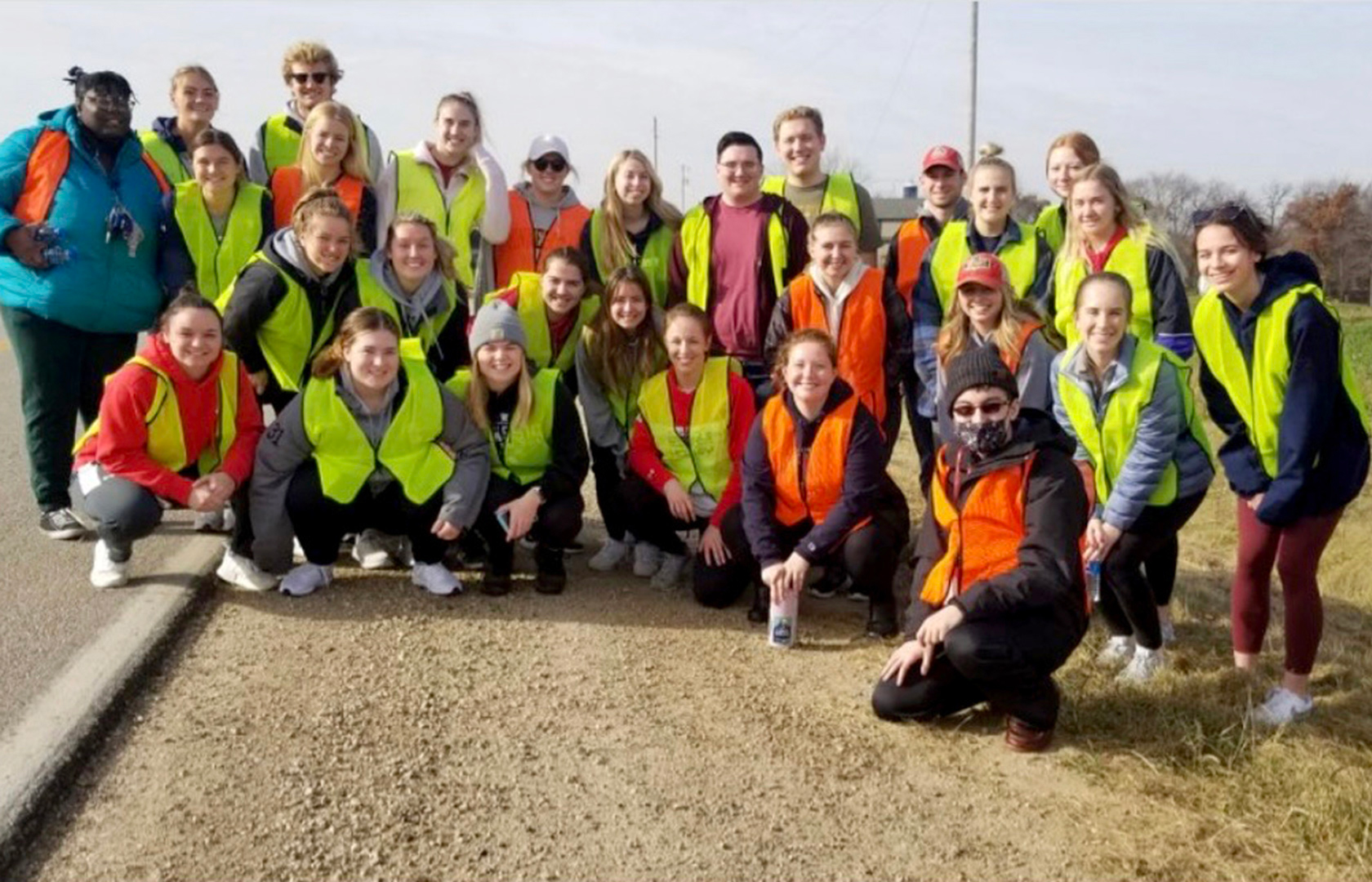 WINONA, Minn. — Saint Mary's University has always touted that those who play collegiately for the Cardinals are not only great athletes, but great students as well.
But being a successful student — and an athlete — are just two of three prongs to being a Cardinal.
The third? A desire, drive, and determination to give back.
Cardinal student-athletes learned today (Wednesday, Feb. 2) that in recognition of their community service, the NCAA office named Saint Mary's the NCAA Division III Team Works Service Challenge winner.
"NCAA student-athletes continue to give back to the communities that support them on a regular basis across the nation. It is our pleasure to recognize their tremendous efforts to impact their communities in this great time of need nationwide," said Victor Hill, associate director of Team Works, which is an NCAA championships initiative. "In addition to earning a degree and having the privilege to compete at a national level, we see that doing community service also contributes to the overall student-athlete experience in a very positive way that in many cases produces a life-long commitment to social responsibility."
"At Saint Mary's, our athletic department prides itself on developing the whole person, not just the athlete," said Saint Mary's women's hockey coach Sarah Murray, who serves as the department's volunteer coordinator. "Serving others is one of the best ways for our athletes to develop empathy, cooperation, and gratitude, shifting the focus from themselves to the needs of others. It also allows us to meet and learn from a range of new people and create memorable experiences with our teammates and members of our community that will last a lifetime."
NCAA Team Works, which coordinates community service efforts at the NCAA championships, and Helper Helper, a volunteer management and tracking platform, launched the community service competition to recognize student-athletes who give back to their communities. The competition, which ran from September through November, is based on the number of service hours completed and the number of participating student-athletes. Helper Helper tracks the school participation data throughout the competition.
This is the Cardinals' first year competing in the challenge, and Saint Mary's student-athletes jumped into action logging more than 2,000 hours — helping make a $34,219 economic impact on their community during the challenge. Through the first semester, Cardinal student-athletes — who have a goal of 5,000 volunteer hours during the 2021-22 school year — have logged 2,204 hours since June 1.
"I truly feel it is important to volunteer, because even though we may be student-athletes, that is only part of who we are," said Jordan Keeley, a senior goalie on the Cardinal women's hockey team — and a nominee for the 2022 Hockey Humanitarian Award. "There is so much more to our identity than our athletic performance and abilities. We have other passions, values, and beliefs.
"Getting out in the community gives us the opportunity to learn and grow through experiences we have while serving others," Keeley added. "As athletes, we have a platform to advocate for what we believe. We can be the change we wish to see in our communities — which makes volunteering incredibly gratifying. Not only does serving others make you as an individual feel good, but being able to see the difference you can make in someone else's life is an incredible experience of itself. "
Teams have already taken part in a number of significant volunteer endeavors, including the Think Pink Breast Cancer Awareness Color Run; assisting with freshman move-in; working with the seniors in the Winona community; taking part in the Adopt-A-Highway campaign; and organizing and running Saint Mary's Cardinal Fest, as well as the Green Bandana Mental Health Awareness Run.
"I believe community service is an amazing opportunity for student-athletes to get involved in their community and create a positive environment for the people we live alongside," said Kyle Palmberg, a sophomore member of Saint Mary's men's soccer team. "Acting as a servant leader and providing strong examples of the good deeds that can be done for the betterment of the community are extremely gratifying to me as a student-athlete."
"We are thrilled to be atop the standings for the Team Works Service Challenge," said Saint Mary's athletic director Brian Sisson. "This is a testament to all of our student-athletes and staff and for the large impact they make on a daily basis both in the Winona and the surrounding campus community. Service and making an impact on others is a huge part of what we are about at Saint Mary's within the athletic department. We look forward to a great upcoming semester with our student-athletes and staff and continuing to make a positive impact in the local community."
Also honored by the NCAA were the University of North Dakota in the Division I category and Arkansas Tech University in Division II. Finishing behind North Dakota in the Division I competition was Towson University, and the University of Miami. Division II second-and third-place finishers included Georgian Court University and Georgia Southwestern State University, respectively, and Shenandoah University and the University of the Ozarks rounded out the Division III second and third-place spots.