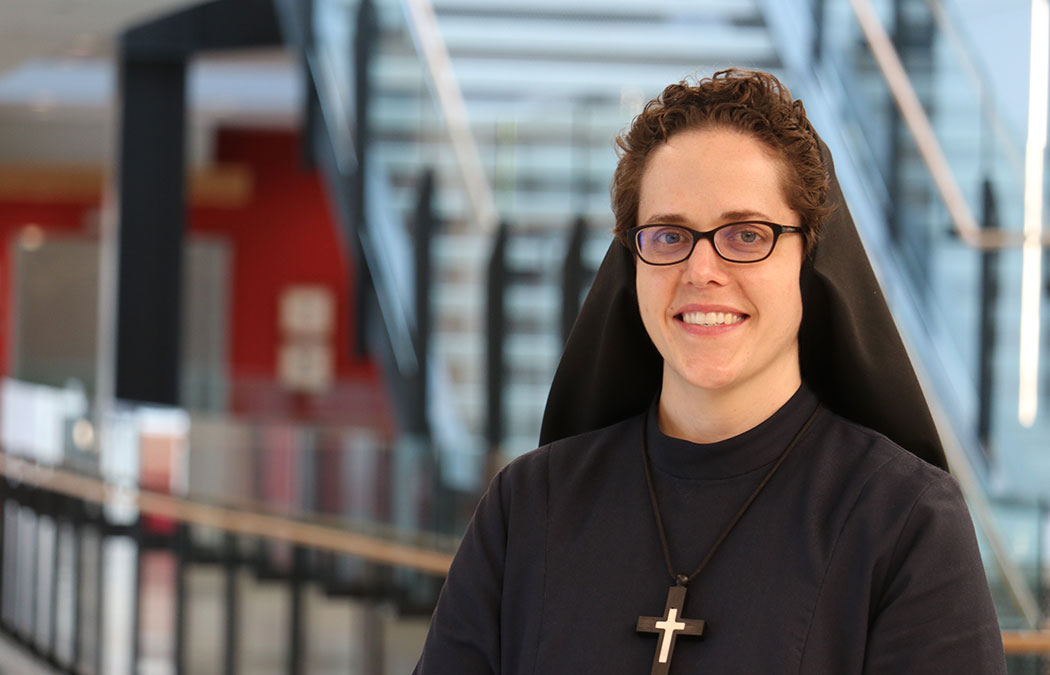 WINONA, Minn. — Saint Mary's University has named Sister Agnes Mary Graves, RSM, its director and inaugural Jack and Mary Ann Remick Chair of Nursing.
Sister Agnes Mary will oversee the recently announced B.S. in Nursing, to be offered from the Winona Campus, and will also be responsible for the RN to BSN online program. The new B.S. in Nursing program adds to our already strong healthcare offerings as we advance our plans to create a School of Nursing, as part of the strategic vision. Other programs launching at the College related to health sciences this fall include the B.A. in Social Work and a Health Humanities major and minor.
She brings a broad range of nursing experience from working as a FertilityCare practitioner at Mercy FertilityCare in Winona, and as an RN in a number of settings including Indiana University Health at Methodist Hospital's Advanced Heart Care Unit, Mercy Volunteer Corps, St. Joseph Mercy Hospital in Guyana, and the University of Kentucky Hospital, where she completed her BSN Residency Program.
Sister Agnes Mary earned her B.S. in Nursing from the University of Missouri-Sinclair School of Nursing and will graduate this May from the Doctor of Nursing Practice-Family Nurse Practitioner Program at Winona State University. She is currently completing her Nurse Practitioner Residency at Mayo Clinic School of Health Sciences.
"Sister Agnes Mary is the right leader at the right time for Saint Mary's as we grow our nursing program and focus on a vision for the future in Catholic healthcare offering at Saint Mary's," said Father James P. Burns, IVD, Ph.D., Saint Mary's president. "She will not only make sure our nursing students are well prepared, she will also ensure they are nurtured and leave Saint Mary's to become servant leaders with strong ethical and Catholic foundations. The combination of deep skills preparation and development of character and virtue that we uniquely provide will result in the best clinical and personal attention possible in healthcare today. I want to thank our search committee for a successful outcome to this national search."
Beginning March 1, she is working part time while she completes her degree and residency requirements, and on June 1, she will transition to full time.
Sister Agnes Mary is a familiar face at Saint Mary's, as she currently resides on the Winona Campus. Additionally, she has completed research in combination with the Wellness Center titled "Impact of a video-based education program on college women's preconception health knowledge, risks, and attitudes."
"We are excited with the appointment of Sister Agnes Mary Graves, RSM to be the inaugural director and chair of Saint Mary's Bachelor of Science in Nursing program," said Mary Ann Remick. "Her clinical experience and educational background will definitely be valuable in launching this new academic venture at Saint Mary's."
"Saint Mary's bold move into nurse education fulfills our Lasallian Catholic mission, meets the needs of today's students, and responds to a growing demand for highly qualified and educated nurses," added Dr. Brian Schmisek, provost and chair of the search committee.