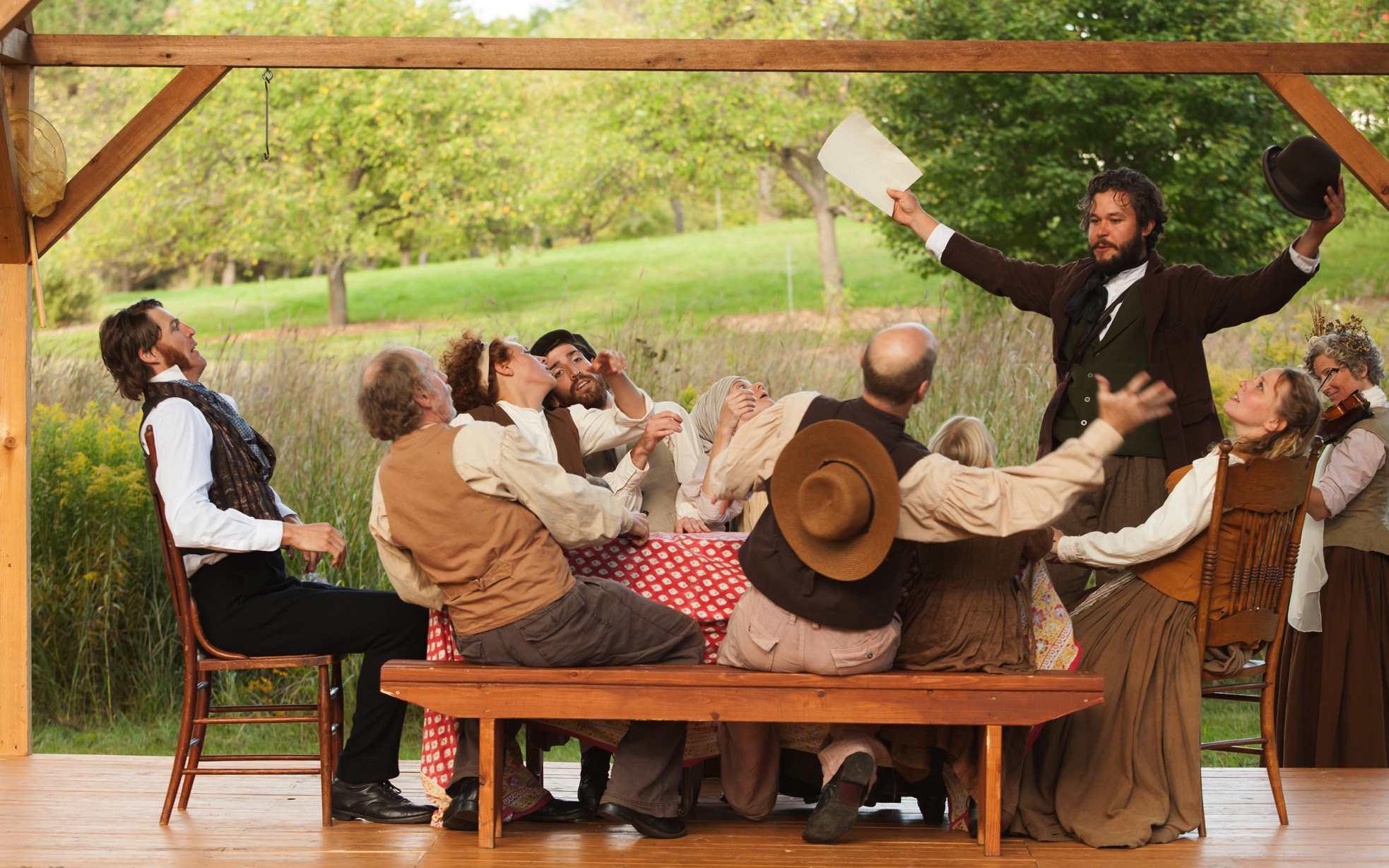 HERALDED AS 'BEST IN TWIN CITIES THEATER,' UNIQUE WALKING PLAY  EXPLORES LIVES OF NATURE ADVOCATES AND PHILOSOPHERS EMERSON AND THOREAU
WINONA, Minn. — Saint Mary's University of Minnesota's beautiful woodlands and tree-lined clearings set the scene for the acclaimed outdoor walking play, Nature.  With performances Friday, Sept. 6, at 6 p.m.; Saturday, Sept. 7, at 2 p.m. and 6 p.m.; and Sunday, Sept. 8, at 2 p.m., this unique theatrical event about the lives of Ralph Waldo Emerson and Henry David Thoreau is an experience like no other — as an award-winning ensemble of actors and musicians bring audiences into a playful and deeply-moving journey through their natural environment. Nature, a production of TigerLion Arts, is filled with music, song, story and celebration with scenes unfolding around audience members as they follow the ensemble through the grounds.
Heralded by the Minneapolis Star Tribune as "Best in Twin Cities Theater," Nature is a vibrant look into the 19th century world of Emerson and Thoreau, renowned writers, friends, and nature advocates. Created and performed by Tyson Forbes, a direct descendant of Emerson, Nature shines a spotlight on the relationship between the prominent essayist and the philosopher and naturalist best known for his memoir "Walden," in which he chronicles a simple and solitary life in the woods. The play will explore a rift that ended their close friendship and a shared belief that nature is a source of spiritual respite and renewal.
Led by director Markell Kiefer (Guthrie Theater, all Tigerlion Arts productions), the professional ensemble features Jason Rojas (Guthrie Theater, Oregon Shakespeare Festival, Ten Thousand Things) as Thoreau; Tyson Forbes (Guthrie Theater, Ordway, Jungle Theater, and all TigerLion Arts productions) as Emerson; Norah Long (Guthrie Theater, Skylark Opera, Nautilus Music-Theater) as Mother Nature, along with Twin Cities actors Paul de Cordova, Alex Barreto Hathaway, Kimberly Richardson, Chelsie Newhard, Thallis Santesteban, Eric "Pogi" Sumangil, Nathan Gebhard and bagpiper Ryan Behnke, as well as a volunteer community chorus led by Lindsy O'Shea (Minnesota Conservatory for the Arts, Saint Mary's University). Nine-year old Phoebe Goeldner of Alma, Wis., will play the role of Elly, Emerson's daughter. TigerLion Arts selected Goeldner for the production after an audition of area child actors. Bagpipes, ancient flutes, drums, and rich choral arrangements are intricately woven into the script with compositions by Dick Hensold (Bush Artist Fellow).  Choreography is by Kimberly Richardson (McKnight Theatre Artist Fellowship and Sage Award)
"I have always felt honored to be an Emerson descendent," Forbes said. "I feel an intimate responsibility to his lineage, and for years I have imagined a play that could bring his spirit and teachings, along with that of his friend and fellow author Henry David Thoreau, to a broader audience. When I read their work, I find answers to burning questions on how to live my life more deeply and responsibly in this world. They were both radicals of their time, calling on their peers to think for themselves and be agents of change. I believe their words and ideas are as necessary now as they were then."
During the performance, the audience will walk short distances between four different locations. Portable lawn chairs or blankets to sit on are suggested, as there are a limited number of chairs for those who need them most. Guests should dress for the weather and wear comfortable shoes. Audiences are encouraged to come early to visit the grounds.  Picnic meals are welcome and can be enjoyed along with pre-show bagpiping and choral arrangements performed by local community members 30 minutes before the performance begins. The Page Theatre will also offer accessibility accommodations for those with limited mobility; please contact the box office or visit pagetheatre.org/accessibility for more information.
Running time for Nature is 90 minutes, without intermission. Tickets are on sale now and are offered at a suggested price of $15 for the general public and $8 for youth ages 17 and younger. A "pay-what-you-can" option is also available in an effort to make performances accessible to all, thanks to a grant from the Southeastern Minnesota Arts Council. Tickets may be ordered by calling 507-457-1715 (noon to 6 p.m., weekdays) or visiting pagetheatre.org.
Nature Community Programs
Connect with the outdoors through the theater with the cast of Nature. Professional actors will offer a workshop titled "I Went for a Walk Today" for families on Saturday, Sept. 7, from 10:30 a.m. to noon. The workshop will include through walks, theatrical play, and reflective journaling.  Each workshop attendee will receive a Nature field journal to take home. The workshop is free to attend, but registration is required and is available at pagetheatre.org.
The Page Series, in partnership with the Winona County Historical Society, will also offer a Page in History event on Wednesday, Sept. 4, at 6:30 p.m. at the Winona County History Center (160 Johnson St.). This free event will include information about local ties to Ralph Waldo Emerson, a screening of the Twin Cities Public Television short documentary Nature: Walking with Emerson and Thoreau, and Q & A with members of the production.
In addition to these programs, a post-show discussion with the company will follow the Sunday, Sept. 8 performance.
About the Page Series
Now entering its 33rd annual season, the Page Series offers performances workshops, classes, and more that inspire, uplift, educate, and invite community members to discover the relevance of the arts in their daily lives. Featuring professional performing artists from around the globe in events at the Joseph Page Theatre on the campus of Saint Mary's University of Minnesota, as well as at locations throughout the Winona community, the Page Series strives to bring artists and community together through imaginative programming, unique collaborations, a welcoming atmosphere, and exceptional service. www.pagetheatre.org.
About TigerLion Arts 
TigerLion Arts, founded and led by Markell Kiefer and Tyson Forbes, is a Minneapolis-based production company with a mission to celebrate human wisdom and the spirit of nature through creative works that awaken, inform, and delight. Since 2009, TigerLion Arts has touched thousands nationwide with four original productions: The Buddha Prince (2009), a walking play about the life of the Dalai Lama performed in New York City's Central Park; Nature (2010 production); KIPO! (2011), a circus of spirit, song and dance from Tibet, which was the official arts component of the Dalai Lama's 2011 Minnesota visit, and The Dragons are Singing Tonight (2012), a musical based on the book of children's poetry by Jack Prelutsky, created in collaboration with Circus Juventas and Minnesota Boychoir.  TigerLion Arts won a 2018 regional Emmy®Award for their documentary "Nature: Walking with Emerson & Thoreau". Learn more at tigerlion.com.
This activity is made possible by the voters of Minnesota through grants from the Southeastern Minnesota Arts Council and the Minnesota State Arts Board, thanks to a legislative appropriation from the arts and cultural heritage fund.
Page Series Community Programs are made possible, in part, by a grant from the Xcel Energy Foundation.