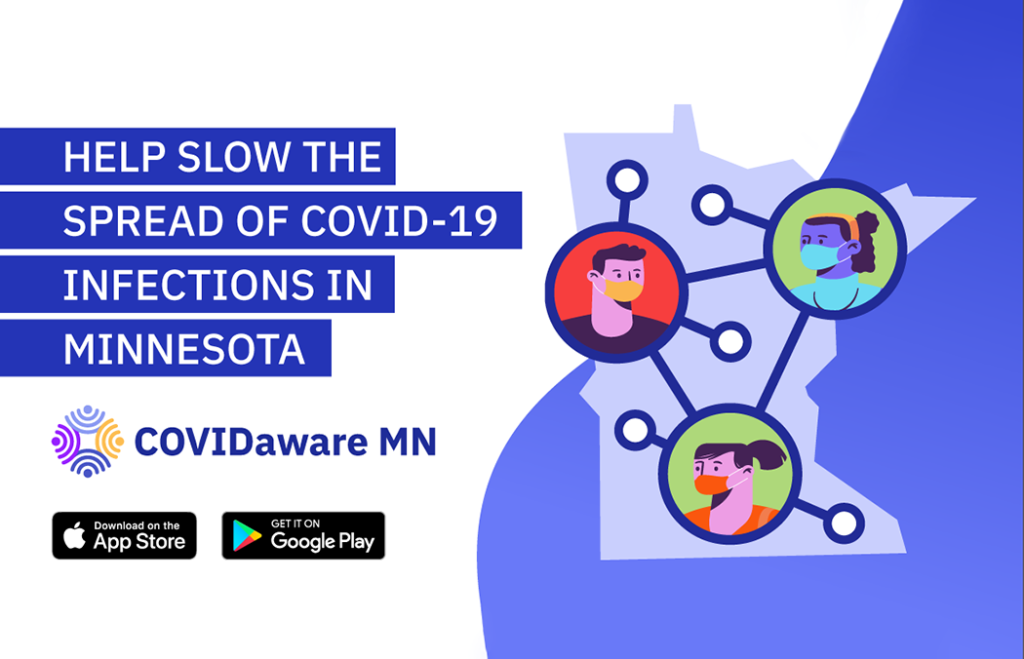 Saint Mary's University of Minnesota is working with the State of Minnesota to encourage use of the COVIDaware MN app, a free and anonymous app that will help our state slow down the spread of this virus.
Imagine that you test positive for COVID-19. You would tell your friends and family that you may have been in contact with, but how do you inform people that you don't know, like people who were nearby at the grocery store or while you rode the bus? Minnesota's free exposure notification app, COVIDaware MN, does exactly that.
The app was made available by the State of Minnesota, in partnership with PathCheck Foundation. It uses your phone's Bluetooth signal and exposure notification technology developed by Apple and Google. COVIDaware MN will notify you if you've been near someone who tested positive for COVID-19 and has the app. Or, if you test positive, you can use the app to anonymously notify anyone you've been near. It doesn't collect any personal information or track your location. Your privacy is always protected. No information that identifies you will ever leave your phone.
Saint Mary's University stresses the importance that Minnesotans and visitors to our state download COVIDaware MN, so we can all stay safe and make informed decisions about our health.
"We're highly encouraging our faculty, staff, and students to use this safe and secure app," said Ann Merchlewitz, general counsel for the university. "We know how quickly this virus can spread, and being able to more quickly identify those who have been exposed, means we can control the spread quicker, and keep our university community and our wider community safe."
Learn more about COVIDaware MN online, and download it from the Google Play or Apple App Store.