It's not often that a misunderstanding helps a student in their career path. But while the incorrect narrative LJ (John) Taugher M'20 heard as an undergrad delayed his entry to clinical therapy, it ultimately helped him succeed brilliantly.
After a two-week volunteer experience in high school set him on the path to pursue a psychology degree, Taugher received his bachelor's degree in psychology and a minor in women's studies. But believing he couldn't pursue therapy, he instead worked for nonprofit organizations.
"The narrative I got was if you didn't have a doctorate, you can't do therapy, which was incorrect. So, at age 23 I went into nonprofit management and managed nonprofit organizations for 10 years," said Taugher. "I developed an acute case of alcohol use disorder, left the profession and worked in mortgage banking for six years."
Upon entering a rehabilitation program for the second time, he met a licensed alcohol and drug counselor (LADC) who changed his life, but not in the way you might imagine. Taugher was at the lowest point in his life, yet felt his LADC was so incompetent that he could do the job better than she did. After another clinician encouraged him to pursue a master's degree and expressed that he could do well as a therapist, Taugher began evaluating colleges.
He learned that Saint Mary's had a LADC program and offered a Master's in Counseling and Psychological Services degree, and he was accepted into the program, despite not being a great student as an undergraduate. Taugher decided to pursue both simultaneously, and he appreciates how Saint Mary's gives people a second chance to become a good student.
Virtual Reality Therapy
"I've used my master's degree to work as an in-home therapist, Adult Rehabilitative Mental Health Services (ARMHS), and Children's Therapeutic Services and Supports (CTSS) provider. Working at Ellie Mental Health, I also developed a new program that uses virtual reality to treat mental health issues," said Taugher. "Ellie Mental Health started in the Twin Cities and has roughly 300 franchise clinics across the country. I'm one of two program managers of virtual reality therapy."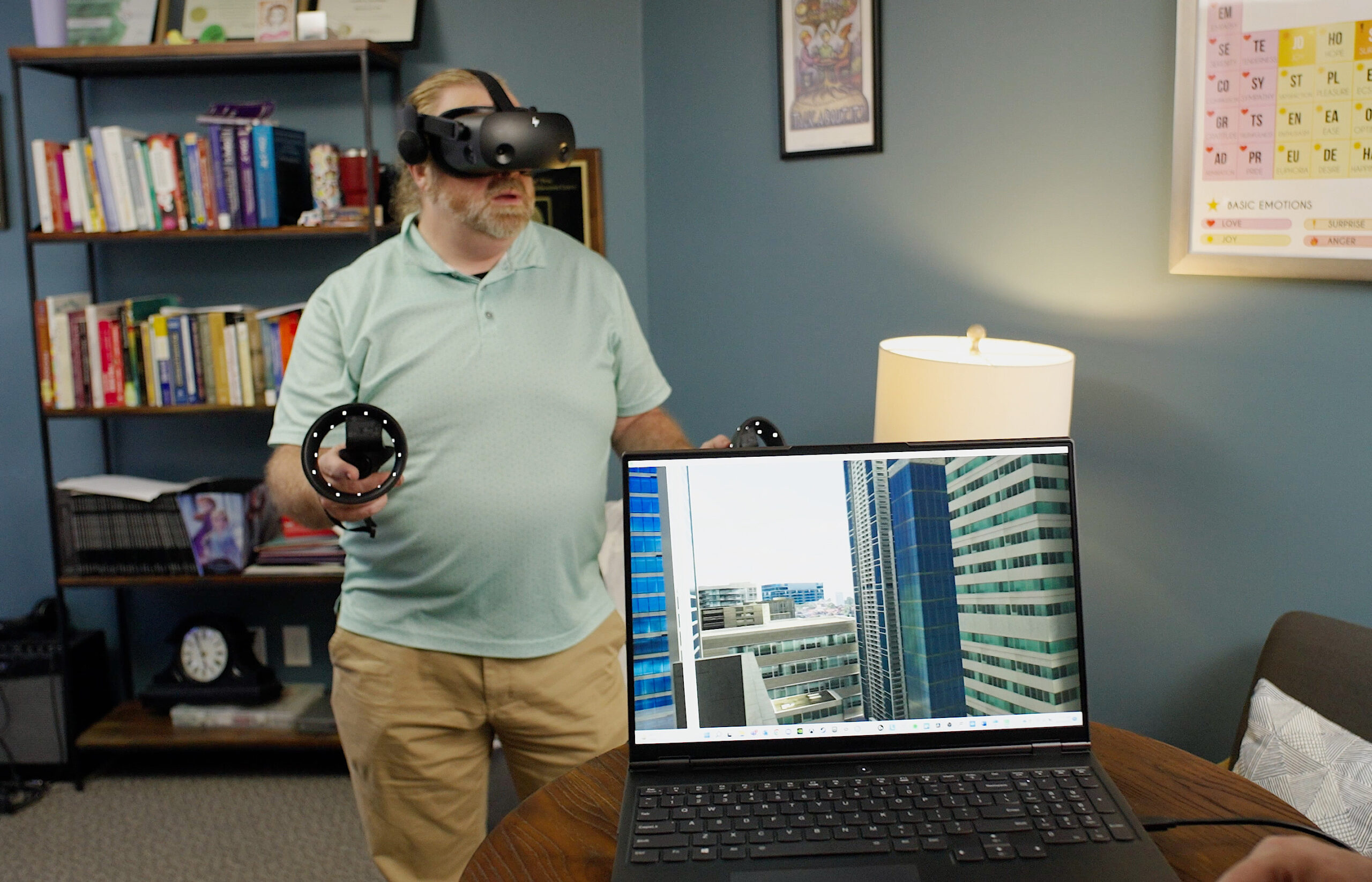 Before Ellie Mental Health would add virtual reality therapy, Taugher had to pitch it and develop a proposal to show empirical evidence that it was clinically effective and relevant, and that it met the CEO's business requirements/expectations. Once he sold it to the executive committee, Taugher had to coordinate with Ellie's IT, payroll, legal and facilities departments, as well as clinical directors.
Taugher also was a member of the Leadership Advisory Board at Ellie Mental Health. The board met with the company's senior leadership to describe their day-to-day work – without having their observations and experiences filtered through layers of employees.
"Having a different (business) background with therapy skills was invaluable to the approval process for virtual reality therapy. I had to get buy-in from all those departments, and it only took eight months, which is insanely fast," added Taugher. "It's very unusual for a therapist to think like a businessman and understand how the business needs to be profitable. Having a business background has been incredibly valuable, and it's been a prized resource."
Geek Therapy
In addition, Taugher developed (with another therapist of Ellie) what he calls Geek Therapy because it integrates "geeky stuff" from video games, Star Wars, Harry Potter, Magic the Gathering, Dungeons and Dragons and more. He recognizes that the role of the clinician is to understand people's passions, and to leverage and integrate them in a way that's relevant and meaningful.
He also believes technology can make therapy more effective, and using video games can help clients and allow clinicians to bring stimulus into therapy in ways that would be very difficult or impossible. For example, it's impossible to bring an MRI machine into your office, but with virtual reality, you can and have a therapist sitting next to you.
Finally, conversations on his passions with Dr. Lindsey Teigland, his program director, led her to ask Taugher if he'd like to co-create and co-teach a new elective course with senior leaders of Ellie Mental Health, Kyle Ross, and Kyle Keller. The class, Special Topics in Psychology: Emerging Therapies explores promising new treatment approaches using technology and virtual reality.
"Dr. Teigland and other Saint Mary's faculty members provided support and encouragement when I didn't think I could do it, and helped me see my potential," said Taugher. "They helped me realize I could get my master's and continue on to my doctorate."