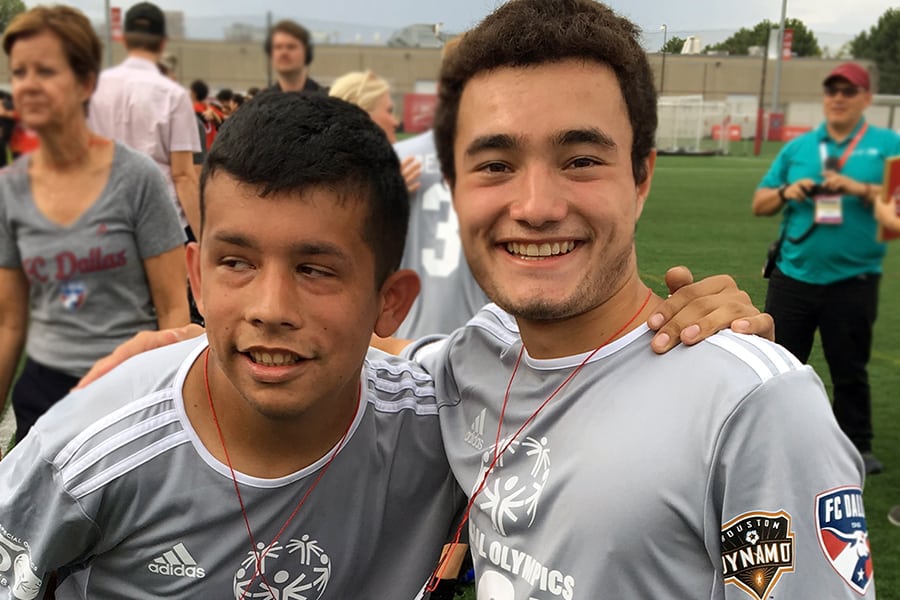 WINONA, Minn. — Mateo Means enjoyed a memorable freshman year as a member of the Saint Mary's University of Minnesota men's soccer team.
But those memories paled in comparison to the eye-opening experience he had the chance to be a part of this past July.
Means was selected to be a member of the FC Dallas Special Olympics team that competed in the first-ever Unified Cup — a 24-team tournament that celebrated the 50th anniversary of Special Olympics.
"This was a once-in-a-lifetime experience," said Means, who started all 18 games during his freshman season with the Cardinals last year. "I had an amazing time with all my teammates and having the opportunity to represent Texas and the USA on a national scale.
"It was fun to meet different people from around the world and to have the opportunity to play against different countries."
A volunteer in the Special Olympics Texas Program for the past several years, Means was one of the team's "partners," those individuals who were selected to play that did not have intellectual disabilities. Each team could only have five "partners" on the field at the same time, the other six athletes were those with intellectual disabilities.
"It was really fun traveling with the team to a different city," said Means, noting the Unified Cup was played in Chicago — where the first-ever Special Olympic Games took place. "Some of the athletes had never been on an airplane, or traveled to another city before, so it was fun experience that with them for the first time.
"All the teams that played in the Unified Cup stayed in the same hotel. It was interesting and unique to see all the different cultures in the same place."
Means was a starter in all three of its Unified Cup games for FC Dallas, which went 1-2 — falling to Russia 3-0 in the opening game, before beating Canada (2-1) and losing to United Arab Emirates (7-0).
"It was a great experience for me, but was even more amazing for the athletes with intellectual disabilities; they had the time of their lives," Means said. "We got to play at the Chicago Fire Pitch, which is the training facility for the major league soccer team in Chicago, and also got to go to many other events outside of soccer — including bowling with the teams from Russia and Canada.
"It was an experience I will never forget, and I hope to encourage our (men's soccer) team and the Saint Mary's community to volunteer, to make an impact on someone's life in a positive way."