Name: James Bedtke, but everyone calls me Jim.
Title: My current title is vice president of university facilities, however, my colleagues and friends tease me about the number of titles I have accumulated over my years of service. Today, I work with the talented and capable maintenance staff on the Winona and Twin Cities campuses.
How long have you worked at Saint Mary's University?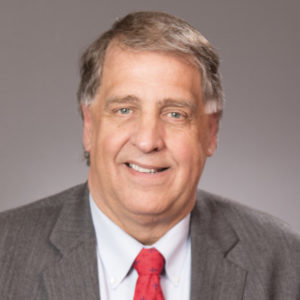 I've been at Saint Mary's for a little over 38 years. During that time, I have served in a variety of roles. I believe the accumulated experience of previous positions prepared me for the next position.
I started as a faculty member in the Business Department where I served for 14 years teaching marketing and international business. During the summer months, I was the director of summer programming.
Brother Louis DeThomasis, the president, promoted me to be dean of the School of Business, Computer Science and Social and Behavioral Sciences. Simultaneously, I served as vice president for Winona-based graduate programs and associate vice president for academic affairs of the College.
Three years later, in 1999, Brother Louis reorganized and combined the Winona-based graduate programs and the Twin Cities-based graduate programs into the Schools of Graduate and Professional Programs (SGPP). I was asked to serve as the vice president of SGPP and associate university provost.
For the next 11 years, I spent 75% of my time in the Twin Cities and 25% of my time in Winona. During that time, I was the only person traveling consistently between the Campuses every week. I would tell my colleagues I wished the two campuses were closer together. Some assumed it was because of the commuting, but I would correct them, explaining we have so many committed and talented employees on each campus, I wish they had the opportunity to know each other and interact more.
In 2010 the university began an extensive program of remodeling and upgrading facilities on both the Winona and Twin Cities campuses. I was asked to serve as the vice president of university facilities. I have been working with the two Maintenance Departments and others overseeing numerous remodeling and construction projects.
How would you describe your role?
The years of experience working in the College and SGPP prepared me with an understanding of and appreciation for all aspects of the university operations. As the vice president for university facilities and working with the maintenance staff on the Winona and the Twin Cities campuses, we are responsible for maintaining, renovating, and constructing facilities to contribute to fulfilling the university's educational mission.
Facilities and maintenance support all areas of the university, be that academic, administrative, admissions, marketing and communications, advancement, resident life, libraries, classrooms and labs, and athletics. The maintenance staff and I spend a great deal of our time collaborating with university departments, deans, vice presidents, administrative assistants, coordinators, program directors, faculty, contractors, architects, vendors, and consultants to ensure the Saint Mary's University facilities meet student, faculty, and staff needs.
What is the favorite part of your job?
I enjoy every part of my job. I get up every morning excited to join colleagues from across the university to make Saint Mary's the best educational institution it can be. To that end, I enjoy working with colleagues to problem solve and "fix" challenges or implement opportunities. The variety is amazing. It might be implementing donors' visions for a locker room, a science lab, a residence hall, or a science building. Or working with a professor to optimize a lab or studio. It may be remodeling a dining hall, offices, library, study spaces, or even restrooms. It may be working with the maintenance staff to solve an HVAC problem. I work with colleagues across the university in Winona, Rochester, and the Twin Cities. They are dedicated, creative, and committed to serving our students while overcoming challenges to make Saint Mary's a great university.
What are your hopes for the future of Saint Mary's University?
My hopes for Saint Mary's are for a long future characterized by continued risk-taking and innovation to serve traditional students and adult learners. The alumni of our university have demonstrated for decades the value and impact of the Lasallian Catholic education they receive at Saint Mary's.
What is your proudest professional accomplishment?
My career at Saint Mary's has provided hundreds of exciting opportunities, challenges, and experiences. However, the two greatest responsibilities I've had were serving as a teacher and advisor to students as a faculty member and hiring and supervising employees here at Saint Mary's. Many of the employees I've hired still work on both campuses. Their contributions and influence to the university humble and honor me every day. In addition, my former students honor their alma mater. To whatever extent my mentoring, supervision, teaching, or advising may have contributed to the development of students and employees at Saint Mary's, that is my proudest professional accomplishment.
Which one of the 12 Declarations on the Lasallian Educational Mission resonates with you the most? Why?
Each of the 12 Declarations are critical and worthy of our reflection and commitment. However, Declaration 11 resonates with me the most: "We believe that today's realities demand taking risks and being creative." Saint Mary's has faced and overcome challenges to our very existence more than once or twice over the history of our university. The university, through the College and SGPP, must continue taking risks, being creative, and remaking ourselves to thrive and prepare our students to address the needs and problems of today and tomorrow.