The Marketing and Communication Office will be profiling Saint Mary's University leaders regularly in the Cardinal Update. Our goal is to showcase those overseeing and guiding key areas important to our strategic initiatives. This week, we feature Dr. Marisa Naryka, Ed.D., vice president of mission and ministry.
Name: Dr. Marisa Naryka, Ed.D.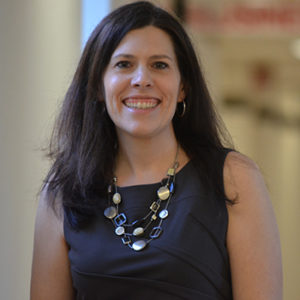 Title: Vice President of Mission and Ministry
How long have you worked at Saint Mary's?
I have been at Saint Mary's for three years and nine months.
How would you describe your role at Saint Mary's?
I am the chief mission officer charged with preserving, initiating, and inspiring active engagement in our Lasallian Catholic mission and identity. This means ensuring our mission is known, understood, and integrated into all facets of the university. It requires promoting and forming our university community in our Lasallian Catholic mission and identity, which includes Campus Ministry.
What's your favorite part of your job?
The most enjoyable part of my job is being a witness to our Lasallian Catholic mission and identity and inviting others to join in it. I want others to be passionate about providing a human and Christian formation to our students, and accompany them in their respective roles.
What are your hopes for the future of Saint Mary's?
I hope Saint Mary's will be known as a premier Lasallian Catholic institution, one that authentically lives out its mission, has a vibrant community life that attracts others to join us, and alumni who are successful in their chosen fields.
What is your proudest professional accomplishment?
I redesigned our international student orientation program for an institution in the Benedictine Tradition. One of their hallmarks is hospitality. Working with the international student population, it was important to welcome them and make their first experience with the college memorable for both the students and their parents who accompanied them. The orientation began with a welcome dinner on-campus at the alumni house and featured local cuisine. It was beautiful to see how this event set the tone for the students' experience and showed the institution's values. This was the first time I recall consciously integrating mission into my work.
Looking at the "Declaration on the Lasallian Educational Mission," which of the 12 declarations resonates with you the most? Why?
Declaration No. 4, which states "We believe that the educational community is a core component in the building up of the person and the transmission of values," resonates most with me. In Ex Corde Ecclesiae, section 2, Bl. John Paul II (1990) discusses that an authentic human community is an objective of a Catholic University (n. 21). This makes sense as education and human formation happens in communities. The first community we experience and learn from is our family. As we grow, our community expands and so do our education and formation opportunities. These communities (family, school, organizations, etc.) aid us in becoming the person we are called to be, teaching us virtuous and authentic lives through our interpersonal relationships that hone and shape us, so we can find purpose and meaning in our lives. Education transforms.