The Marketing and Communication Office will be profiling Saint Mary's University leaders regularly in the Cardinal Update. Our goal is to showcase those overseeing and guiding key areas important to our strategic initiatives. This week, we feature Michael Lovorn, Ph.D., dean of the School of Education.
Name: Michael Lovorn
Title: Dean of the School of Education
How long have you worked at Saint Mary's?
I have been with Saint Mary's and the School of Educations for about eight months.
How would you describe your role at Saint Mary's?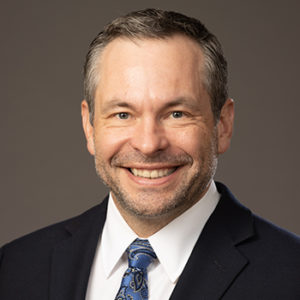 The School of Education has a current enrollment of about 1,300 students across 10 programs. As dean of education, my role includes providing leadership and advocacy for these programs; envisioning technological and curricular innovations; ensuring our student-centered, Lasallian learning environment; supporting our expert faculty and staff as they engage in high-level teaching, research, and service; and effectively stewarding our school's resources.
What's your favorite part of your job?
Without a doubt, my favorite part of this job is working with talented faculty and staff as they provide our students with invaluable learning and professional advancement opportunities. Saint Mary's University School of Education alumni change our world for the better every day. In large part, this is a credit to our student-centered faculty and staff.
What are your hopes for the future of Saint Mary's?
I have many hopes for the School of Education and Saint Mary's. Notably, my immediate hope is that we continue to emerge from the pandemic by making positive gains in enrollment and student services. I also hope we continue distinguishing ourselves from peer institutions by remaining agile and prominent in the field, thinking creatively about Lasallian education, promoting life-changing programs, and pursuing innovation. Longer range hopes include growing the School of Education footprint to include international programs.
What is your proudest professional accomplishment?
I have two answers to this question. First, I am perpetually proud of the fact that, for over 15 years now, I have been actively engaged in teacher preparation and education research. Schools of education provide indispensable services to communities across this country and beyond, and I am proud to have been a small part of such an essential process. Second, I can't help but express how proud I (STILL) am to be the first person in my family to attend college. Even more so, I am proud of the fact that my daughters followed in my footsteps. Today, Aubrey (26) is a fifth-grade teacher, and Kelly (25) is a social worker, noble careers. Yes, I'm a proud dad.
Looking at the "Declaration on the Lasallian Educational Mission," which of the 12 declarations resonates with you the most? Why?
Each of these declarations resonates with me in some compelling way, but as I complete this survey, my thoughts are immediately drawn to #6: "We believe that education makes possible the search for and transmission of the truth." My life continues to be marked in no small part by a personal quest for truth. Of course, I attribute this often humbling enterprise to education, and believe this may be one of the greatest life lessons we can pass along to our students.