The Marketing and Communication Office will be profiling Saint Mary's University leaders regularly in the Cardinal Update. Our goal is to showcase those overseeing and guiding key areas important to our strategic initiatives. This week, we feature Niki Peterson, dean of students on the Winona Campus, a position vital to student satisfaction and a successful overall student campus experience.
Name: Nicole (Niki) Peterson
Title: Dean of students
How long have you worked at Saint Mary's?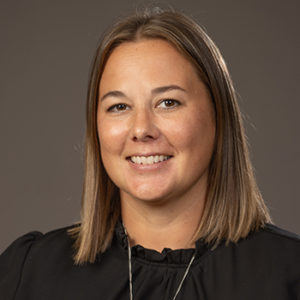 Collectively, I've worked at Saint Mary's for almost 5 years. I was a graduate assistant softball coach from 2003-2005, volunteer assistant coach from 2017-2019, and now I've been dean of students for 10 months.
How would you describe your role at Saint Mary's?
The dean of students provides leadership and vision for the Office of Residence Life, Office of Student Affairs, student judicial process, and student advocacy.
What's your favorite part of your job?
Interacting with students and our residence life staff. The best part of my day is when students stop by to chat.
As an alumna, what's it like working at Saint Mary's?
It is interesting being on the other side of the desk and witnessing the amount of collaborative work that goes into keeping Saint Mary's running smoothly.
What are your hopes for the future of Saint Mary's?
I would like to see our residential community grow and prosper. The pandemic was a challenging time for our residents and our staff. We're working on rebuilding our programming model and providing a fun, welcoming residential student experience. I'm looking forward to seeing our hard work pay off.
What is your proudest professional accomplishment?
At Saint Mary's, it would be surviving my first housing lottery last spring with minimal issues. However, over my entire career, I would say assisting the FBI, the Iowa Division of Criminal Investigation, and the Iowa Division of Intelligence in the successful recovery of two abducted children is my greatest professional accomplishment to date. In 2010, I was a criminal intelligence analyst for the state of Iowa. We received a call from the Illinois State Patrol that there was a non-custodial abduction and the cellphone of the alleged abductor pinged in a suburb of Des Moines. I began researching the subject and discovered he had a connection to that area. I called our FBI Joint Terrorism Task Force agent and sent him to that location. He discovered the suspect and the victims there. The suspect was arrested, and the victims were returned to their mother in Illinois.
Looking at the "Declaration on the Lasallian Educational Mission," which of the 12 declarations resonates with you the most? Why?
The declaration which speaks the most to me in my role is "We believe in the transforming capacity of education." While classroom education is vital, we also appreciate the learning that occurs outside of the classroom.
The Office of Student Affairs is student-centered and student-focused. We are here to support students in their holistic growth as they move from first-year students to graduates. Intellectual, physical, spiritual, and emotional growth is fundamental to developing the whole person, and we wish to be a part of our students' journey through it all.