The Marketing and Communication Office will be profiling Saint Mary's University leaders regularly in the Cardinal Update. Our goal is to showcase those overseeing and guiding key areas important to our strategic initiatives. This week, we feature Tianna Johnson, Saint Mary's assistant vice president for information technology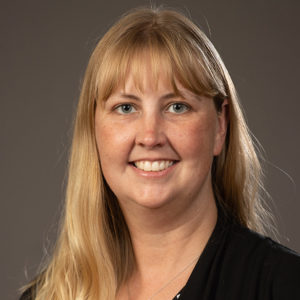 Name: Tianna Johnson
Title: Assistant vice president for information technology
How long have you worked at Saint Mary's?
I have worked at Saint Mary's for a little over nine years, starting in 2012 as the manager of technology support services. I became the director of information technology in March 2016, and in June 2021 was promoted to assistant vice president for information technology.
How would you describe your role at Saint Mary's?
My day-to-day activities here at Saint Mary's constantly change, but overall, I'm here to make sure our IT department supports the needs of our university community. My team ensures that staff, faculty, and students can effectively use the technology and have access to the resources they need.
What's your favorite part of your job?
Without a doubt, my favorite part of the job is my team here in the IT department. Some have worked here for more than 20 years, and some have joined us more recently, but every one of them supports the university's mission and is here to help make Saint Mary's a better place for our students.
What are your hopes for the future of Saint Mary's?
Saint Mary's is facing challenges just like many other universities today. I'm hopeful that we will continue to pull together as one to meet the budget deficit head-on, increase our enrollment and continue to serve our students as we have for the past 100 plus years.
What is your proudest professional accomplishment?
While I don't know that this is my proudest accomplishment, I am very excited about the upcoming implementation of Jenzabar. I think we have a great group of people in and outside of IT that are committed to making this a successful implementation, and I am so thankful for their commitment to the project. It will take a huge amount of work from many departments, but will certainly move Saint Mary's forward in our ability to better serve our students.
Looking at the "Declaration on the Lasallian Educational Mission," which of the 12 declarations resonates with you the most? Why?
Declaration 11 (We believe that today's realities demand taking risks and being creative.) Especially during these challenging times, we need to rethink what we are doing and why we are doing it. We need to evaluate and find the true value-add projects for our students and focus on those first and foremost. Students have many options to choose from when considering where to get their education, and we need to continue to focus on the student by implementing new and creative ideas that speak to them.