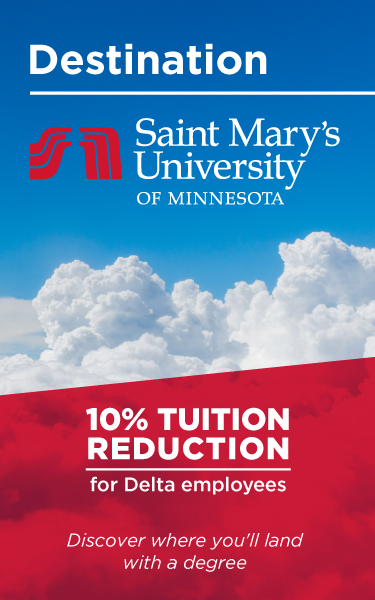 In addition to expanding our Corporate Partner Network, we are happy to share the increasing visibility of Saint Mary's University among our corporate partner organizations. Just one example is the upcoming corporate promotion campaign with Delta Airlines. Here, Saint Mary's University's tuition discount program will be highlighted in emails to Delta's about 20,000 employees as one of its employee perk programs. Besides the email campaign, Delta will also add Saint Mary's tuition discount banner ads on their website to highlight for Delta employees the Saint Mary's partnership throughout the summer. Through this example, Saint Mary's continues to bolster our brand and reputation among our 39 corporate partners.
Additionally, Saint Mary's continues to nurture our partnership efforts with renewed agreements with existing partners in the past month, including:
Eden Prairie Schools
Rochester Public Schools
Medica (including an enhanced partnership agreement expanding to employees' immediate family members)
Through these corporate partnership engagements, Saint Mary's University students may take advantage of a tuition grant in the amount equal to 10% of the tuition, as well as waiving the application fee. For more information on the complete list of collegiate partnerships, please refer to Saint Mary's Corporate Partnership Program.