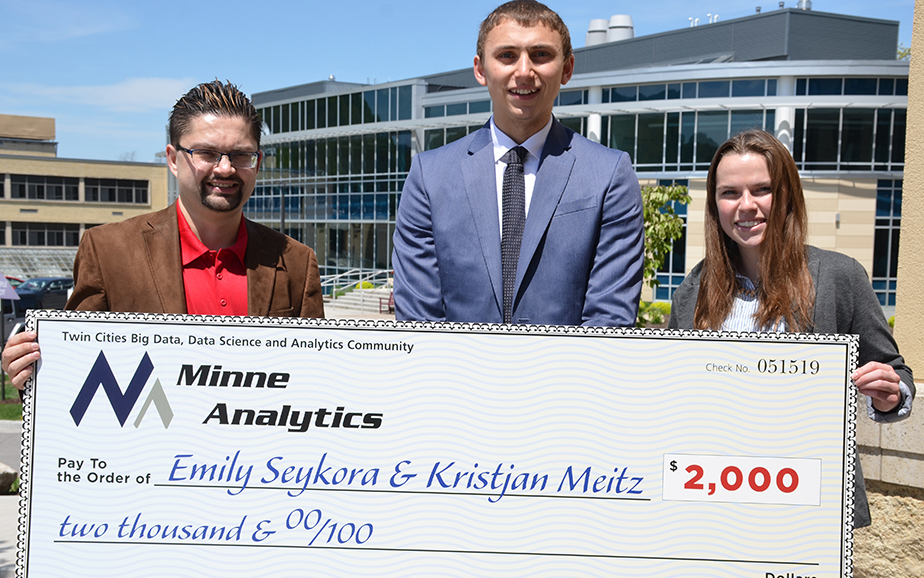 WINONA, Minn. — Saint Mary's University announced that senior business intelligence and analytics majors Emily Seykora of Lansing, Mich., and Kristjan Meitz of Waukesha, Wis., have each been awarded $1,000 MinneAnalytics Scholarships.
MinneAnalytics Scholarships are awarded to students who display a passion for pursuing a career in analytics and an ongoing commitment to community engagement. Last year, the organization awarded 20 scholarships in the amount of $1,000 each to students from schools across the Midwest.
Seykora, who has chosen Business Management as a second major, is working on the Commodities and Intelligence team at Fastenal, where she is learning how to use data to help colleagues with pricing negotiations and creating informative reports on market trends.
What she enjoys most about data analytics is the problem-solving aspect and the fact that it is an ever-growing field filled with opportunity.
"On-the-job experience is the most authentic form of learning, which is one reason why the Business Intelligence and Analytics program at Saint Mary's University is so strong," she said.
After graduation, she looks forward to a career in the data analytics field. Her long-term aspiration is to become a consultant to help companies realize the power of their data.
She is actively involved in Student Senate and Volunteer Mentors and belongs to two academic honor Societies, the Eta Beta Chapter of the Delta Mu Delta International Business Honor Society and Delta Epsilon Sigma National Scholastic Honor Society. She has also served as a tutor and enjoys working with the Data Analytics Club and Campus Ministry events.
Meitz chose to major in Business Intelligence and Analytics because he too enjoys problem solving and thinking critically and creatively, as well as putting his mathematics and statistics skills to work. He also loves that there are so many job avenues and career possibilities in multiple industries.
At Saint Mary's, he plays on the Cardinal men's basketball team, has tutored various courses, and has been a member of the Data Analytics Club and the Leadership Club. He is also a member of the Delta Mu Delta international business honor society; the Delta Epsilon Sigma honor society for Catholic institutions; and Pi Mu Epsilon, the National Mathematics honor society. Outside of Saint Mary's, he has also been working at Fastenal. As a data research assistant in the Performance and Improvement Department, he does various projects involving analytics, finance, statistics, and reporting. This summer, he will intern with 3M.
After graduation, he hopes eventually to pursue a master's degree in data science or business.
MinneAnalytics is a nonprofit organization serving the data science and emerging technology community in Minnesota, the Upper Midwest, and beyond by providing accessible, authentic, and engaging events. For more information about the scholarships, go to minneanalytics.org/scholarships.
Photo caption: Michael Ratajczyk of Saint Mary's Business Department presents two $1,000 scholarships on behalf of MinneAnalytics to seniors Kristjan Meitz and Emily Seykora.