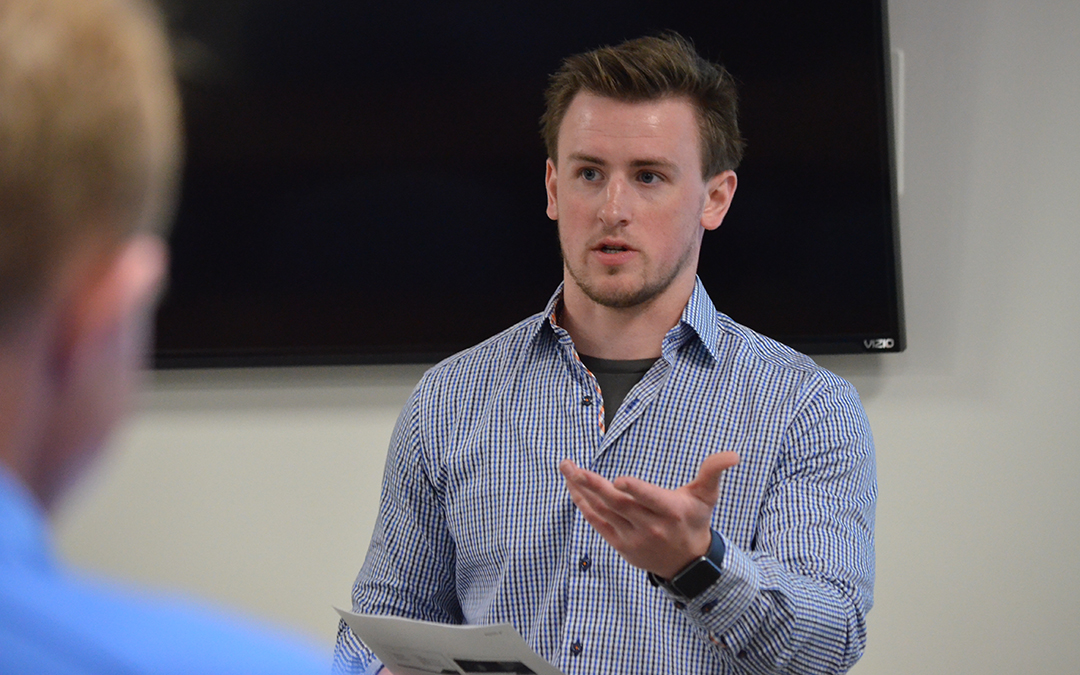 Within the next two weeks, Sport Marketing students at Saint Mary's University will be pitching their ideas for new sports licensed product lines.
They're more than a little nervous.
That's probably because instead of presenting to classmates and faculty, these students will be pitching to top executives at WinCraft, a national leader in retail licensed and promotional products, located right in Winona.
Also invited to review and judge the presentations are representatives from nationally recognized properties within the sport industry as guests of WinCraft.
There's more on the line than just a good grade.
They're calling it the WinBowl, and John Killen, President and CEO of WinCraft, and Zak Mayo, assistant professor of business at Saint Mary's, are hoping it's an annual competition for Saint Mary's students who will face new challenges each year. This year's WinBowl is focused on esports.
Mayo explains that the WinBowl competition is a collaborative semester-long project between WinCraft and Saint Mary's Sport Marketing class. After signing nondisclosure agreements, WinCraft provides students with the background, support, space, and access they need, as well as logos, price points, and intellectual property. Students then form small groups, analyze data, conduct market research, and provide consultative feedback to WinCraft based on a current business venture. At the conclusion of the semester, student groups are pit against each other for the best pitch to WinCraft.
"The students work on a real-time strategic initiative for a world-class organization," Mayo said. "It's going to be pressure filled, and the students will likely be very nervous, but it is going to be beneficial," he said. "The students are going to have the opportunity to really rise to the occasion and hit the ball out of the park. This is an amazing opportunity for our students. We're grateful to WinCraft for partnering with us."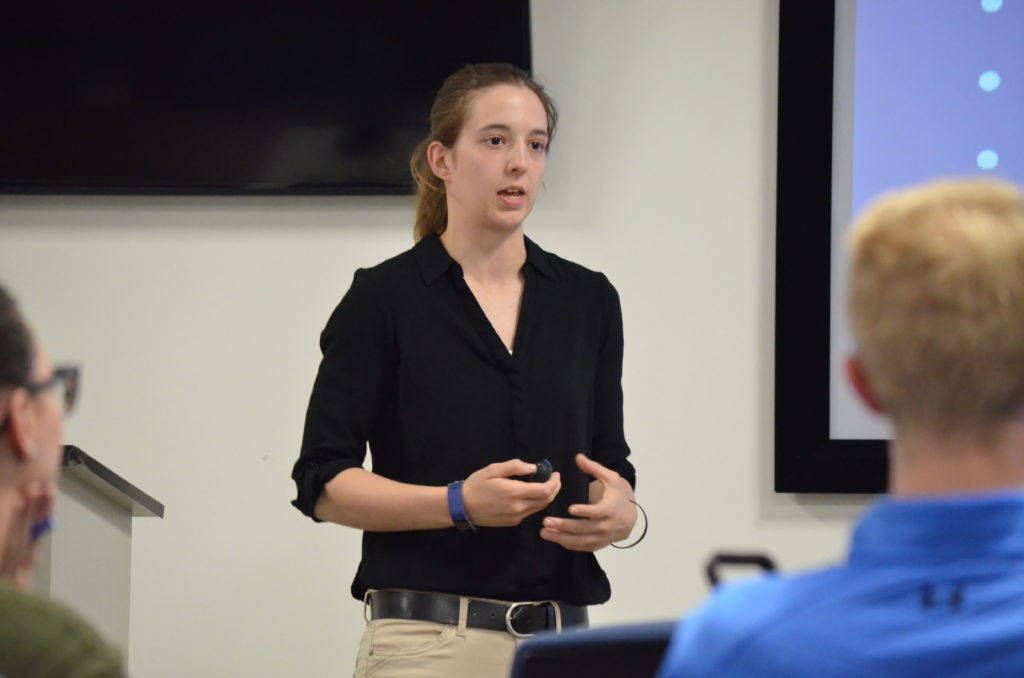 Isabel Bettag, a sophomore accounting and sport management major from Maple Park, Ill., said there's a high level of secrecy among the teams, who are taking the competition seriously.
Though she can't disclose her team's ideas, she's pretty convinced they'll win.
The most exciting part for Bettag has been investigating the fast-growing, up-and-coming business area of esports, as well as the knowledge that their work is truly guiding and benefiting WinCraft. "I like the first-hand experience. This is something I look for in every class I take. I love to see how what I'm doing is going to apply to what I will do in the future. We've been given an opportunity to practice real-world work, but in a supportive setting."
Supportive yes, but still pressure filled. "We want to nail every detail," she said. "We want to leave them with a good impression of Saint Mary's and ourselves, and we don't want to let WinCraft down. It's not just about a grade, it's about their future and ours. It's amazing to get that exposure just from taking a class."
Bettag, who plays basketball for the Cardinals, would eventually like to work for a sports team, but she said it's been eye-opening to learn more about other potential career options at WinCraft, a business she didn't know anything about before the project began.
"Being able to apply what I'm learning to future classes and eventually to my career is going to be a game changer," she said. "This experience is going to put me a step ahead of everyone else."
Steven Reamer, a junior sport management major from Mendota Heights, Minn., disagrees with Bettag. He's pretty sure his team is cinched to come in first.
"I definitely think our team is going to win. We have great products to choose from," he said.
Although high school and college students are the target market for esports, Reamer said that because he's not a gamer, he's had to step up his research. And, as esports is a relatively new market, finding credible data was a challenge.
"Fortunately, we had a lot of tools at our disposal and great people behind us helping us every step," he said. "WinCraft has been generous enough to invite us to present to their clients and involve us in starting a whole new line. It's cool to be involved right from the start. They have faith in us. They don't treat us like students; they treat us like part of the WinCraft team."
One member of the WinCraft team working closely with students is Saint Mary's 2012 alumnus and Strategic Account Manager Robert Gas.
Gas, along with colleagues John Killen Jr. and Liz Sagar are acting as liaisons between WinCraft and the student teams, meeting regularly with students, monitoring their progress, and making sure everything is in line with who WinCraft is targeting as the end consumer for the merchandise.
Gas said the students are bringing a unique perspective to the table for an area that is very new to the world and to the sport industry. "They're finding some very impactful research which can only be described as impressive," he said.
Regardless of their career path or interests, he said students will benefit from the experience.
"It gives students great exposure to the vast opportunities at WinCraft or within the sport industry and is a great résumé builder," he added. "This experience prepares them for the business world, and that's something Saint Mary's has historically done very well, especially in the Business Department."
Gas remembers being a Sport Management major at Saint Mary's. "Back then, there were a lot of real-life examples that prepared me for the business world to have the success that I've had," he said. "But these opportunities to pick the brains of industry professionals are invaluable. Saint Mary's Business Department continues to provide a first class experience for their students. These students are far ahead of where I feel a lot of college alumni are before they hit the ground running in the business world."