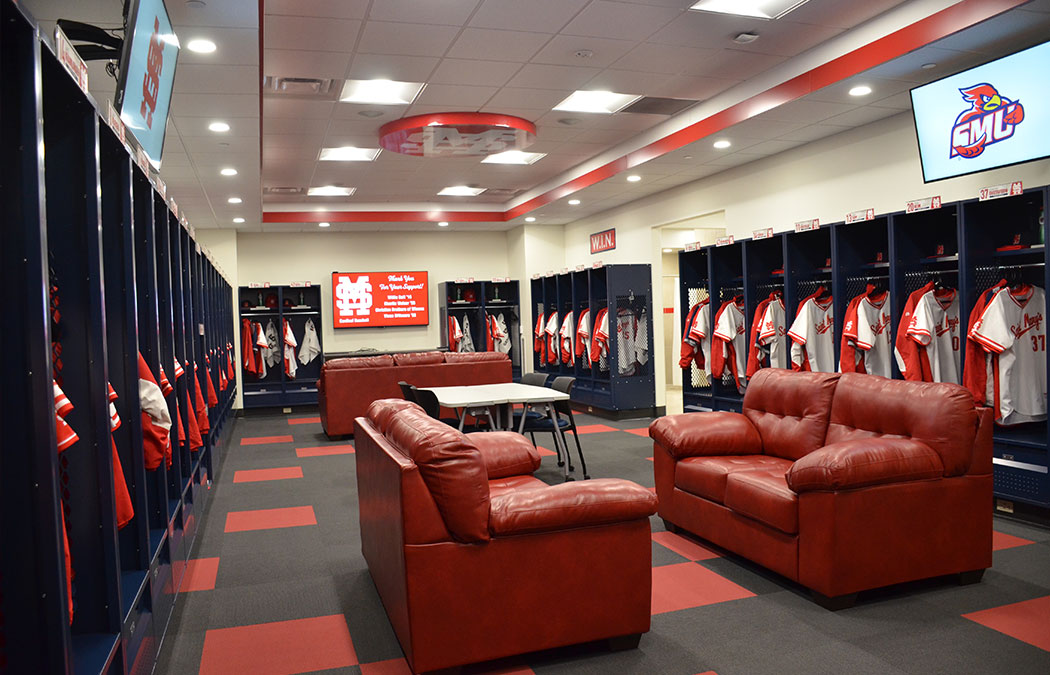 Due to a forecast of inclement weather, the baseball team's conference doubleheader against Bethel University has been moved to Sunday, April 28, starting at 1 p.m. weather permitting. The public grand opening of the newly constructed Saint Mary's baseball clubhouse will still take place from 3:30 to 5 p.m. on Saturday, April 27. Check saintmaryssports.com for more updates.
WINONA, Minn. — Join us for the public grand opening of the newly constructed Saint Mary's University baseball clubhouse, Pudge's Place, on Saturday, April 27.
The Cardinals baseball team will be taking on Bethel University in a doubleheader starting at 1 p.m. Pudge's Place will be open for tours between games from 3:30 to 5 p.m. on the Winona Campus. Additionally, a ceremony recognizing the incredible generosity of those who supported the project will take place on the field immediately following the first game.
Pudge's Place officially opened Jan. 14 as Saint Mary's unveiled the new $704,000 baseball clubhouse to the team for the first time. The 2,500-square-foot facility was initiated by a generous lead gift from alumnus Marc Weisenburger '75, who made the gift in honor of his experiences at Saint Mary's, both in school and on the field. The clubhouse was named Pudge's Place after Weisenburger's nickname from his playing days as a catcher with the Saint Mary's baseball team from 1971 to 1975.
The new locker room and players' lounge includes big-screen TVs, couches, a coaches' space, bathrooms/shower facilities, and laundry and storage areas. A large mural at the main entryway off Gostomski Fieldhouse reads, "Respect the Past, Represent the Future." The theme is particularly fitting as it's because of the generosity of past baseball players that the facility — which so visibly supports the future of Cardinal athletics — was able to be constructed.
Weisenburger's generosity inspired more than 60 additional alumni, friends, and businesses to make gifts to the space. Of that, 46 locker sponsorships of $2,000 each have been supported by friends and alumni athletes, many of whom graduated within the past 10 years.
"The response has been overwhelmingly positive," said Coach Nick Winecke '07. "The clubhouse is part of a bigger plan for enhancing Saint Mary's athletics and another welcomed and visible example of what is possible on campus when generous benefactors contribute to athletic facilities and programs."