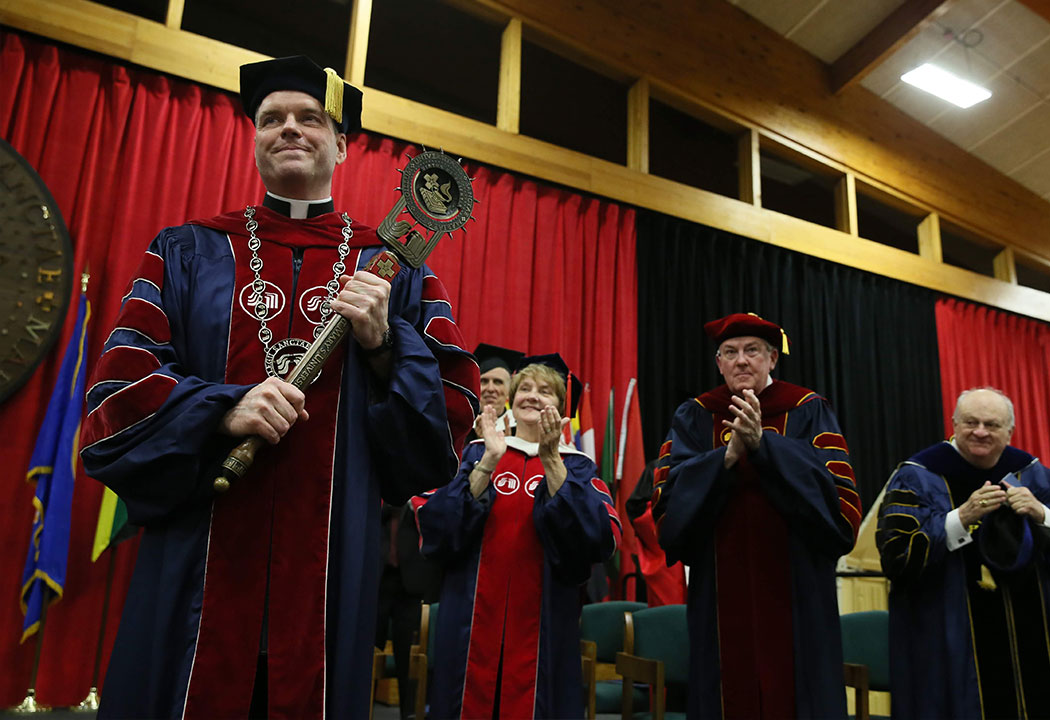 SAINT MARY'S: A SIGN OF FAITH, HOPE, & KNOWLEDGE
As a sign of faith, inauguration events on Oct. 5 began fittingly with Mass, and Saint Thomas More Chapel was filled with celebrants in song and praise.
As a sign of hope, a crowd of approximately 1,500 gathered on the Winona Campus to congratulate Father James P. Burns, IVD, Ph.D., as he was inaugurated as Saint Mary's University's 14th president.
And as a sign of knowledge, Father Burns spoke of what sets an education at Saint Mary's apart from the competition: "If we are open and unafraid about forming our students and ourselves, not only in intellect, but in heart and soul as well, we will be living into that which truly sets our schools apart.
"In fact, we could even say that just helping our students is not enough, just educating their minds is not enough, and even just forming them generally is not enough," he added. "All of these are only part of our educational effort. Rather more deeply it is about forming them in a particular way, helping them to perceive, to know, to act, and to do the good in the right way at the right time for the right reason."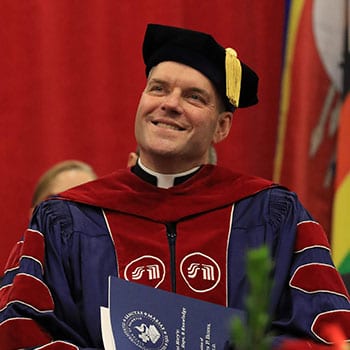 Oct. 5 was a day filled with pomp and circumstance, a day that showcased Saint Mary's University for its strong educational reputation and its welcoming atmosphere, all while introducing its new leader. The concert band and the concert choir performed specially commissioned music, and international students and friends led off the convocation by marching in with the flags of our international students' native countries. A sea of students filled the bleachers.
Two former presidents, Brother William Mann, FSC, D.Min., and Brother Louis DeThomasis, FSC, Ph.D., sat beside Father Burns on stage, each no doubt reflecting back to their inaugurations in 2008 and 1984.
Special greetings were made by U.S. Senators Tina Smith and Amy Klobuchar (as read by emcee Brother Robert Smith '76, Ph.D., chief academic officer and vice president for the Schools of Graduate and Professional Programs, who served as emcee), Brother Gustavo Ramirez Barba, general councilor for Lasallian Higher Education for the De La Salle Christian Brothers; Dr. Susan Skinner, principal of Benilde-St. Margaret's School in St. Louis Park, Minn., and a member of the Midwest District's Lasallian Mission Council; the honorable Mayor of Winona, Mark Peterson; and Dr. Paul Cerkvenik, president of the Minnesota Private College Council.
"Saint Mary's commitment to developing well-rounded graduates is guided by its core ethical values of respect, justice, citizenship, and responsibility for self and others," said Sen. Klobuchar. "When I think of Saint Mary's positive impact in the community, I am reminded of a quote from our late friend Senator Paul Wellstone: 'Education and democracy have the same goal: the fullest possible development of human capabilities.' That is the incredible work you are doing every day — you are helping to shape and change the lives of the young people in your care."
Dr. Skinner welcomed Father Burns into the Lasallian family. "Father Burns, the Lasallian high schools share your passion and vision for what it means to be a Lasallian community of faith. We share your desire to provide young people, young in age or young at heart, with an educational experience that exudes faith, illuminates hope, and honors the pursuit of knowledge in service of love."
Mayor Peterson told the audience, " … this campus and its people have long been a treasured part of this community. Your faculty and staff are valuable contributors to our vitality. They live, volunteer, and donate their time and energy to Winona. Your students bring their talents as well; they volunteer on cleanups, they contribute to the food shelf with their community garden, they student teach in our schools, they intern with our businesses, and they enhance our reputation for being the safest college town in America."
Internal welcomes were made by Ned Kirk, D.M.A., representing the undergraduate College; Teresa Taylor, Ed.D., representing the Schools of Graduate and Professional Programs; Scott Walker '91, C'96, M'98, representing Rochester programs, staff, and students; Heidi Ledermann '19, representing undergraduate College students; Dinyar Mehta M'18, representing SGPP students; and Matthew Bilski '07, representing alumni.
Each shared a glimpse into the Saint Mary's they know.
"We've heard you talk about Minnesota nice, and I'm sure you are already finding that we have that in abundance," Dr. Kirk said. "On this campus, that translates to faculty and staff who go above and beyond to help their students be successful."
Dr. Taylor continued, "Saint Mary's has been a pioneer in graduate education, and we continue to have one of the largest graduate programs in the state. Our faculty are experts in their fields who have often chosen to 'give back' by sharing their knowledge in the classroom.
"In keeping with this legacy, it is our hope that we will continue to adapt our programming needs to tomorrow's educational needs," she said. "Society looks to us to prepare our students for jobs that have tremendous community impact, and our students look to us for flexible yet meaningful education. I've often heard the most difficult part of getting a graduate degree is starting. Let's get started, Father Burns."
Dr. Walker told inauguration goers that Saint Mary's is investigating how we might expand programming to support Rochester as the city continues to position itself as a global destination for health and wellness.
"Father, we welcome your forward thinking as we form collaborations in Rochester, and all of our surrounding areas, and as we discover how to best serve these communities," he said.
Ledermann based her presentation on the word, "opportunity."
"That's what Saint Mary's is known for, giving students an opportunity to stand out in a crowd and to be known. I've always felt like faculty and staff here know me by name, care about my thoughts and ideas, and want to help me excel in everything I do."
Mehta, who also served on the presidential search committee, told Father Burns, "With your skills, ability, and deep experience honed over years of service in academia, you have a proven track record of growing enrollment, promoting online education, and securing gifts for projects and programs — all of which, the Board has astutely pointed out, are critical to Saint Mary's present and future."
And Bilski announced that Saint Mary's 43,000 living alumni are truly scattered throughout the world. "Some have immigrated from other countries to come to Saint Mary's, while others have grown up in the shadows of the Winona bluffs," he said. "New alumni will be joining us at a graduation next week: others graduated more than 70 years ago. Some — our online degree alumni — may have never even set foot on a Saint Mary's campus. The common bond that we all share transcends geography, field of study, and background, Our Saint Mary's Experience."
He furthered, "Throughout your presidency, keep in mind that you never know when you'll run into another Saint Mary's alum, because we're everywhere, and we're proud."
Brother Larry Schatz, FSC, Visitor of the Midwest District of the Brothers of the Christian Schools and a university trustee, introduced Father Burns, highlighting his academic and administrative accomplishments at Boston College and beyond. He added — with a smile — that Father Burns is a good cook, enjoys riding horses, and loves watching hockey … and football.
Father Burns laid out a future in which Saint Mary's must define what sets it apart from the competition. Staying true to the university's Lasallian Catholic charism is one way that Saint Mary's is preparing its students to affect change in the world, for the better.
"… as critical as it is to acknowledge what we have accomplished and what we can do or what we will build; as important as it is to be aware of and involved in disruptive education and adaptation while looking for the next great transformation, this cannot be enough. For we will have to be mindful that many others are seeking to do the same.
"That is why I believe over and above all of this, what is most critical for us to focus on is our distinctive difference; what we uniquely have to offer," he said. "That is none other than our Lasallian and Catholic identity. An identity that has embedded in it the key import of virtue, ethics, and character education.
"The university is a singular and privileged place of dialogue and encounter that as a result requires much of those who are involved in its efforts. Being such a place, it allows us to uniquely address so many of the daily challenges we face in this world."
Mary Ann (Wera) Remick CST'64, chair of the Board of Trustees, led the investiture of Father Burns, ending with her heartfelt wishes for the new president, "May God bless you with the strength, the courage, the conviction, and wisdom you will need as you carry out the duties of your office. While you will undoubtedly find frequent challenges, may you also find daily joys, knowing that the work is not only yours but all of ours, and ultimately knowing that the work belongs to God."
As part of a full weekend of celebratory events, Father Burns met students and staff early the following morning for service cleanup work on campus and on Highway 14. Later in the afternoon the Kabara Institute for Entrepreneurial Studies hosted an artisan fair on the plaza. Additionally, Student Activities hosted a soccer tailgater, complete with inflatables, food, and music, was held at the soccer field.
Watch the recording from the ceremony.
Inauguration day event photos.