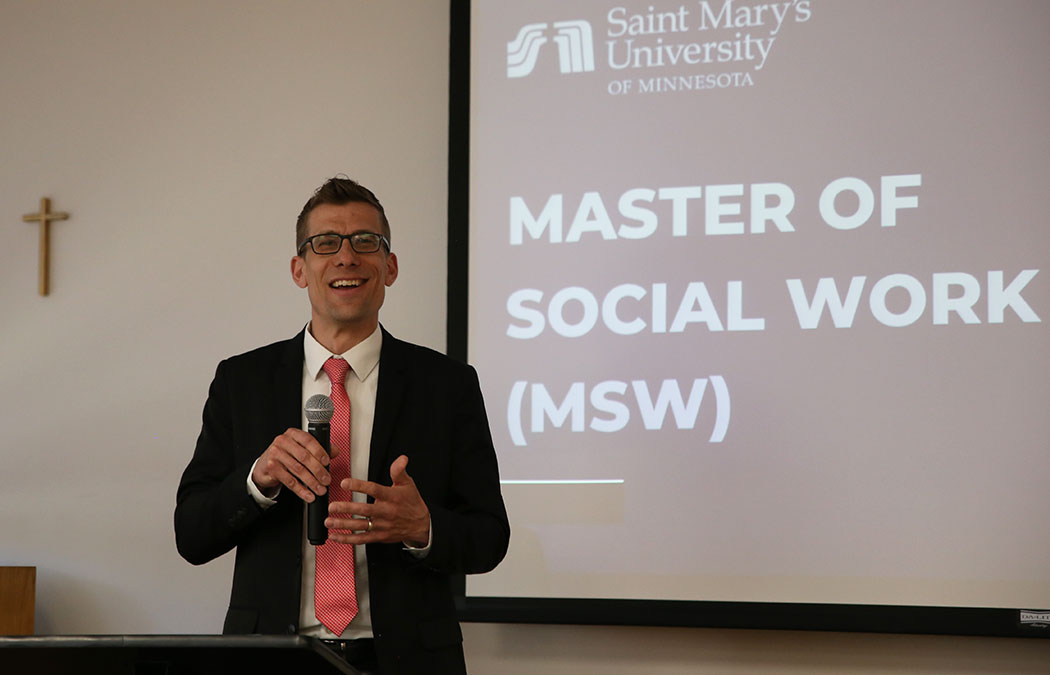 MINNEAPOLIS, Minn. — Saint Mary's University of Minnesota celebrated the launch of a new online Master of Social Work program on April 23 on its Twin Cities Campus.
Local social work professionals, community members, and university faculty members, leaders, and students gathered in person and via live webcast to celebrate the launch, and also to learn about the program's mission, vision, and unique features.
"This program has been designed to meet the needs of adult learners," said Suzanne Shatila, MSW, Saint Mary's Master of Social Work program director. "We're doing that by providing a rigorous social work education grounded in the core values and the core philosophies of social work and provided in an online format with field experiences being completed throughout the country where our students are located."
Rob Edwards, LGSW, PACC, was the guest speaker at the event. Edwards graduated from Saint Mary's undergraduate Winona Campus in 2000 and is now the CEO of the Lee Carlson Center for Mental Health and Well-Being and the president of the Minnesota Chapter of the National Association for Social Workers (NASW-MN). He has been working as a leader in the non-profit human services sector for the past 20 years and has a background in program development, quality improvement, and leadership spanning areas of mental health, child welfare, and family services.
"To be a social worker, you must meet people where they're at — it's a core principle to our work," said Edwards, who was awarded the Early Career Excellence Award from NASW-MN in 2012. "To be a social worker, you must cheer others on. And that's what we do. What I'm starting to like more and more, as I continue this journey as a social worker in leadership, is the idea of helping the helpers do their best work."
This new online program will welcome its first group of students this August and prepare learners to deepen their commitment to social justice issues through clinical practice across Minnesota and nationwide. The program features:
Coursework 100% online
Fieldwork in students' geographic locations
No social work experience necessary
Advanced standing track for BSW degree holders
Full- or part-time options
"Our mission statement at Saint Mary's focuses attention on preparing students for ethical lives of service and leadership, so you can see how this MSW program is such a mission-relevant program for us," said Todd Reinhart, Sc.D., dean of Sciences and Health Professions of the Saint Mary's Graduate School of Health and Human Services.
To learn more about the MSW program, visit smumn.edu/msw.
Photo caption: Rob Edwards '00 speaks at the Master of Social Work launch celebration.