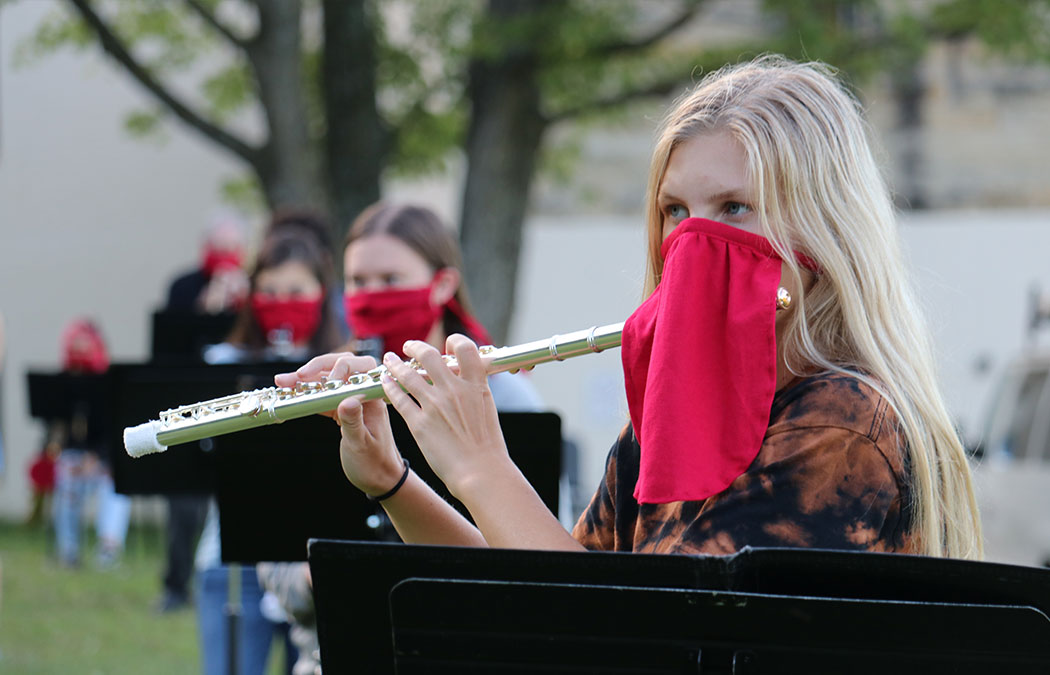 WINONA, Minn. — The Saint Mary's University Concert Band has found creative ways to hit the high notes, despite the COVID-19 pandemic.
Rehearsals look a little differently for band members this fall, with musicians often heading outdoors to social distance — for as long as weather permits. Band members are also wearing special masks, and bell covers have been added as precautionary measures.
Director Janet Heukeshoven believes it's more important than ever to keep the music flowing. "During this time when so much has been taken away from our students' lives, making live music together becomes even more important, not only for the creative music experiences, but the emotional and social aspects of playing music together. Music nurtures the human soul!"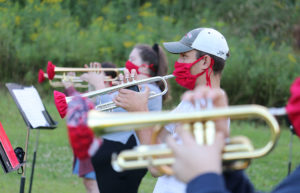 Dr. Heukeshoven, joined by other Saint Mary's music faculty, spent the summer researching ways to safely continue performing. Saint Mary's jazz groups are also rehearsing with players' masks and bell covers while social distancing. The choirs are starting rehearsals with smaller groups, are social distancing, and are wearing specially designed "singers scarves" specially designed by choir director Dr. Patrick O'Shea.
As no public performances are planned during this pandemic, all the university music ensembles will create professionally recorded performances in November, which will be shared as public virtual concerts at the end of the semester.
About Saint Mary's University's Music Department
The Saint Mary's University Music Department serves students from all academic areas through its many ensembles (both instrumental and vocal) and courses, which are open to students both within the Music Department and those wishing to increase their musical knowledge while pursuing a different major. Each year incoming student musicians audition for music scholarships which are based on musical performance and open to all Saint Mary's students. Students wishing to major in music have five options: B.A. in Music, Music Performance, Music Education, Music industry, and the five-year Masters of Teaching degree in Music Education. Visit smumn.edu/music for additional information regarding Music Department offerings.
Photo caption: Emma Schuster wears a special flute mask as part of new safety precautions.