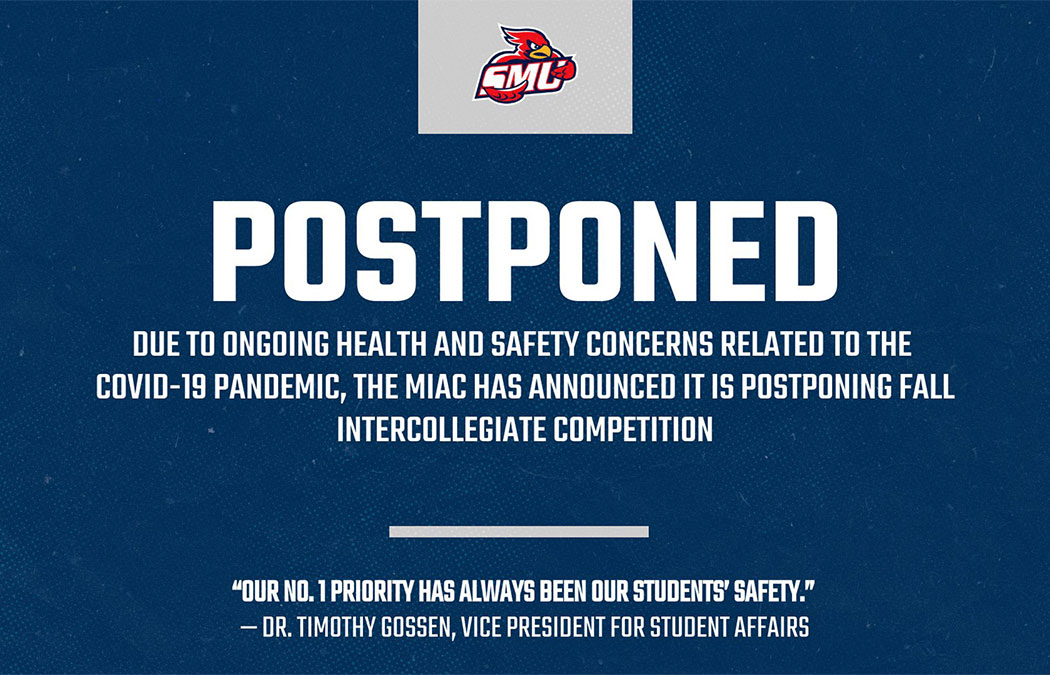 WINONA, Minn. — The Minnesota Intercollegiate Athletic Council announced its decision today, Tuesday, July 28, to postpone most fall intercollegiate competition. According to the MIAC, "The conference is working to develop spring schedules for those sports, which have been deemed at medium- or high-risk for coronavirus transmission by the NCAA." The postponement relates to health and safety concerns related to the COVID-19 pandemic.
The MIAC is permitting golf and tennis to compete this fall in accordance with campus, state, and NCAA health directives. Saint Mary's does not have a golf team, and although Cardinal tennis teams will practice in fall, no conference games are scheduled until spring.
"We know this wasn't an easy decision for the MIAC to make, but we understand this outcome because our No. 1 priority has always been our students' safety as well," said Dr. Tim Gossen, vice president for Student Affairs. "A considerable amount of effort was put into finding a different solution. However, we believe ultimately this decision is in the best interest of our student-athletes as well as our university as a whole. We share in the obvious disappointment of student-athletes, particularly our seniors, and we will do all we can to support them physically and emotionally. We place tremendous value on the importance of intercollegiate varsity athletics, but value the health, safety, and future well-being of those student-athletes, as well."
Brian Sisson, athletic director, said Cardinal student-athletes will be able to practice and continue strength and conditioning programs this fall, following NCAA, MIAC, and Minnesota Department of Health (MDH) guidelines. "We're committed to promoting ongoing engagement between our student-athletes and our coaching and support staff — outside of the competitive arena — so they can continue training and grow stronger as a team. At Saint Mary's, we refer to our Cardinals as student-athletes because they are first and foremost students, but we also know it's the opportunity to participate and excel in athletics that is an integral part of their college experience, and we will do our best to enhance our student-athletes' experience."
The NCAA, MIAC, and Saint Mary's have not made decisions on winter and spring athletics at this time.