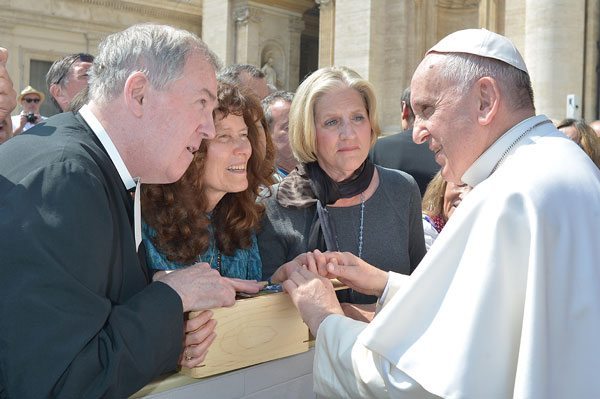 Saint Mary's University of Minnesota's second Signum Fidei Award was presented to Pope Francis April 15 in Rome. Conferring the award was Brother William Mann, president of Saint Mary's University, along with Mary Burrichter and Sandra Simon, both members of the university's board of trustees.
The Signum Fidei Award is bestowed by the university on an individual, group, or organization in recognition of extraordinary service to the vulnerable and marginalized members of society. It also recognizes and honors work that promotes human solidarity. Its name, signum fidei or sign of faith, is taken from the great seal of the Institute of the Brothers of the Christian Schools.
Presented to Pope Francis was a bronze bust of Brother James Miller, an alumnus of Saint Mary's University who was killed in 1982 in Huehuetenango, Guatemala, while serving as a missionary. Brother James was murdered for his work in defense of the young people he served. He is remembered for his heroic contributions to humanity as a Christian educator, apostle of the poor and underprivileged, and advocate for justice and solidarity.
Fittingly, Pope Francis is known for his humility, compassion, and devotion to the underserved and underprivileged. In his inaugural Mass as Pope, he pledged to "embrace with tender affection the whole of humanity, especially the poorest, the weakest, the least important."
"We are honored to present Pope Francis with this award, which is given to those individuals who reach out to populations too often forgotten in society," said Brother William. "Pope Francis has repeatedly urged all Christians to serve those marginalized by society, and he continues to model this behavior in his daily actions."
PHOTO CAPTION: Brother William Mann, president of Saint Mary's University of Minnesota, along with Mary Burrichter, center, and Sandra Simon, right, Saint Mary's University trustees, presented the Signum Fidei Award to Pope Francis April 15 in Rome. Photo from L'Osservatore Romano