Whether it's going to the hair salon or going to Harvard, women really can do it all, especially when they have faith in themselves. Saint Mary's Department of Fine and Performing Arts will present "Legally Blonde: The Musical" 7:30 p.m. Thursday through Saturday, March 24-26 (with an additional 2 p.m. matinee on March 26), in the Page Theater.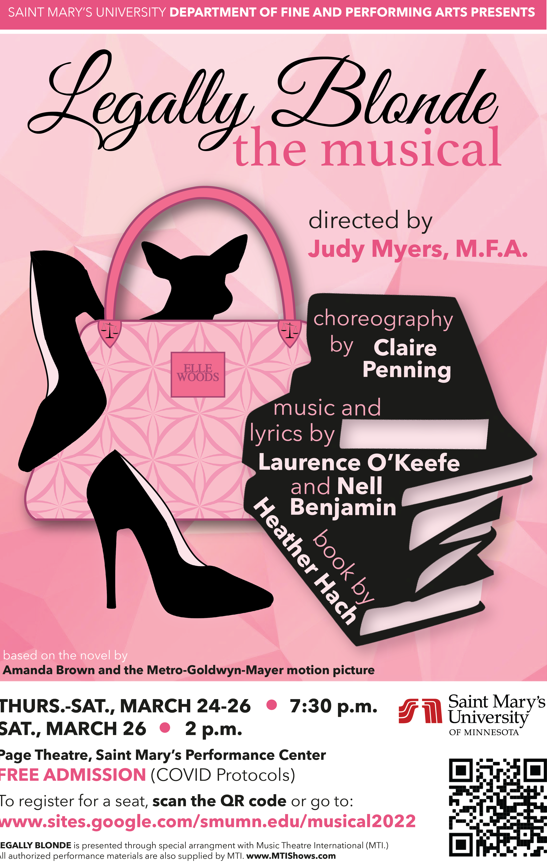 Under the direction of theatre professor Judy Myers, M.F.A., Saint Mary's students will stage the familiar tale of Elle Woods, a woman head over heels for a guy who fails to see her as more than a pretty face. In an attempt to validate her worth, Elle sets her sights on attending Harvard Law School and proving you can be pretty AND be successful.
" 'Legally Blonde' has a way of connecting women of all ages and backgrounds by showing the answer to living a successful life: Staying true to yourself," Myers said. The audience is invited to follow Elle's adventures and find out if she graduates from law school, discovers the courage to be herself, and if she gets the guy of her dreams.
The musical is based on the novel by Amanda Brown and the 2001 movie of the same name, with music and lyrics by Laurence O'Keefe and Nell Benjamin, and book by Heather Hach.
Admission is free for all. There is no option to livestream this production. Admission is free for all. There is no option to livestream this production. To reserve seats, go to: https://sites.google.com/smumn.edu/musical2022. Reservations are recommended but not required. Filling out the form assists with gauging attendance and accessibility requests. Page Theatre has a full capacity of 400+ seats, and it is not anticipated that audience numbers will exceed that limit.