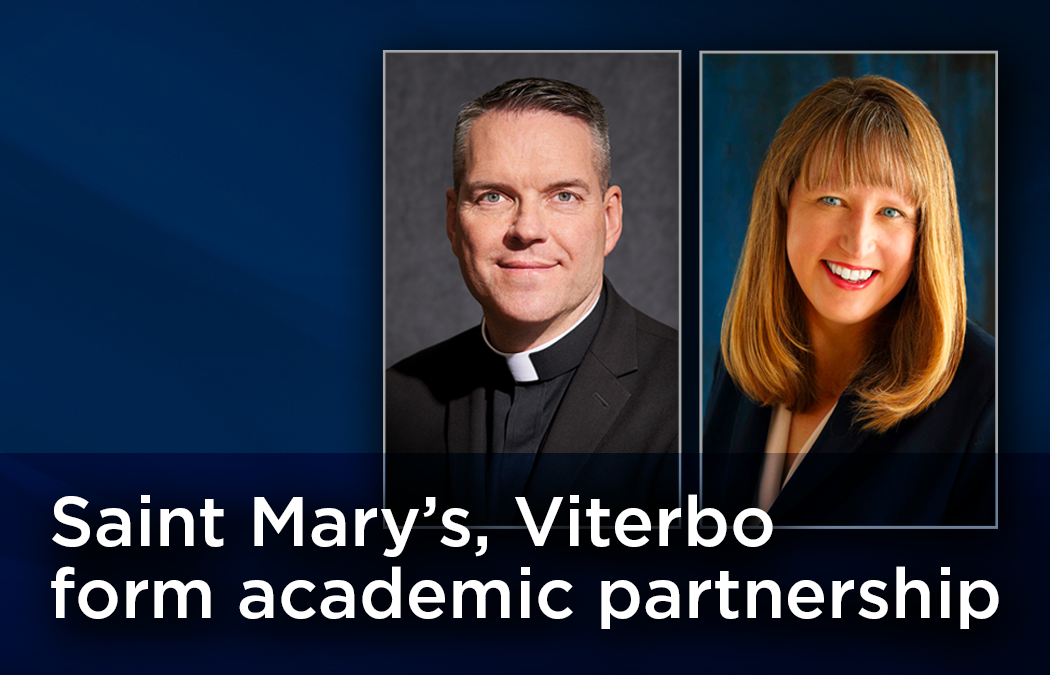 LA CROSSE, Wis./WINONA, Minn. — Saint Mary's University of Minnesota and Viterbo University are pleased to announce a new partnership that provides flexibility and increased academic offerings for students at both schools.
University presidents Father James P. Burns, IVD, Ph.D., of Saint Mary's and Glena Temple, Ph.D., of Viterbo will sign a partnership agreement Tuesday, Feb. 23.
Both universities are founded in Catholic values and have a shared mission of transformative education. "Partnering with Viterbo is a natural extension for Saint Mary's as we look to serve students who seek an excellent education rooted in leadership and service to others," said Father Burns. "In these increasingly challenging times, we are called to be especially innovative and creative in serving students and meeting employer and societal needs going forward. Strong partnerships create opportunity, and we are pleased to be working closely with Viterbo."
"This partnership is mutually beneficial for students looking to jump start meaningful advanced degrees or certificate programs, as well as for regional employers," said Dr. Temple. "Students will emerge from these collaborative programs with valuable skills, strong leadership traits, and ethical values — characteristics highly desirable in today's workforce. Our collective goal is to offer flexibility and opportunity — two things today's deserving students seek when determining where and how to advance their education."
"Creativity and innovation have always been a hallmark of Catholic higher education," said the Rev. Dennis Holtschneider, CM, president of the Association of Catholic Colleges and Universities. "Today, we celebrate two Midwestern Catholic universities with aligned missions who are joining forces to broaden the academic offerings available to students at both schools and strengthen their educational experience."
As part of the agreement:
Saint Mary's will offer 6 credits toward its 36-hour M.S. in Business Intelligence and Data Analytics from the following Viterbo bachelor's degrees: accounting, business administration, finance, health care and wellness management, management and leadership, marketing, sport management and leadership, applied math and analytics, computer science, engineering, and psychology.
Viterbo agrees that graduates from Bachelor of Arts programs at Saint Mary's are able to enroll in Viterbo University's 30-credit hour M.A. in Servant Leadership program. Students will accelerate their M.A. degree by taking 6 credits of Viterbo University graduate coursework during their B.A. studies at Saint Mary's. These 6 M.A. credits will also count for 6 B.A. credits. Specific courses will be identified by program leadership.
Saint Mary's will make its Certificate in Project Management available to Viterbo graduates.
Viterbo will make its Certificate in Ethical Leadership available to Saint Mary's graduates.
The agreement is effective for fall 2021.
About Saint Mary's University of Minnesota
Saint Mary's University of Minnesota awakens, nurtures, and empowers learners to ethical lives of service and leadership. At Saint Mary's, students find in every classroom — whether in person or online — a relationship-driven, person-centered education. Through intense inquiry, students discover the truths in the world and the character within. Founded in 1912 and accredited by the Higher Learning Commission, Saint Mary's University of Minnesota enrolls 5,200 students at its residential undergraduate college in Winona and its Schools of Graduate and Professional Programs, based in Minneapolis with programs offered in Rochester, other locations in Minnesota and Wisconsin and fully online. As a Lasallian Catholic university welcoming all students, Saint Mary's offers respected and affordable programs in a variety of areas leading to bactoral degrees, as well as certificates. Learn more at smumn.edu.
About Viterbo University
Viterbo University offers more than 40 academic programs (traditional and online) that prepare students for outstanding careers. Whether it be at the bachelor's, master's, or doctoral degree level, classes are taught by faculty members dedicated to the success of their students. Viterbo students are known by name and build strong connections with faculty both in and outside of the classroom. Most programs feature internships, study abroad, service, and field research opportunities that enhance the classroom experience. Viterbo also has a generous transfer-credit policy and accelerated bachelor's degree completion programs specifically designed for working professionals. Viterbo's beautiful campus and vibrant community are located in La Crosse—a city nestled between scenic bluffs and the Mississippi River and named a top college town in Wisconsin by the American Institute for Economic Research. Founded by the Franciscan Sisters of Perpetual Adoration, Viterbo is a Catholic, Franciscan University in the liberal arts tradition.