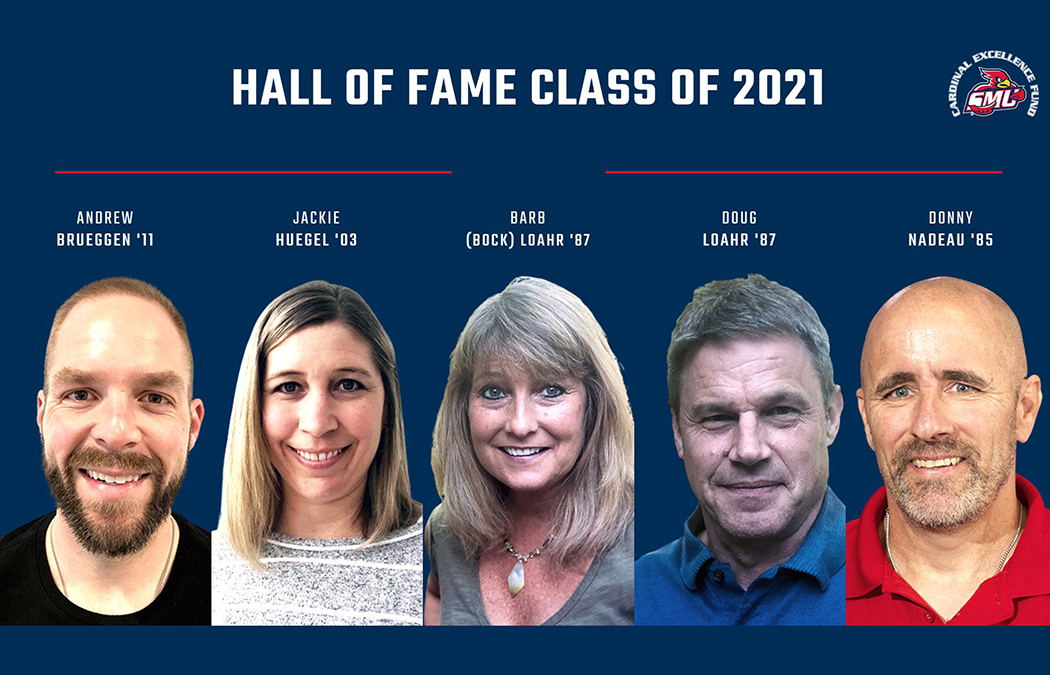 This spring's Sports Hall of Fame induction has a lot of firsts.
It's the first virtual induction in hall of fame history.
The university's first alumni-athlete from men's track and field is being inducted.
It's another first that a husband and wife are being inducted together.
The Saint Mary's University Athletic Department, in association with the Saint Mary's Alumni Association, will proudly induct four former student-athletes into the Saint Mary's Sports Hall of Fame: Barb (Bock) Loahr '87, Doug Loahr '87, Andrew Brueggen '11, and Jackie Huegel '03, as well as longtime sports information director Donny Nadeau '85. The five will be recognized virtually at 7 p.m. on Saturday, April 24. Register here.
"We are beyond excited to welcome an amazing group of Cardinal greats into the Saint Mary's Sports Hall of Fame," said Saint Mary's athletic director Brian Sisson. "This class, as all members in the past and in years to come, has all left their mark on Cardinal athletics, and represent amazing accomplishments within our Saint Mary's family.
"I am excited to have four different sports represented and a diverse group of deserving alumni athletes, as well as one of our own hardworking athletic staff members," Sisson added. "This grouping is a very special and unforgettable hall of fame addition."
Barb (Bock) Loahr '87
Women's Soccer
A four-year letterwinner, Barb (Bock) Loahr '87 was a driving force in Saint Mary's dominance in the Minnesota Intercollegiate Athletic Conference (MIAC) during her time as a member of the Cardinal women's soccer team. She helped guide the Cardinals to three MIAC regular-season titles — including a perfect conference season and a berth in the NCAA Division III national tournament during her senior season. Loahr closed out her illustrious career as a two-time All-MIAC First-Team selection, while also garnering NSCAA All-West Region First Team honors following her senior campaign. She recorded 37 goals and 23 assists for 97 points during her four seasons, with her senior year — 16 goals, eight assists, and 40 points — being her most productive. Loahr ranks in the top 10 in program history in all three offensive categories, while her 16 goals and 40 points in 1986 remain single-season top 10s.
Doug Loahr '87
Men's Hockey
Doug Loahr '87 was a four-year letterwinner for the Saint Mary's men's hockey team, and one of the program's most prolific scorers. A four-time All-MIAC First Team selection, Loahr scored 10 or more goals — and recorded 20 or more points — in all four of his seasons in a Saint Mary's uniform. Loahr enjoyed his most productive season as a sophomore, scoring 41 goals and adding 29 assists for 70 points. All told, the speedy forward closed out his collegiate career with 90 goals, 65 assists, and 155 points in 95 games. His 70 points during the 1984-85 season rank third all-time, while his 41 goals that season are fourth in program history. Loahr's 90 career goals leave him No. 5 all-time, while his 155 career points have him sitting eighth.
Jackie Huegel '03
Fastpitch Softball
Jackie Huegel '03 played a major role in helping the Cardinals post a perfect run through the NCAA national tournament field en route to the program's — and the school's — first-ever national championship. Huegel, who started all 137 games she played in as a Cardinal, closed out her career with a .406 batting average, the fourth-highest career average in program history. During the Cardinals' national championship season in 2000, Huegel, then a freshman, hit a career-best .455, while also posting career-highs in at-bats (123), runs (38), hits (56), home runs (3), RBIs (39), and stolen bases (22). Her third home run of the season — a two-run, first-inning blast — helped propel the Cardinals to their national title-winning 5-0 win over Chapman. A four-time All-MIAC First-Team selection, Huegel was also a regular on the NFCA post-season award podium, being named All-Region Second Team in 2001 and Third Team in both 2002 and 2003. Huegel, a 2002 CoSIDA Academic All-District selection, as well as Saint Mary's Outstanding Female Athlete, is making her second appearance as a Saint Mary's Sports Hall of Famer, having also been recognized when the 2000 national championship team was inducted in 2005.
Andrew Brueggen '11
Track and Field
Andrew Brueggen '11 was one of the most dominant male track and field athletes during his time as a Cardinal, and with his induction, he becomes the first male track and field athlete to be inducted into the Saint Mary's Sports Hall of Fame. Brueggen kicked off his three-year Saint Mary's career by winning the MIAC Outdoor hammer throw in 2009. In 2010, Brueggen earned the first of his two All-American honors, this one in the indoor hammer throw, where he finished fourth. That was nothing, compared to what he was able to accomplish as a senior, winning the MIAC indoor weight throw and outdoor hammer throw, while earning MIAC Indoor and Outdoor Outstanding Performance of the Meet honors. Brueggen qualified for the 2011 indoor national championships and captured his second All-American honor with a sixth-place effort in the hammer at the outdoor national championships. Not to be overshadowed by his exploits on the track, Brueggen was also a two-time USTFCCCA All-Academic selection and earned MIAC All-Academic honors in 2011.
Donny Nadeau '85
Sports Information Director
Donny Nadeau '85 completed his 25th season as Saint Mary's sports information director in May 2020. Throughout his career, Nadeau has been responsible for all aspects of sports information, including statistics, press releases, media relations, print materials, promotions, award nominations, and more — which equates to countless long and late-night hours. In addition, he is the webmaster of saintmaryssports.com and is masterful at supplementing his stories with innovative videos, digital media guides, and plentiful social media posts. Not only does he thoroughly cover 300 athletic events annually, he created and co-hosts a weekly television show, "The Cardinals Nest" to spotlight what's happening in athletics. In recognition of his work, Nadeau has received the Saint Mary's Employee Recognition Award three times and was honored with the prestigious Saint Mary's Heffron Award in 2014. Nadeau also received the MIAC Mike Augustin Award and has been recognized for the quality of his writing — including second in the district (event coverage) and third in the nation (athlete profile) honors in CoSIDA's Fred J. Stabley writing contest. Considered by many among the conference and the Midwest as one of the best in the business, Nadeau has served as host SID for two NCAA Division III Final Fours and spearheaded all media relations for the annual MIAC Men's Hockey Showcase.