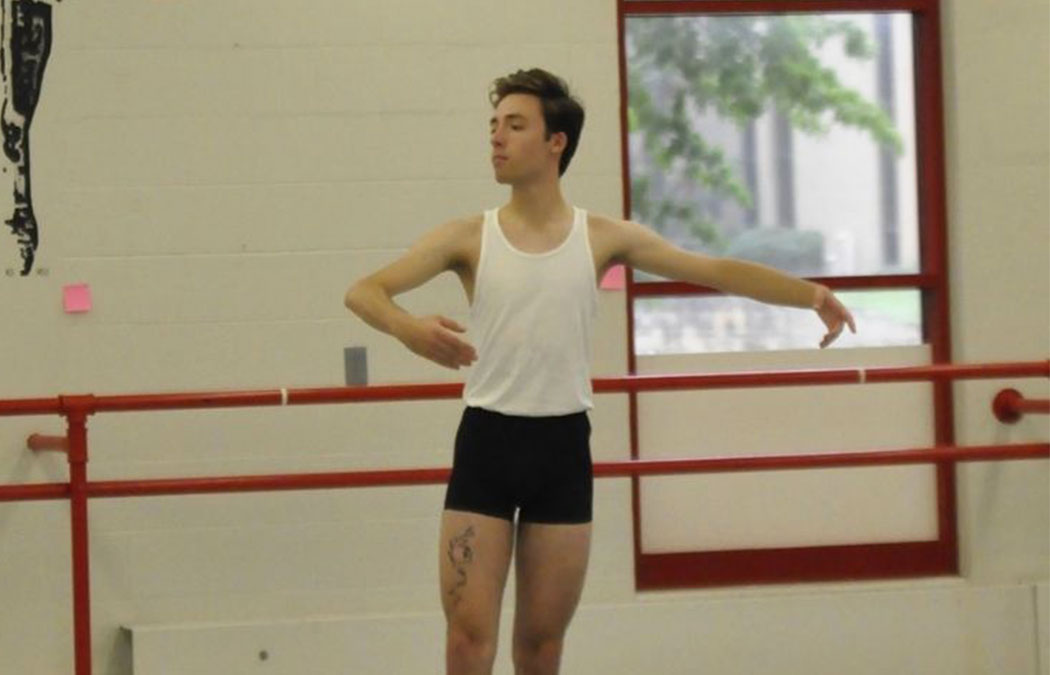 By Kathryn Bates, Saint Mary's University of Minnesota senior public relations major
Musical theatre is composed of three important skill sets: singing, acting, and dancing.
As an affiliate of Saint Mary's University of Minnesota, the Minnesota Conservatory for the Arts (MCA) has fostered a learning environment in all three of these facets for college students in Winona.
At Saint Mary's, students are given the opportunity to pursue a dance minor, one that can only be completed by taking several dance classes at MCA.
Sam Wersch is a junior musical theatre major and dance minor at Saint Mary's. Originally from Aurora, Colo., Wersch stumbled upon the school almost accidentally, seeking out their musical theatre program.
Growing up, Wersch did not realize that theatre performance, or anything like it, was an option.
"I wanted to go into music education, and maybe viola performance, but in the fall of my senior year I realized that I could try theatre," Wersch said.
Once he started at Saint Mary's, Wersch quickly realized that in order to be successful in his major, he would need to develop skills in dance, so he dove in head first.
Once Wersch took all of the beginning level classes that were offered on the Saint Mary's Winona Campus, he began taking classes at MCA.
"The classes at MCA gave me the opportunity to catch up to my peers in the field and in my program at Saint Mary's," Wersch said, adding that he had always wanted to dance and regrets not starting sooner.
Wersch's first ballet class was Ballet I with Tammy Schmidt, director of dance at MCA and the dance program coordinator at Saint Mary's.
"It was such a good introduction to learn how to approach ballet and movement. Tammy taught us how to approach dance, especially since we are older. She is an amazing teacher," Wersch said.
Ballet quickly became his favorite style of dance. He finds the most challenge with it, and the most reward.
"I did it because I need the skills for my career, but I didn't expect to find so much love in it," Wersch said. "It was a welcome surprise, even if it came so late in my life. I keep doing it because I like to do it. It is challenging but there is such a big reward when I get to see my own progress."
Wersch's experiences dancing at MCA have amplified his education tenfold.
"If MCA wasn't there, I wouldn't be getting a well-rounded theatre education," Wersch said.
He has more opportunities for performance, as well as vital access to dance educators, facilities, and resources that otherwise wouldn't be available to him and other students at Saint Mary's.
An important part of MCA that Wersch does not take for granted is the ability to meet and build relationships with Winona community members. Wersch takes his classes with local high school students and Winona State University students.
"Meeting the other dancers at MCA has offered me more perspective into dance. They approach their classes differently than I do, but I love learning why they love it, it has helped me learn to love it in different ways," Wersch said.
He highlighted the other skills that participating in MCA programs has taught him so far in his time dancing with them.
"I've learned how to be healthier and better to myself, how to understand physical movement for acting, and my perspective has widened when it comes to the industry as a whole," Wersch said.
In regards to his future, Wersch is looking forward to opportunities that will further his abilities in dance.
"I'm not as prepared as I would like to be just yet, but I know that when I graduate I will have a great foundation to build on," Wersch said.
He is very excited to take Musical Theatre Dance, a course that Saint Mary's offers for their theatre majors and minors.
"My interactions with everyone that I dance with at MCA has made me feel content with where and who I am individually." Wersch said.
Wersch landed several roles in the upcoming MCA show "Scenes from the Nutcracker," premiering on Dec. 1, including the Dew Drop Cavalier.
For more information about the Nutcracker, visit mca.smumn.edu.
Performances will run Dec. 1-5 at the Page Theatre at Saint Mary's. Ticket information will be available soon.