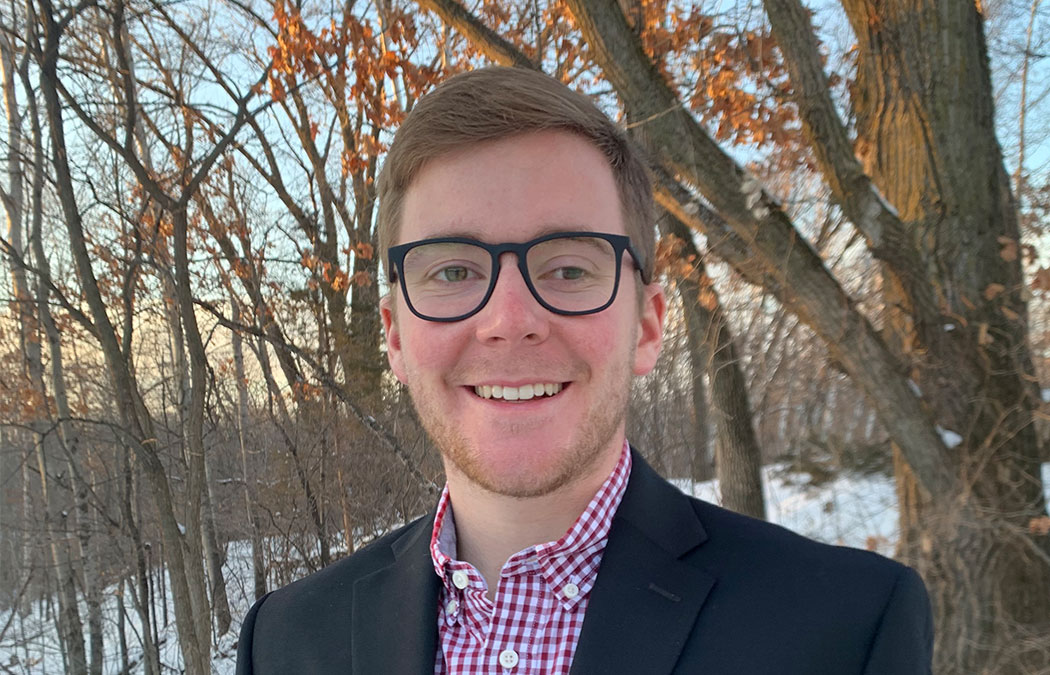 The COVID-19 pandemic has had a profound effect on everyone. But for senior accounting and finance major Jake Emeott, it has presented unexpected learning opportunities in resiliency and flexibility.
On track to graduate in May 2021, the pandemic has obviously impacted his studies, but it has also touched Emeott's work life at the university and his internship this past summer at Baker Tilly, an advisory, tax, and assurance firm.
Emeott was awarded the internship in January. "Then COVID happened. For a while, I was really nervous because some internships were being canceled. I was afraid the same might happen to mine," he said. "But even though it had to be reduced from 10 to 5 weeks and completed virtually, Baker Tilly really worked to make sure it happened."
The pandemic also crept into his work on campus. Emeott spent about four hours a week making calls for donations to the Saint Mary's Fund during the Saint Mary's Phonathon. "The money raised was used to install air purifiers in classrooms and dorms," he explained. "It was a pretty high expense for the university, but alumni really stepped up to make sure classrooms and dorms were safer for students and staff during the pandemic."
His work with the phonathon isn't the only extracurricular activity Emeott participates in at Saint Mary's. He is also a member of the Student Senate and heavily involved in Colleges Against Cancer, a nonprofit promoting cancer awareness and raising money for cancer research on college campuses nationwide. "A lot of people in my family have dealt with cancer, and it sticks pretty heavy in my heart. It's a way for me to honor them," he said.
Emeott, from Chisago City, Minn., realized during his freshman year he had an aptitude for numbers. He was also interested in the trends and events that affected the stock market and enjoyed studying the approaches various companies took to their business.
That interest was noticed by Derek Jackson and Shahid Hussain of the Business and Technology Department. When he was considering an internship, both encouraged Emeott to attend an accounting and auditing conference in the Twin Cities. "A variety of companies had displays, and recruiters were there to reach out to students," he said. "That's where I made the connection with Baker Tilly."
Working virtually and being the first municipal advisory intern in the Saint Paul office made for some tough days initially. His first week was spent learning about a number of aspects of the position, including the intricacies of municipal bonds and how to work with cities and counties searching for avenues to finance community services.
Eventually, he was assigned to work with a team of younger employees that he could relate to easier. "Because it hadn't been that long since they were in my shoes with many of the same questions, they were able to break things down in digestible pieces that were easy to understand," he explained.
He worked on a project dealing with tax increment financing, another dealing with a bond transaction for Missoula, Mont., and another concerning the expansion of the Green Line rapid transit project in Hennepin County.
Upon his return to classes, he quickly realized the value of his internship during a five-week Commercial Banking class taught by Jack Richter, president and CEO of WNB Financial. Bond ratings came up in a discussion, and he impressed the CEO with his knowledge of the specifics of rating levels, knowledge garnered through his Baker Tilly internship.
He also found that class to be a great follow-up to the internship. "Mr. Richter has more than 25 years of experience in the banking industry and brought so much real-work experience to the class," Emeott said. "That's something Saint Mary's is really good at, drawing from the community to bring more reality into what we're learning."
With graduation in sight, Jake has just one regret. "During my freshman and sophomore years, I was really busy with studies and work and didn't take enough time to avail myself of guest speakers that came to campus," he said. "I think my college experience might have been more well-rounded if I had taken advantage of that opportunity earlier."
A regret perhaps, but not a crucial one, because upon graduation, he has landed a job at Baker Tilly. "Even though my internship was short, it was a great experience," he said. "I had no hesitation in accepting their offer and look forward to starting in August because it just feels right."