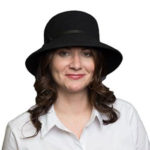 Kendall Archer B'21 is excelling at The George Washington Law School
There's no disputing Kendall Archer's passion for law.
It started back when Archer B'21 asked Saint Mary's alumni in the law profession to build a case for attending Saint Mary's while she was choosing between 16 colleges.
 A Google search of "notable alumni of Saint Mary's University of Minnesota" led her to reach out to Patrick Salvi B'75, a successful Chicago lawyer, who just happened to have served on the school's Board of Trustees.
After a briefing from Salvi, the verdict was in. Archer realized Saint Mary's was the place where she could be successful. 
Indeed, she says she found plenty of opportunities to grow as a leader on the Winona Campus. She was Outstanding Senior of the Year, captain of her Cardinal soccer team, and president of the Student Senate, to name a few.
Archer's academic prowess and accomplishments also earned her a full-tuition Presidential Scholarship to The George Washington University Law School in Washington, D.C., where she was recently named editor-in-chief of the George Washington Law Review.
"I chose Saint Mary's because it would allow me to do so much," she said. "I learned to multitask and optimize my efficiency, and I could excel at doing multiple things at once. Now I'm in a more intense atmosphere, but it's still about navigating, multitasking, and meeting different deadlines simultaneously."
Although Saint Mary's isn't a pre-law school, she said, she found plenty of opportunities to network, build connections, and garner advice from law professionals.
"I knew I wanted to go to law school, so I met with Ann (Merchlewitz, J.D., general counsel) as a freshman in October," she said. "I told her, 'I want to intern one day and I need your help.' As a freshman, she connected me with a trustee, Roger Haydock B'67, J.D. (of the Business and Communication Department). I interned with him, and as a result my name is an acknowledgement in his textbook. And I connected with another trustee and former trustee, Michael Laak B'77, J.D. of Medtronic, Inc., and Patrick Salvi B'75, J.D."
Archer counsels students to get involved and seek out leadership positions. "Serving as captain of the soccer team and student body president really pushed me to grow," she said. "I had to adapt and problem solve." Archer uses the IPledge campaign (a video campaign in which students pledged to watch out for one another by mask-wearing and hand-washing to keep learning in person during the COVID-19 pandemic) as an example of her leadership.
"I use that as an example of me being faced with a problem and how I can adjust, lean on my strengths, and pull others together," she said.
At George Washington, Archer continued to serve her fellow students on the Student Bar Association (basically the law school student government). Her first year, she was selected to be a senator. As a second year, she was invited to be on the cabinet as a vice president. "We provide mentorship, do meet and greets, and are front-facing for the university to help orient first years into the law school experience," she explained. "We offered panels about where to live in Washington, D.C., and what neighborhoods are the best. And I sent emails to first-years. If they had questions, they could come to me."
Most recently, she garnered her editor-in-chief role for the George Washington Law Review, which is edited and published by students at the school. Articles examine legal issues of national significance. The review publishes six issues each year, and she'll be on the masthead for Volume 92. Archer works with a team of editors who will help narrow submissions to the very best.
She already gathered experience with the publication by being one of 79 students out of her class of 520 invited to law review. In this role, she has checked citations and substantiated and read articles. In addition to the publication, she said, they also host a symposium annually, and scholars from around the country are invited.
As a first-generation attorney, Archer said she's learning a lot, but she's wanted to be a lawyer since she was 13. "I love law school," she says, beaming from ear to ear. She's also completed internships to help her determine which branch of the law she is most interested in; for now, she's focusing on clerking.
In 2022, she worked as a law clerk part-time for the U.S. Department of Justice's Civil Division, Federal Tort Claims Act Section. In this area, she said, the government waives sovereign immunity and allows individuals to sue the United States when a federal employee injures them. "I worked with the defense attorneys in these cases. I also met the U.S. Attorney General, and worked on pending cases that were really exciting," she said.
One of the "coolest" internships Archer has been involved with included working for Robert J. Shelby, chief judge of the U.S. District Court for the District of Utah, this past summer.
She'll be returning to clerk for him after she graduates in 2024, working in chambers and helping do legal research, verifying different parties' claims, listening to oral arguments, among other duties.
This summer, she'll be working for Williams & Connolly, LLP, in Washington, D.C., which is recognized as one of the world's premier litigation firms.
Archer is following her own advice to "seek out people who know the area you're interested in and not be afraid to ask questions or to think your questions are silly." These interactions, she counsels, help you determine what fits with your career goals and narrow down your area of interest or pivot academically.