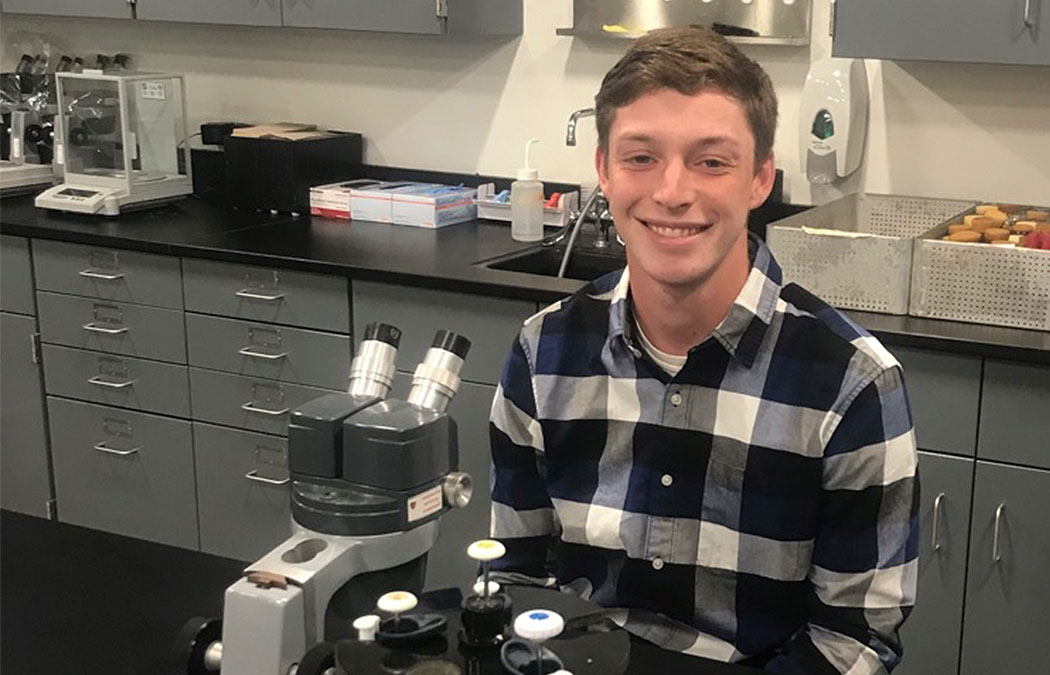 By Tom Brandes
Who knew that when Brandon Merfeld tore his ulnar collateral ligament in high school, the result would be a positive, life-changing experience? Merfeld, now a sophomore majoring in Biology at Saint Mary's University, discovered his calling in life.
"I went to an orthopedic surgeon and thought he'd recommend Tommy John surgery, but instead I avoided surgery with three months rest," said Merfeld. "I was very impressed with the surgeon and realized my ideal job would be to work in sports medicine and be a physician for a college team."
Merfeld grew up in La Crosse, Wis., so when it was time to choose a college, he knew about the university's beautiful Winona campus, strong science program with great facilities, and beneficial relationship with Mayo Clinic. But when the school's baseball coach, Nick Winecke, reached out and encouraged him to attend Saint Mary's, it might have sealed the deal. Today, Merfeld is both an outfielder on the baseball team and an experienced sports medicine researcher.
"About two years ago a friend who is a pre-med major at Georgetown University was working with Andrew Jagim, Ph.D., the director of Sports Medicine Research for Mayo Clinic Health System in La Crosse," Merfeld said. "I visited the lab and learned what they did there. I was intrigued by the thought of doing research in sports medicine and offered to help in an informal role."
Dr. Jagim was impressed with Merfeld's eagerness to learn and willingness to help as an unpaid volunteer in order to gain experience and bolster his résumé. Together they collaborated on a project studying daily physical activity and sleep based on firefighters' shift-schedules.
"He helped with various tasks including data management and putting together an abstract summarizing our research findings, which identified differences in daily physical activity and sleep based on shift schedules in fire fighters for a regional sports medicine conference," Dr. Jagim said.
Merfeld's work involved consolidating data gathered from fitness watches that tracked sleep time, the daily number of steps and total daily calorie expenditure. He also analyzed the differences between when the fire fighters were working and not working. After presenting the abstract, he moved on to help with the full manuscript with the intent to submit the article for publication this summer.
Merfeld wrote and revised multiple abstract drafts, sending them to Dr. Jagim who marked up and returned them. Although at times the process was grueling, Merfeld gained much valuable experience.
"I sent Dr. Jagim the first drafts, and I felt they were bad because he had so many changes, but he reassured me that it was O.K.," says Merfeld. "I've learned so much from him. It's valuable working with someone like Dr. Jagim who has excelled in his field. He understands undergrads are busy. I wanted to help his research and not be a burden."
Ultimately the abstract was submitted and accepted for presentation as a poster at the American College of Sports Medicine's Northland Regional Spring Meeting, which was held virtually in April. Merfeld worked with Dr. Jagim to create the poster, recorded his 8-minute presentation on his phone in a student lounge, and uploaded it via Zoom.
Dr. Jagim notes Merfeld successfully demonstrated the traits of a good researcher, including being organized and responsible, and having good time management skills. Merfeld meticulously mapped the process and addressed issues on the fly as they came up.
"I reassured Brandon that it takes time and patience to develop scientific writing skills, but Brandon is already miles ahead of his peers by being exposed to this now and it will certainly help him with his future plans of medical school," said Dr. Jagim. "It's pretty rare to see students get involved with research until their senior year of college or even at the grad level. Getting this experience says a lot about the type of student Brandon is, and he's still hungry for more ways to get involved."
In fact, Merfeld is currently working on a similar research project involving Division III athletes, looking at the effect of early morning workouts on sleep. Spoiler alert: coaches might want to let their players sleep in.
"Dr. Jagim mentored me through this process. I can't express how much he's helped and taught me about research," Merfeld said. "I've been working with different groups in my labs and try to pass along to them information that I've learned."