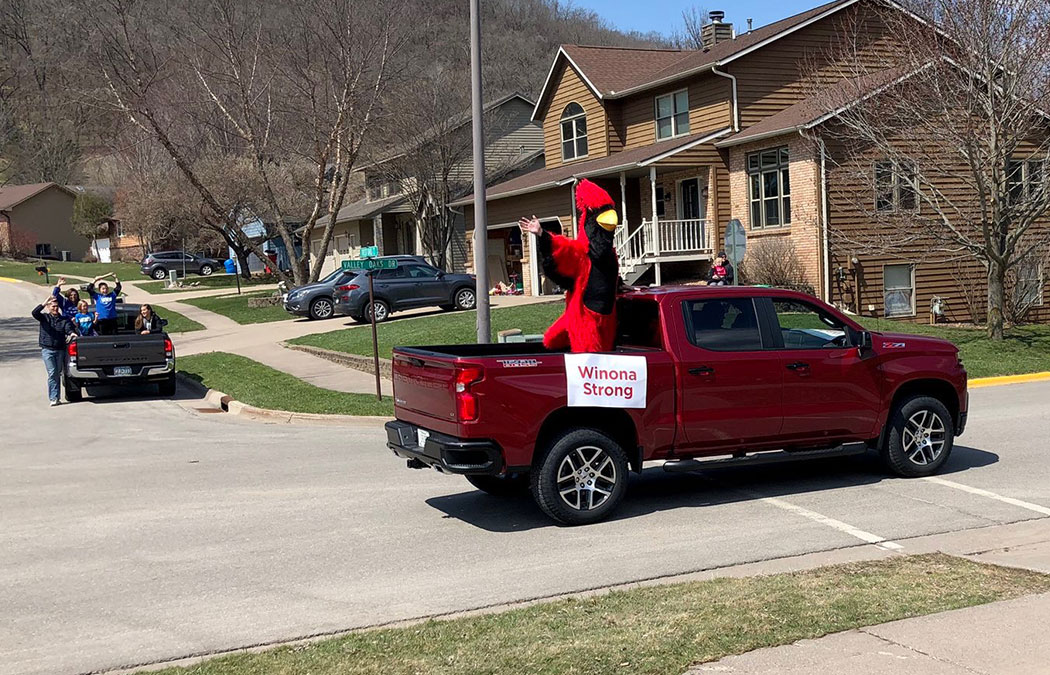 In these times of uncertainty, it's important to remember that we are "stronger together." This past week, Saint Mary's donated mattresses to Catholic Charities and participated in a mini parade with Cotter High School.
Big Red waved to community members (viewing from safe distances) during the Cotter Community "Stay Strong" Mini-Parade Friday, April 17. The parade wound around Winona for a couple of hours and was available for viewing on Facebook Live.
The parade was sponsored by Cotter Community Partners: WNB Financial, RTP Company, Slaggie Family Foundation, Fastenal, Dahl Auto, Winona Family Dental, Kohner Materials, Leighton Broadcasting, Alliant Castings, Miller Scrap, Merchants Bank, Midtown Foods, Schwab LLC, Saint Mary's University of Minnesota, Altra Federal Credit Union, and River Hills Dental.
Thanks to Tim Gossen, Ed.D., vice president for Student Affairs and Student Life, and Ann Merchlewitz, J.D., general counsel and university secretary, for helping us share some Saint Mary's spirit and a message of hope!
Saint Mary's recently donated 20 mattresses to Catholic Charities to be used at the Rochester Community Warming Center, which will remain open until the end of May. As a result of the COVID-19 pandemic, they found themselves in need of more mattresses for the additional people seeking refuge at the warming center. The Saint Mary's maintenance staff moved quickly to prepare the mattresses. Though they requested 15 mattresses, Saint Mary's was able to provide them with 20. They expressed their appreciation for such a quick response.