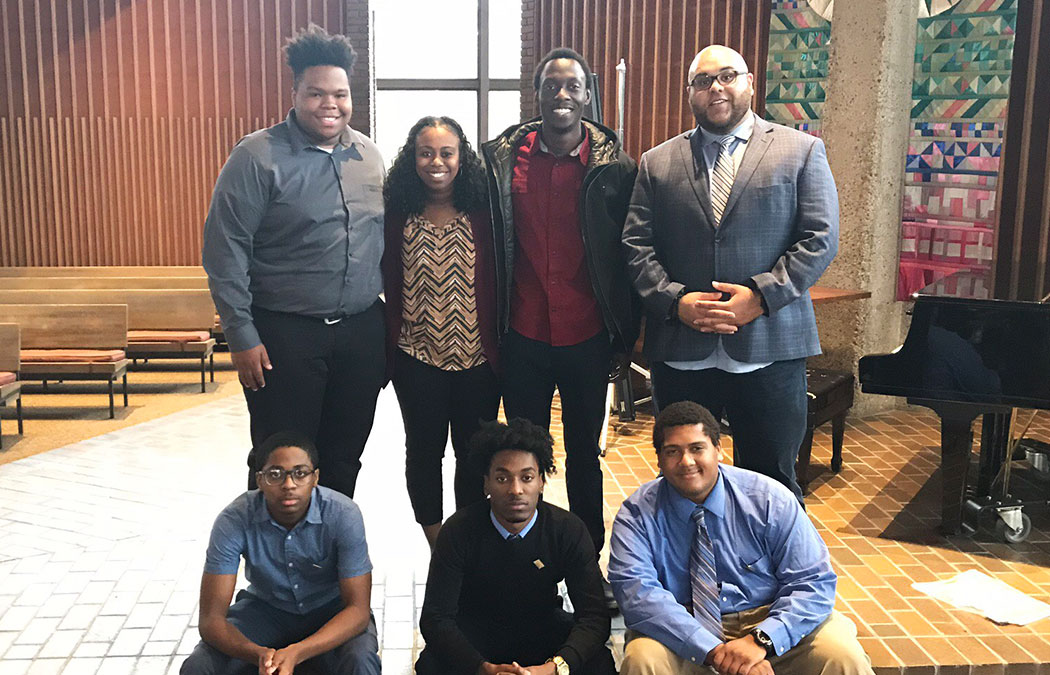 Seven Saint Mary's students and staff recently attended the Kente Summit at Macalester College in St. Paul on Nov. 2-3. Freshman Byron King, sophomores Shamauri Brown-Young and Raekwon Livingston, junior Aaron Kibirige, and senior Aldontae Guess attended the event, accompanied by staff members Octavia Brown, Countdown to College coordinator, and Naz Zerka, Wellness Center counselor.
Brown-Young described his experience at the Kente Summit as "mind blowing."
The event brings together male, undergraduate students of African descent from colleges and universities in Minnesota for keynote speakers, breakout sessions, and community building. Discussions focused on issues and experiences related to identity, intersectionality, inclusion, and intentionality.
"Being able to talk to and meet other African American men who experience the same thing I experience on a campus where the majority look nothing like me showed me that I'm not alone," Brown-Young said.
Many presenters were featured at the Kente Summit, including Dr. Marc Lamont Hill, host of BET News and a political contributor for CNN.
"It was so amazing to be surround by so many intelligent, charismatic, humorous, and strong collegiate black men. Their spirits were contagious," said Brown. "It was powerful to hear their unique stories and watch them come together as black men and brothers from various walks of life. I left feeling inspired."
Guess has attended the Kente Summit before. He said, "It has been an experience of revelation, bonding and brotherhood. It warms my heart my heart to know that there are still men of color out here in the masses working toward a positive future and toward making a difference in our world."
Photo caption: Pictured are (back row, from left), Shamauri Brown-Young, student; Octavia Brown, Countdown to College coordinator; Aaron Kibirige, student; Naz Zerka, Wellness Center counselor; (front row, from left) students Byron King, Raekwon Livingston, and Aldontae Guess.