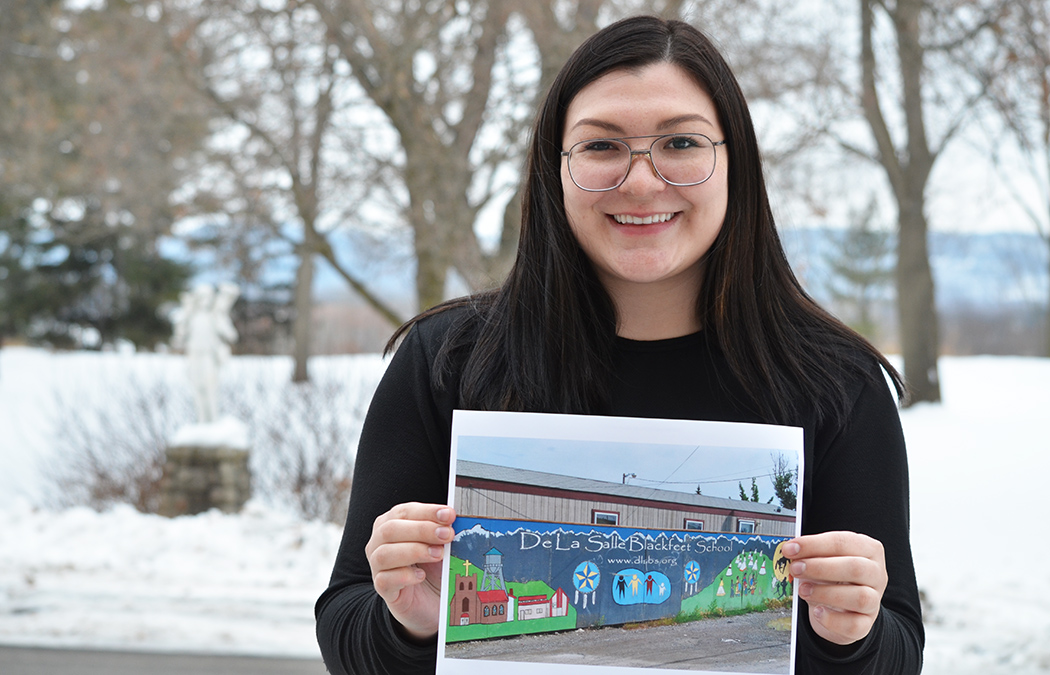 For Saint Mary's University student Aimee Boggs '20, hearing that her hometown school was in need of help was heartbreaking. Largely because of her ongoing fundraising efforts for the school, a tragic turn of events has turned into an uplifting story of generosity.
On Jan. 5, a trailer used for offices and storage at the De La Salle Blackfeet School in Browning, Mont., was vandalized and set on fire. This act of violence was especially tough for the Lasallian school, which Boggs said depends largely on volunteers and philanthropic gifts.
"I was upset because the school has been such a blessing to the Blackfeet community," Boggs said. "Everybody from my siblings to my nephews have gone to this school, so to hear that someone would cause that type of damage to a school that not only runs on donations, but has been a light to our community, is devastating."
Within just one day, Boggs, a 2012 graduate of De La Salle Blackfeet School, started a Facebook Fundraiser, with the hope of raising $20,000, to help the school purchase another trailer and replace its contents.
In less than a month, she has raised over $9,330. Additionally, she helped promote an ice-skating fundraiser for De La Salle, sponsored by the Office of Campus Ministry, and a hockey jersey raffle, made possible by the Athletics Department, both held Jan. 26 on the Winona Campus. Also that day, a collection was taken at Mass. About 75 people attended the ice-skating event, and these combined efforts raised just over $507.
"It's great to see how quickly we have raised the money, and it's cool to see how many people have shared the post," Boggs said. "It just shows how supportive the Lasallian community is and how tight knit we actually are. To see the outpouring of love and support for our community has been heartwarming."
Boggs hopes to keep her fundraiser going until her goal is met. Donations to the De La Salle Blackfeet School can also be sent directly to P.O. Box 1489, Browning, MT, 59417
This spring student volunteers with S.O.U.L. (Serving Others United in Love) will be completing a service trip to the school as well. Boggs serves as president of S.O.U.L., and her best friend and roommate will be leading this trip.
Boggs said the school serves about 75 students in grades four through eight. But she describes it as more than a school: "It is kind of like Saint Mary's in the sense that we had so much individualized attention from our teachers," she said. "And the Brothers made that school what it is. I felt safe and supported, and I looked forward to going every single day. I don't think I ever missed school. Without De La Salle I wouldn't be at Saint Mary's. I probably wouldn't be in college. It was literally my second home."