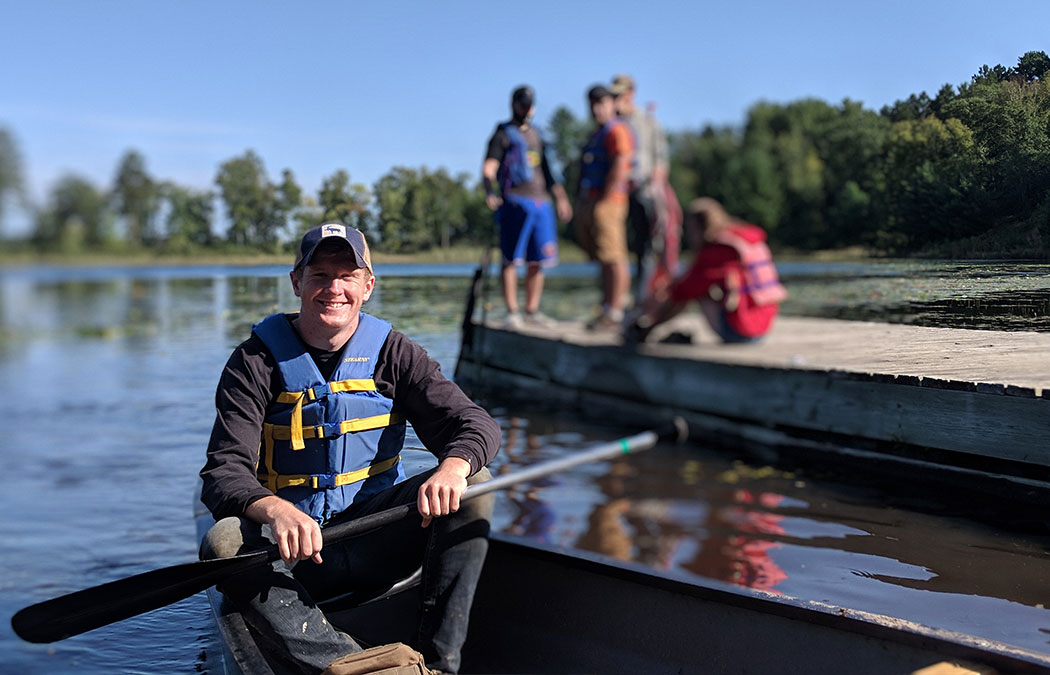 As Josh Balsiger '20 is quick to point out, there are benefits to being an environmental biology major at Saint Mary's University, where the classroom extends into the surrounding bluffs, the local stream, and the nearby Mississippi River.
Earlier this fall, 26 students enrolled in Plant Communities and Taxonomy or Introduction to Mammalian Ecology and Diversity got a chance to visit, learn about, and experience an entire new ecosystem far from campus.
This multi-day field experience took students to North-Central Minnesota to experience Itasca State Park and the headwaters of the Mississippi River, as well as to the Deep Portage Learning Center near Hackensack.
As the experience combined both mammalogy and plant ecology, Dr. Moni Berg-Binder and Dr. Ben Pauli were able to teach lessons about bat ecology, lead hikes in which students did plant and mammal identification, cross the headwaters of the Mississippi River, experience old-growth forests in Itasca State Park, and visit two different bogs.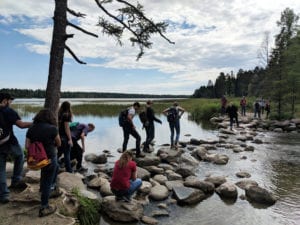 Students majoring in environmental biology who are exploring both the terrestrial and aquatic ecology of the Mississippi River watershed were able to see their classroom learning come alive.
Samantha Chaffee '21, a psychology major, calls herself an outdoorsy person and says she enjoys learning about animals whenever she can. One of her favorite parts of the trip included the bat surveys. "We went out at night and used these bat detectors to hear bats feeding around us," she said. "We couldn't see them but we could hear them and identify them based on the calls we were hearing."
Dr. Berg-Binder said they wanted to develop a field experience that allowed students to spend a few days together exploring a natural area. "As faculty, when we look back at influential, key experiences in our educational journey, field experiences like the one we planned for our students rise to the top," she said. "This sort of immersive, experiential learning allows students to engage with the ecology of an area in a way that can't be done in a three-hour lab class period. We were fortunate to pair with Deep Portage Learning Center for the experience."
Deep Portage is situated on nearly 10 square miles of natural area on the shores of Big Deep Lake.
"Our students were able to gain perspective on career and internship opportunities in environmental education, interacting with Deep Portage staff on numerous occasions," Dr. Berg-Binder said. "Additionally, Deep Portage provided some terrific outdoor recreation opportunities to us, including canoeing, hiking, fishing, and indoor rock climbing."
Balsiger said the trip was a valuable one — not only because the fishing was great. "It put you in the mindset of a biologist," he said. We learned options of what we can do after college. For example, surveying bat populations is something that falls under the category of field biology and is a research field that I would be interested in."
He also said that he gained a greater appreciation for Minnesota's state parks. "Seeing something so perfect and pristine and well-kept only inspires you to be more ecologically minded," he said. "It just inspires you to want to protect those kinds of things, so that your children and your children's children can have the same awe that you experienced."
Getting outside gives students like Balsiger the opportunity to practice the concepts they've learned in the classroom. Field experiences have the added bonus of fostering strong relationships between students, and between faculty and students.
Chaffee can attest this statement.
"You get to know the professors at a whole different level when you spend six hours in a van with them," she said. "It's helpful for building that faculty-student relationship and the student-student relationship. It was great to be able to work with my peers in a different setting, and being outside working with a partner on identifying plants is very different than working in class."
Balsiger especially enjoyed watching Drs. Berg-Binder and Pauli in their element. "Learning how to be a biologist in the 'off' time as well as the 'on' time is also important he said. "Conscious living, which we learned about at Deep Portage, is incredibly important, and it was a cool concept to experience and live out."