Environmental biology major Natalie Munich and biochemistry and mathematics student Terra Lieser both see graduate school in their future.
That's why the ability to take part in aquatic science research this summer at Bowling Green State University is a door-opening opportunity for the two soon-to-be seniors.
Although these Saint Mary's students are considering different career paths, have different majors, and looked forward to completely different aspects of their research opportunity, they can agree on one thing — their invaluable hands-on experiences this summer will benefit them moving forward.
"I was really looking to gain some microbiology or molecular biology skills, and this opportunity is a really good way to explore that," Munich said. "In the future, I want to attend graduate school and earn my Ph.D., but I'd also like to incorporate some of those genetic work skills that are used in microbiology."
For Lieser, the draw was working in aquatic sciences.
"I originally was hoping to have a summer research opportunity in water quality. I grew up in Minnesota on lakes. I have a passion for being in the water and around the water," she said.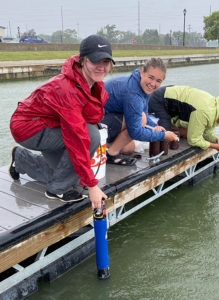 During their time at Bowling Green State University, the two have worked under Dr. George Bullerjahn, who studies the causes of toxic algal blooms in lakes. Instead of focusing on one single research project, Munich and Lieser have stayed busy monitoring algal blooms in Lake Erie and Chautauqua Lake in New York by testing water for its chlorophyll and nutrient levels. They've also been studying the microorganisms in two sinkholes in Ohio.
The chance to work with multiple different researchers has opened Munich and Lieser's eyes to potential careers.
"The networking itself is super awesome," Lieser said. "It's been useful for planning out future career opportunities, graduate school applications, and advisers."
"For me, the most exciting thing is working in a lab and working closely with both master's and doctoral students," Munich said. "It has made me more excited to attend graduate school and has made me realize I am pursuing the right career path."
Biology faculty at Saint Mary's share their students' excitement about the beneficial off-campus summer research experience.
"It's terrific when our students are given opportunities to engage in research beyond what is built into the curriculum at Saint Mary's. These summer research opportunities help to foster curiosity, build skills in research technique, and provide critical networking opportunities," said Moni Berg-Binder, Ph.D., an associate professor of biology and associate dean for the John C. Parmer School of the Sciences at Saint Mary's.
Munich and Lieser's summer at Bowling Green State University was made possible through a Saint Mary's alumnus. Following through on a commitment he made to assist students at the university, John Stegeman '66, Ph.D., who serves as a senior scientist at the Woods Hole Oceanographic Institution, suggested Bullerjahn consider taking on Saint Mary's students for summer research placements. Stegeman says he sees Saint Mary's students and graduates as smart, motivated and well-rounded, and believes there is a benefit of having them recognized and in positions of influence.
"To do what I can to help accomplish that is very important to me," Stegeman said. "It's really the purpose of the university to bring young people to be educated, knowledgeable, and ethical leaders. Sometimes students need some assistance so that others can see that in them."
The ability to tap into alumni resources — especially those who are prominent in the scientific community like Stegeman — is a major benefit to attending Saint Mary's, the two students say.
"I honestly probably would not have had a research opportunity this summer if it wasn't for John Stegeman and all the help he has given Saint Mary's. I think it's amazing the opportunities alumni like Dr. Stegeman help us get and the connections they bring forward," Lieser said.
In addition to this opportunity, the two say the instruction and guidance they have received throughout their time at Saint Mary's has set them up for success in the future.
"A lot of my professors have taught me to be curious and confident," Munich said. "Saint Mary's has definitely helped me with my progress."
Photo caption 1: Natalie Munich (top) and Terra Lieser measure the streamflow in a Chautauqua Lake tributary in New York. Photo by Jay DeMarco.
Photo caption 2: Natalie Munich (foreground) and Terra Lieser measure water quality parameters at Grand Lake St. Marys, Ohio.