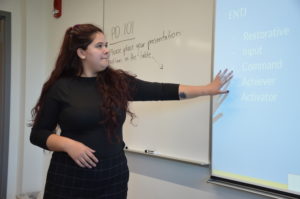 Ronnie Edwards B'05 and his wife excel in the business of fitness
What do you call a professor who tells corny jokes?
In the case of the persistently punny Dean Beckman, associate professor of business and communication at Saint Mary's, the answer is role model, adviser, and a favorite professor.
For Ronnie Edwards B'05, Beckman was also the reason he changed his major. "He's a big influence on where I am in my life," he said. "He's an amazing professor."
Edwards was originally majoring in psychology, but after taking Beckman's classes, he switched to public relations. "Psychology was something I was really interested in throughout high school, and it's what my dad does for a living, so it was a natural progression, but midway through my freshman year, I had two classes with Dean and one with Steve Schild (now retired), and I just loved the way they presented their classes and made them fun and interesting. I still minored in psychology, but I thought public relations was a better fit."
Edwards' first big career after graduation was with C.H. Robinson as an intermodal specialist, making sure contracts with railroads lined up with the price negotiated by the sales team.
A crush, a passion for fitness, and a mind for business and public relations led him and his wife, Gosia, to take over a Snap Fitness in Minneapolis in 2018.
It started during that 9-to-6 intermodal specialist job, back when he was younger with no family commitments — when he was working out regularly after work. 
After obtaining his personal training certification, one day he was approached by some men who told him, "You're in really good shape, would you think about working here?" Edwards thought, why not, and started training a few times a week on the side.
"People were liking my training style and it was going really well, but you're working for someone else and not making much money," he said. Then one day his clients, mid session, told him they were buying an Anytime Fitness and asked him to be their head trainer. "I couldn't take the risk at that time, but I told them I'll still train part-time; I'll even give you a weekend day."
Fast forward six months, and the Anytime Fitness became one of the top franchises in the organization with its prime location in a key target market. He was again asked to go full-time.
Again, Edwards said no. "But I knew my (now) wife was training, and told them I knew another trainer who would be really good. It would be a good excuse for me to spend time with her. It was a win-win," he said. The plan worked, eventually leading to their marriage and their son, Easton, now 7, as well as a successful business.
As the couple became solidly booked with clients, they asked themselves, "Why don't we start our own company — taking over it all, billing, scheduling, training?
"She talked me into it, and it took off super fast," he said. "We hired four other trainers, and since then we've hired more trainers. It's just snowballed."
Edwards said his background in marketing has come in handy.
"We do a ton of different marketing," he said. "We do some old-school style flyers in the mail; we create them, bring between 3,000 and 5,000 of them to the post office and hope to get a return of 10 to 15 percent." Because they ask recipients to bring in the mailing to get a discount, it's easy to track the success of their campaign. He added, "We're tracking not only the percentage of response but the areas they're coming from, and we also talk to them about what part of the promotion made you want to come to the location? Did you know about us?
"These are things that we've done in class; are we gathering information and not just putting out marketing and crossing our fingers and hoping for the best," he said. "We learned how to target promotions in a very strategic way so we're not throwing our money out the window."
Edwards said they also utilize the technology and software available to them as part of the franchise benefits. "We can see anytime anyone logs into the Snap Fitness portal and looks at our location; we can get their information so we can add them to a text message campaign every 3-4 months," he said. "They're people we already know are interested. They've looked but just haven't come in yet."
Edwards credits Saint Mary's for teaching him how to target his messaging and how to be proactive. "Saint Mary's has given me a good perspective on making sure I'm using the right verbiage to attract the right clientele," he said. "And we're tracking our numbers, being proactive. In public relations, if you're not growing, you're shrinking. You always have to be a step ahead. You can't think, 'Things are good right now; we can rest.' "
The same, he jokes, can be said for fitness: "If you're not staying in shape, you're getting out of shape."
Edwards has come back to talk to current public relations and business students on campus. He advises them, "If you want to do something on your own, weigh all the risks before you put all your hard-earned money and time into something. Don't be pushed into a situation that's not going to be the best for you."
He also advises, "Be prepared, if you're working for yourself, to be on 24/7. You're HR, customer service, you're everything. With a franchise, you have some support. But do something you are truly invested in. If you're going to be on 24/7, do something you absolutely love."
Cell 218-349-2645