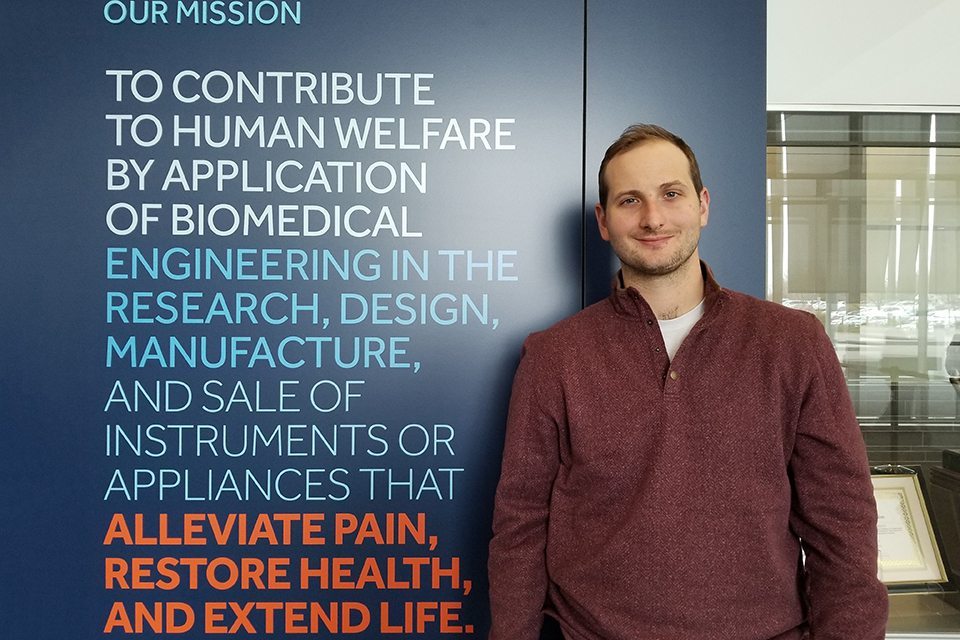 As a test engineer with Medtronic, Nick Nagel '14 is saving lives by testing medical devices before they ever come in contact with patients.
For Nagel, every test, every data point, is crucial. "Testing helps us better understand why something performs as it was intended to, or may fail or stop working," he said. "My job has a direct effect on patients, so the device needs to work the way it's supposed to work every time."
For example, the Andover, Minn., native is currently testing ablation catheters, which doctors use on patients to interrupt unwanted electrical pathways in the heart.
"My primary role is to design test methods on requirements for our products," he said. "Most of the tests I design are used in a laboratory setting so that requirements can be accurately measured."
Although his work now can affect therapies for patients, Nagel finds a direct correlation between his current work and the tests he originally ran as a physics—life sciences major at Saint Mary's.
"My professors, Dr. Damien Cho and Dr. Robyn Wangberg, would ask me to conduct a test by writing a method and showing the results," he said. "I do that now on a weekly basis in a lab at Medtronic. My undergraduate work absolutely prepared me well for my career."
Nagel minored in math and chemistry. In one of his favorite classes, analytical chemistry, Dr. Nathan Lien, his professor, taught him methods of titration, which is also very useful in his current line of work. "Most of my math classes also really paid off," he said. "And the teachers were amazing; it helps when you can talk to them at any point.
"The classes I took for physics, math and chemistry prepared me very well. That's the simple answer," he reiterated. "But it was the curriculum itself that shaped how I think. Medtronic is looking for new and bold ideas that lead to innovative solutions for patients. The curriculum at Saint Mary's stimulated my thinking process."
Now working in a team environment, Nagel also knows the benefits of working together from his days on the Cardinal hockey team from 2010-2014.
Nagel is currently enrolled in part-time classes in the M.S. in Mechanical Engineering program at the University of St. Thomas and will earn his graduate degree in January 2018.
"Soon I will have four years of professional experience and a master's degree, so that will open doors," he said. But Nagel doesn't plan to change employers any time soon. "I absolutely love it here and plan on sticking with it for a long time. I may someday make a move into a new position with Medtronic and I'm confident I'm on the right path so far."