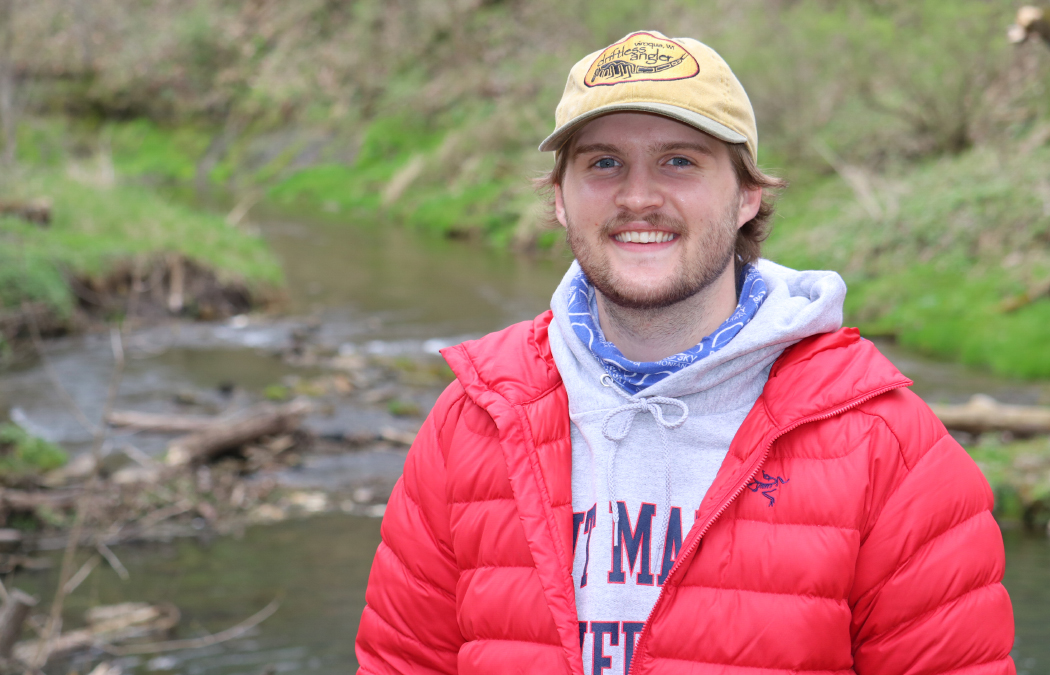 By Maura Sullivan Hill
Klaüs Friedli says he has fished in every trout stream in Winona County at least once. It's a fitting comparison for how the senior environmental biology major has approached his Saint Mary's University of Minnesota career, taking advantage of every opportunity that the university and its unique surroundings offer.
"I'm obsessed with nature, and, along with my motivation to learn more, Saint Mary's has made me so passionate," Friedli said. "We have a trout stream that runs through campus and goat prairies right behind our campus. Saint Mary's has the perfect blend — valuable learning resources all around the campus and professors who take advantage of what those environments provide. That's what made me fall in love with the area and the university."
Born in Appleton, Wis., and raised in Marshfield, Wis., Friedli estimates that he has only been home for two weeks at a time since he first arrived on the Winona Campus. Year round, he has been immersed in research, fieldwork, and volunteering, both on campus and in the local community.
For starters, Friedli has received valuable experience working for the university's GeoSpatial Services since his freshman year, where he has mapped wetlands, including parts of Alaska and the southwestern U.S., using satellite software. As an intern at Cascade Meadow Wetlands and Environmental Center, Saint Mary's Rochester Campus, Friedli managed prairie restoration, monitored water quality, removed invasive species, and surveyed plant life. He's also a member of the Minnesota Driftless Chapter of The Prairie Enthusiasts, where he has assisted with prairie burns, which are necessary to maintain plant and animal diversity, and the removal of invasive plants.
An internship at Prairie Moon Nursery in Winona, which produces seeds for native plants and ships them nationwide to gardeners growing plants native to their region, solidified his career focus of wanting to work with plants.
"The reason I picked environmental biology was because I grew up with a very outdoorsy family, in terms of recreation," said Friedli, who also played soccer at Saint Mary's for three years. "We love to boat and ski and mountain bike and fish and canoe, so I thought it would be cool to work outside."
More than a month before he graduates, he already has an ideal job lined up in Montana as a biological science technician (invasive species) with the U.S. Fish and Wildlife Service. He'll spend the summer assessing and removing invasive plants in the state's national wildlife refuges and other protected lands, traversing the parks in an ATV and using herbicides to kill the plants that harm the natural ecosystem.
Friedli says he loves teaching others about nature and how susceptible it can be to human impact. He'll be working with the U.S. Fish and Wildlife Service for six months, and then is eyeing graduate school and a future as a professor.
"I love finding wildflowers in the field, and I love calling out their Latin names," Friedli said. "But it's funny how many times I take people out on hikes and they say, 'That's a pretty flower,' and I have to say, 'That's an invasive species. I know it's beautiful, but it's a really bad thing for these other plants.'"
Friedli is grateful to his environmental biology professors for their mentorship, and encourages his fellow students to take advantage when professors present opportunities to help with projects or work in the field — like when he said yes to helping with prairie burns or tagging sturgeon fish on a chilly Saturday morning on Lake Winona.
"You can't get a personal connection better than here at Saint Mary's," Friedli said. "In our world, it's so easy to say no, but you get a lot more out of it when you go the extra mile helping people. And you find they want to help you as well. I've found that most everyone here at Saint Mary's wants to help you."